Spain-based building-integrated photovoltaic (BIPV) product manufacturer and project developer Onyx Solar has recently begun distributing its products in the Australian market. The company, whose offerings range from BIPV glass to self-lighting, non-slip floors and turn-key solutions such as transparent PV skylights and awnings, will provide its products for both new-build and retrofitted projects in the commercial sphere.
Since the company's inception in 2009, Onyx has endeavoured to develop BIPV solutions that are not only elegant and eye-catching, but also practical. In keeping with the spirit of BIPV, the company's focus in its product design goes beyond simple sun-powered electricity generation. Instead, the whole architectural impact of the use of their products is incorporated into their design from the inception. While energy generation is indeed one of the key benefits, Onyx's solutions, when effectively worked into the design of a building or other structure, confer the additional advantages of UV & IR filtration, thermal & acoustic insulation, natural illumination, stylish (& often striking) design, and reduced C02 emissions.
Building-integrated photovoltaics (BIPV) is often seen as the high-tech and futuristic cousin of the far more common flat-panel solar PV module. But as the number of projects incorporating Onyx's products in recent years indicates (and in part of a trend that analysts predict is set to continue), BIPV is growing in popularity as an architectural solution as environmental and energy conservation considerations take on greater weight in building design. Green buildings, while often having a higher up-front price tag, cost less to operate and command higher rents than their less green equivalents. They are also generally more pleasant places for their occupants to spend time.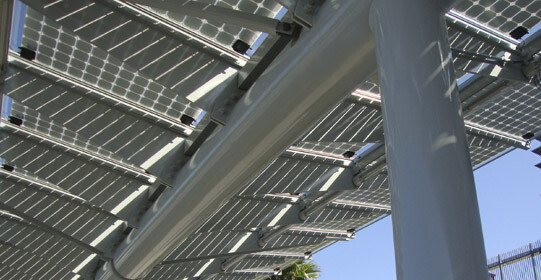 On the most basic level, Onyx offers a broad array of photovoltaic glasses, including transparent, coloured, double-glazed, patterned, and laminated safety glasses–all of which produce electricity from the sun. The company also offers fully customised pieces tailored to meet the requirements of a given project. The constructive solutions on offer include skylights, walkable PV floors, ventilated facades, curtain walls, canopies and car parks. Like Onyx's glass, all of these generate electricity, contributing to the reduction of the overall electricity load of a given building once dispatched.
Onyx designs and develops low-E photovoltaic glazing products which exhibit equal or higher performing properties than a conventional low-E glazing, filtering out 99% of ultraviolet radiation and 85-95% of the infrared radiation while achieving U factors and solar heat gain coefficient (SHGC) requirements as needed, but also with an important added value: free electricity generation, onsite.
Properties of Onyx PV glass
The company is optimistic about the prospects for BIPV in Australia, and believes that its products have already breached the affordability threshold for the right projects. "On certain configurations and above certain quantities, in the Australian market, we have achieved materials and grid parity on the cost of these products compared to standard low-E glazing," says Enver Kolac of Onyx Solar Australia.
Gallery: Examples of Onyx Solar BIPV applications
Contact info: info@onyxsolar.com.au
All images via Onyx Solar
© 2014 Solar Choice Pty Ltd