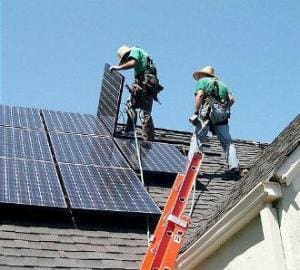 We've recently been informed by the federal Solar Homes and Communities program (within the Dept of Environment, Water, Heritage and t
he Arts) that the processing time for applications for pre-approval for the federal $8K solar energy grid-connect rebate, has now been reduced from 12 weeks to 4 weeks.
At a time when an unprecedented number of people eligble for the $8K rebate are going solar, this is great news.
As far as the cut off date for applications is concerned the Federal Government's formal position remains as follows: so long as the stamp on the envelope bearing your application for pre-approval for the $8K rebate is dated 30 June 2009 or earlier, your application will be accepted and you will have your foot in the door.
However, Solar Choice are advising all our customers to err on the side of prudence, and have your applications lodged before Federal budget night on the beginning of May. There is a possibility that the Government may pull the guillotine down on the solar energy rebate at that time, given that the rebate program has already exceeded budget. Hopefully not, but better to be safe.
In order to be approved, the installer who's completed your application for pre-approval is obliged to have conducted a site inspection on your property.
Once you have been approved for the $8K solar power rebate for your grid connect system, you have nine months within which to complete the installation, although most people prefer to have the installation done asap.
Installation of your solar energy system usually takes less than a day. Once it's been completed, final papers are sent off to the government, and it takes a further 10 weeks or so for the $8K rebate to be paid. Depending on which installer you elect to proceed with from the Solar Choice network of solar energy installers, the rebate will usually be assigned to the installer to keep the upfront cost to you down.
Angus Gemmell

© 2009 Solar Choice Pty Ltd

Latest posts by Angus Gemmell
(see all)