The rooftop of the administration building of Marrickville Council is now equipped with 20kW worth of solar panels, with Solar Choice Commercial acting as tender manager for the project. The array, which complements a suite of efforts that the council is undertaking to reduce its environmental impact, will cut the admin building's CO2 emissions by 31 tonnes annually. The system will also help the council to cut its quarterly power bill virtually in half, as it will enable them to avoid purchase of electricity from the grid during dearer shoulder and peak tariff rate times.
In going solar, Marrickville Council joins the ranks of thousands of other organisations throughout Australia–both public and private–that have made the investment in panels in order to reduce their carbon footprint and save money on power bills. What is particularly remarkable in the case of Marrickville is that the installation of solar panels is part of a broader, holistic sustainability program that the council is implementing. Furthermore, as one of the most progressive and engaged local councils in the greater Sydney area, the council is hopeful that its choice will give community members the confidence to make the same investment themselves.
The installation is comprised of 80x ET Solar polycrystalline PV modules and 2 SMA inverters–1x SMA STP 08000TL and 1x SMA STP 12000TL. Additionally, the system includes an SMA Sunny WebBox and Sunny Portal, which will allow the council to keep track of the system's performance via a Bluetooth connection; this data will also be shared publicly via the council's webpage.
"We want to lead by example. And with residents able to visit Council's website and view the savings being made, they'll feel more confident in investing in solar power themselves," said Mayor Jo Haylen in a media release about the project. "Council is dedicated to supporting the uptake of low carbon, renewable energy in our homes, businesses, streets and public spaces as part our commitment to a more sustainable future."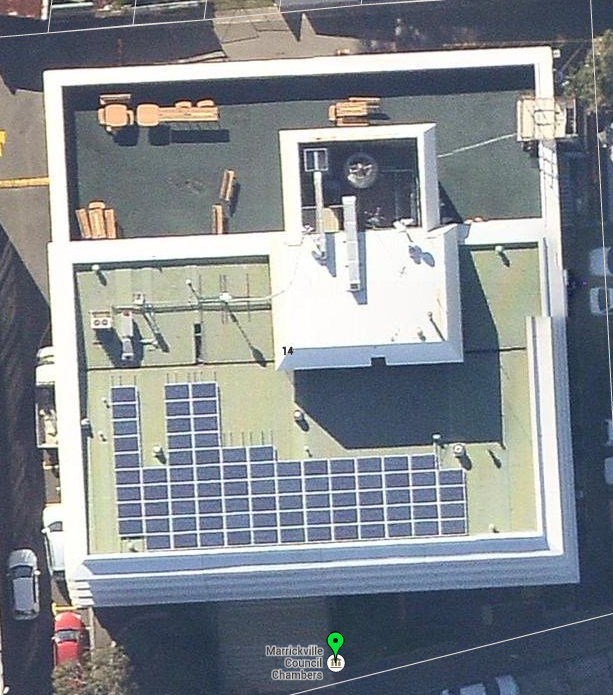 Marrickville Council's 20kW solar array–while construction was still in progress.
Top image via Marrickville Council
© 2014 Solar Choice Pty Ltd