With above-ground electrical work complete and solar panel installation now underway, a major milestone has been reached in the construction process for Western Australia's Greenough River Solar Farm, outside Geralton. Once completed, the farm, at 10 megawatts (MW), will be Australia's largest solar PV installation.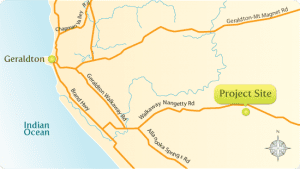 The commencement of panel installation was officially marked at an event attended by WA Energy Minister Peter Collier, landholders, members of the Geraldton community, and the local contractors who were working on the project. Altogether, 150,000 First Solar solar panels will be installed on ground mounts at the site. Construction is expected to be complete and the plant operational by mid 2012. All of the electricity from the Greenough River Solar Farm will be purchased by the WA Water Corporation, to offset the electricity demand of the Southern Seawater Desalinisation plant, currently under construction.
At the event, Minister Collier noted the symbolic and practical importance of the power station, which could be a loss-leader for future similar projects. "The demonstration of this proven technology in WA on a commercial scale should encourage the development of larger projects and reduce renewable energy costs in the medium to long term," he said.
Although the Greenough River Solar Farm is currently the largest solar farm at this late a stage of construction, it is expected that it will only be a matter of time before even larger projects are underway elsewhere in Australia. In addition to the projects proposed under the ACT's 'reverse auction' feed-in tariff process for large-scale solar plants, which will facilitate the construction of installations up to 20MW, the Federal government is also supporting the construction of plants of capacities of 150MW or greater through its Solar Flagships initiative. Solar Flagships' proposed 250MW Solar Dawn will dwarf the Greenough River project–provided the change of government in Queensland doesn't derail the process.
Images via GreenoughSolarFarm.com.au
© 2012 Solar Choice Pty Ltd

Latest posts by James Martin II
(see all)