(Contact a Solar Choice Broker for free, impartial advice on the solar PV installer and system options available in your area of Australia.)
It is unfortunate that the growth of the solar power industry is not determined by the availability of sunlight.
In spite of the unpredictable weather, Australia could be the centre of the solar world if it were simply a matter of adding up the sunshine hours. But as we know, policy is the single greatest determinant of a successful solar industry, and Australia's policy climate has been as volatile as its environmental one, with its droughts and flooding rains.
In 2010 a 'tsunami' of PV was ordered, marketed, installed and connected, all driven by a variety of unpredictable policies and confluent international events. The market expanded from around 79MW in 2009 to approximately 320MW, making Australia one of the top 10 global PV markets for the first time in decades. But with the 'tsunami' came the inevitable flotsam and jetsam: From 300 to 3000 installers. From 10 PV brands to 250. Unprecedented competition. Mergers, acquisitions, collapses and venture capitalists hovering eagerly above the fracas.
For industry veterans it was (for the most part) the ride of a lifetime; many had been waxing their boards and biding their time œout back riding the waves up and down for years as they watched the horizon for the perfect PV wave. With almost no warning, the industry was forced to its feet in 2010 and suddenly it was away, barreling down the face of an unstoppable force.
Records were broken, and as time went on the wave just continued building and building. Some toppled over and were mortally wounded. Others demonstrated their acumen and daring, carving up and down the face, gaining strength and confidence as they went. New players œdropped in on us, coming from nowhere and threatening to run right over us with their sharpened, flash new fins. It was no place for the faint of heart.
Now, as the new year begins, here we sit with an eerie silence around us, the adrenaline slowly fading.
The switchboards are not lit up like they were and many are paddling around aimlessly trying find a new direction. Will another wave come? Unlikely; Tsunamis are unique occurrences that rarely repeat themselves. But the landscape has clearly been altered, and experience has left the survivors wiser and stronger.
Quoting the recently released Australian PV Industry Forecast 2010-2015, co-author Nigel Morris from Solar Business Services predicts a year awash with receding tides and dangers from murky waters. The industry has a strong backlog of demand and some comfort from the new Renewable Energy Certificate mechanism, which offers higher SREC [STC] prices and more pricing certainty. However, the NSW FiT has reached its cap, and SA and WA are getting precariously close to theirs. Morris suggests that these factors combined with an overabundance of industry participants and difficult times ahead for State and Federal Governments while they handle reconstruction and clean-up activities, are likely to downgrade the expectations for the year, at best to match 2010 annual installations, at worst a decline of perhaps 10%.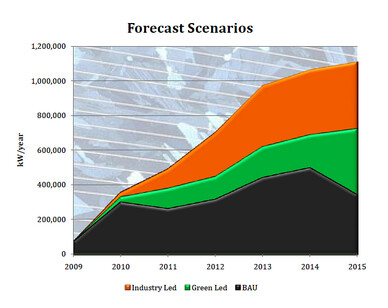 Nevertheless, the future looks strong thanks mostly the anticipated increase in Commercial and Industrial PV applications, although Residential is also predicted to remain very strong. œAlthough we lack policies for Commercial PV, the combination of declining PV prices, rising electricity prices and competition are driving us towards double digit ROI [return on investment] for Commercial [installations]; it will come. Assuming it proceeds, the Governments Solar Flagships program will also deliver some very large lumps of PV, and some valuable experience for a small number of winners.
If conditions are favourable, the Australian PV industry could grow from around $1.5B in 2010 to almost $4B by 2015 with annual installations approaching 1GW. Is it finally time to head œDown Under? Both the PV market and nature have recently demonstrated just why it's referred to as the land of beauty and terror.
Written by Nigel Morris

Director: Solar Business Services
References and Resources:
Solar Business Services website