Thanks to a change in Solar Choice database functionality, figures from a larger number of installers than usual was used in calculating solar PV system installation prices for September 2013. As a result, average prices appear higher in most of the cities and solar system sizes included in the index, while 'low' prices remain largely unchanged. Also new from this month, we have expanded our 'Hobart' price category to encompass all regions of Tasmania.
Average solar installation prices by city and system size
All Australian capital cities besides Darwin are incorporated in the PV Price Index. The table below lists average solar system costs for each of these cities. As usual, solar system offerings in Sydney and Perth have the lowest average prices.
Although tables last month gave the impression that Hobart/Tasmania was home to the least expensive systems, this anomaly has been cleared up with the incorporation of a larger number of installers. In a return to the status quo, systems in Melbourne and Tasmania are again on average the most expensive this month, as one would expect to be the case given the smaller federal discount that they are entitled to compared to the other cities.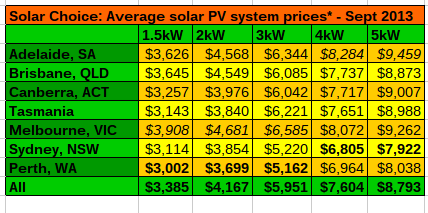 Click to enlarge
*Incorporate federal STC discount
$/W solar system prices for September 2013: Averages, highs, lows
The following table shows STC-inclusive installation prices for 1.5kW, 2kW, 3kW, 4kW and 5kW solar systems. When included in installer pricing data, STCs accounted for a discount of about 68c per watt for the Zone 3 cities (Sydney, Perth, Adelaide, and Brisbane). The discount was about 60c/W for  Melbourne/Zone 4. No STC discount figures were available in the data from Tasmania installers this month.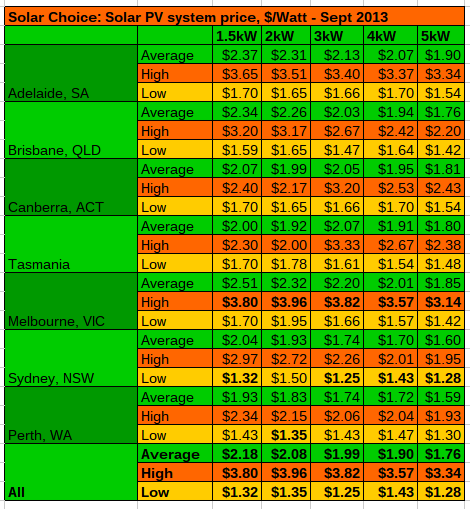 Solar PV system prices to date
Average prices have increased almost universally across system sizes and cities, due mainly to the inclusion of installers hitherto not incorporated into the calculations. Meanwhile, Sydney and Perth prices saw little significant change. As always, 4kW and 5kW systems offer the best value for money, despite the fact that average prices for systems of these sizes increased compared to last month.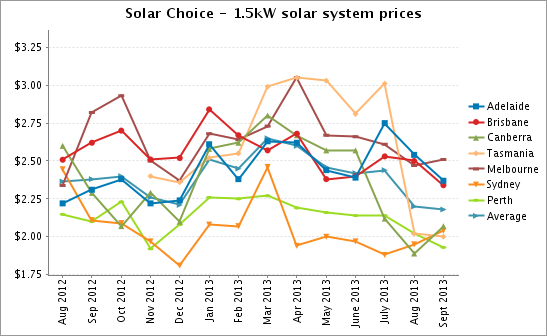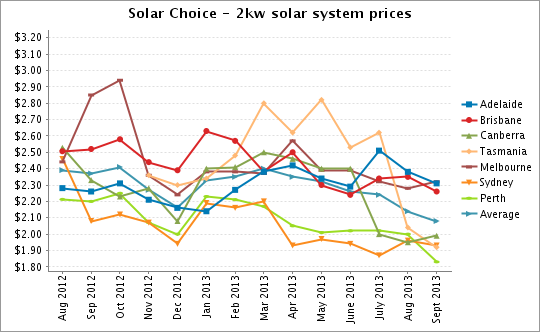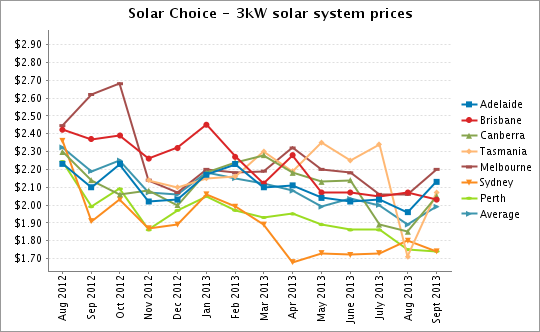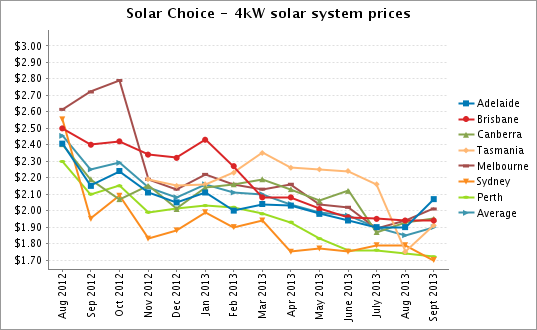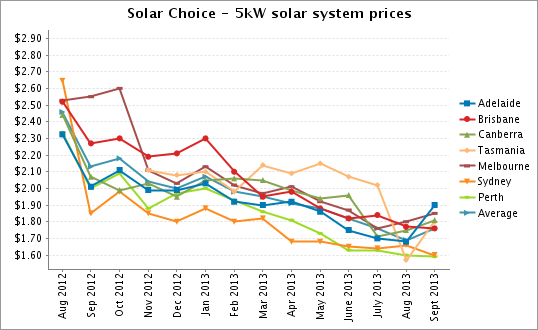 About this data
Tables and charts included in this article were created using data from Solar Choice's installer network database, which contains regularly-updated pricing and product details from over 125 solar installation companies across Australia. Prices do not incorporate meter installation fees or additional costs for difficult installations. The discount available to Solar Choice customers is also excluded from the calculations, as are prices for 'premium' installer offerings.
About Solar Choice
Solar Choice is a solar PV installation and advice service based in Sydney, NSW, providing free Solar Quote Comparisons for residential solar customers Australia-wide. Solar Choice's commercial wing, Solar Choice Commercial, manages tenders for medium- to large-scale solar projectes for a wide range of clients.
© 2013 Solar Choice Pty Ltd

Latest posts by James Martin II
(see all)