The surge of large-scale renewable energy generation coming online in Australia is the "only thing" currently helping to reduce electricity prices in Australia, a new report has found.
The Australia Institute report, authored by veteran energy market analyst Hugh Saddler,  shows large-scale renewables making up a record breaking 19.7 per cent of the NEM in August, and 25.6 per cent if rooftop solar is included.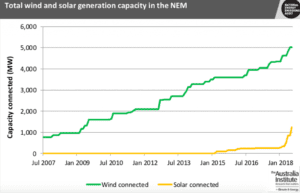 And there's plenty more to come, with another 41 per cent more wind and 300 per cent more solar forecast to be connected to the NEM by the end of 2020 – "the equivalent of two Liddell power stations."
And while the federal government remains determined to talk down renewables, all this new capacity is working to increase competition and put downward pressure on power prices – a job that new PM Scott Morrison claims as one of his top policy priorities.
"Despite the bad rap renewables often get from government, right now (they) are the only thing putting downward pressure on electricity prices," Saddler said in comments accompanying the report.
"It is ironic, or perhaps symbolic, that these dramatic changes are so clearly demonstrating the success of policy in place since 2009, with a 2020 completion date, in the same month that the government finally abandoned any attempt to design energy and emissions policy to follow on through the 2020s," he notes.
"It is hard to see how more renewables, supported by a credible electricity emission reduction target of 45 per cent would be economy wrecking," Saddler said.