Federal government intervention to prop up coal power generation could damage the credit quality of the Australian energy sector, a new report has warned, just as it seeks crucial new investment in a rapidly changing grid.
The report, from financial markets analyst S&P Global Ratings, calls for an end to the federal energy policy vacuum, and for the reintroduction of emissions goals as a critical ingredient for planning the future grid.
It says that ongoing policy uncertainty, and the dumping of the proposed National Energy Guarantee, is delaying planned investment in new, quick dispatchable generation capacity across the NEM. And they're not talking about coal.
Indeed, the report says that any sort of investment in new coal power is highly unlikely, without government underwriting it.
But S&P Global doesn't recommend that course of action. Nor does it endorse the introduction of regulatory changes to keep ageing coal generation capacity in the system past their use-by date.
"Potential regulatory intervention could limit incentives for market participants and negatively affect the sector's credit quality over the longer term," the report says.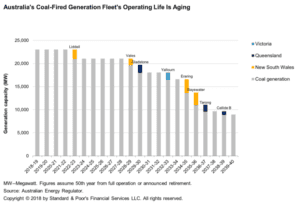 "Although the measures may offer some short-term reprieve to end consumers, they could hurt the profitability of market participants, and subsequently may price out some of the smaller players, thereby reducing overall competition."
"In our view, there is a probable risk of the thermal fleet becoming sub-economic for significant periods of time during the day in the coming decades," the report says.
"Forcing old plants to remain open would expose owners to safety issues if rising maintenance costs make the plants uneconomical compared against investment returns."