The procedures and requirements for connecting a commercial solar PV system to WA's Western Power network are some of the most stringent in Australia, especially when it comes to solar systems greater than 30kW in capacity. Understanding Western Power's grid-connection process is essential to the success of any commercial solar project on the network.
Requirements for solar PV systems up to 30kVA
Application procedure:
In order for a system with a capacity of 30kW (30kVA) or less receive permission to be connected to the the Western Power electricity grid, the following steps must be followed:
Apply for connection permission with the customer's electricity retailer. Once the application is received and processed by the retailer, the customer will receive a unique 'Retail Reference Number' which will be required for Step 2.
Apply to Western power to receive technical approval. Western Power will review the application and either approve it (if it complies with their Technical Rules) or send it back with suggestions for alternative system designs or modifications. Once approval has been granted, a 'meter change request' will be undertaken, and the applicant will receive a letter confirming this from Western Power. All systems must use inverters from Western Power's list of pre-approved models (which can be accessed here). The application form is available here; this form should be completed by the system installer and emailed to embedded.generation@westernpower.com.au or faxed to 08 9225 2678.
Have appropriate bi-directional metering installed (or have existing meter reprogrammed). Once this step is completed, the applicant may connect their solar system to the grid – provided it has complied with all of the relevant standards.
Additional information required in special circumstances
In the following cases, Western Power requires that additional information is included by the system supplier to assist Western Power in making a decision.
The system is NOT on Western Power's list of approved suburbs (pdf);
The total inverter capacity for the system is greater than 5kVA (for 3-phase);
If the system is not a PV system (i.e. if it is a wind, hydro or energy storage system);
The system will be installed on a split-phase connection;
There are other circumstances that Western Power believes necessitate more information.
The additional information that must usually be provided is:
Cable sizing (length (m) diameter (mm2); and
Diagram stating the location of the following:

Meter
Main switchboard
Sub boards (if any)
Inverter(s)
Supply type (overhead or underground)
Mini pillar or pole top transformer (if sole use)

Western Power also recommends that the system supplier provide an aerial photo or diagram of the property to clearly illustrate its location so that potential voltage rise issues can be identified preemptively. Failure to include this could result in delays. Examples of the type of photos that can be provided can be found below (originally from the Western Power website here).
Examples of aerial diagrams of properties for submission to Western Power
Requirements for solar PV systems between 30kVA and 150kVA
Those wishing to connect a system with a capacity between 30kVA and 150kVA to the network must first complete and submit an enquiry form to Western Power by emailing it to network.access@westernpower.com.au or faxing it to 08 9326 6550. A Western Power Access Consultant will get in touch within five business days to discuss the project in further detail. After the enquiry stage, the application stage begins. A completed application form (XLS) must be submitted to Western Power via the same email or fax as above.
Technical requirements
For any system larger than 30kVA, Western Power may have additional technical requirements in order for the system may be connected to the grid. These include:
Neutral Voltage Displacement (NVD) Protection: In certain circumstances, systems sized between 30kVA and 150kVA may be required to be equipped with NVD protection. Projects will be assessed on a case-by-case basis. Systems that are deemed to not require NVD protection "will be granted an exemption from full compliance with the applicable Technical Rules". Western Power will make this assessment using a screening tool designed for this purpose at the applicant's expense.
DC Injection Limits: Western Power says that it is constantly updating the best practices in its Technical Rules with AS4777 as a guide. The table below explains how the network's DC injection guidelines have changed from November 2014. More details are available here on the Western Power website.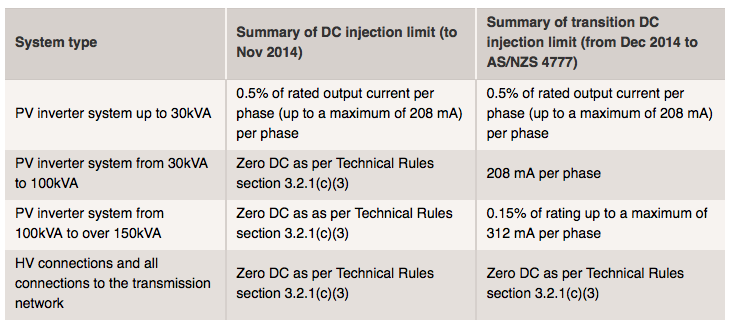 DC Injection Limits for various solar PV system sizes on the Western Power network.

Systems greater than 150kVA
For PV systems with a capacity greater than 150kVA, please refer to Western Power's Guidelines for Generator and Transmission Connections.
© 2015 Solar Choice Pty Ltd