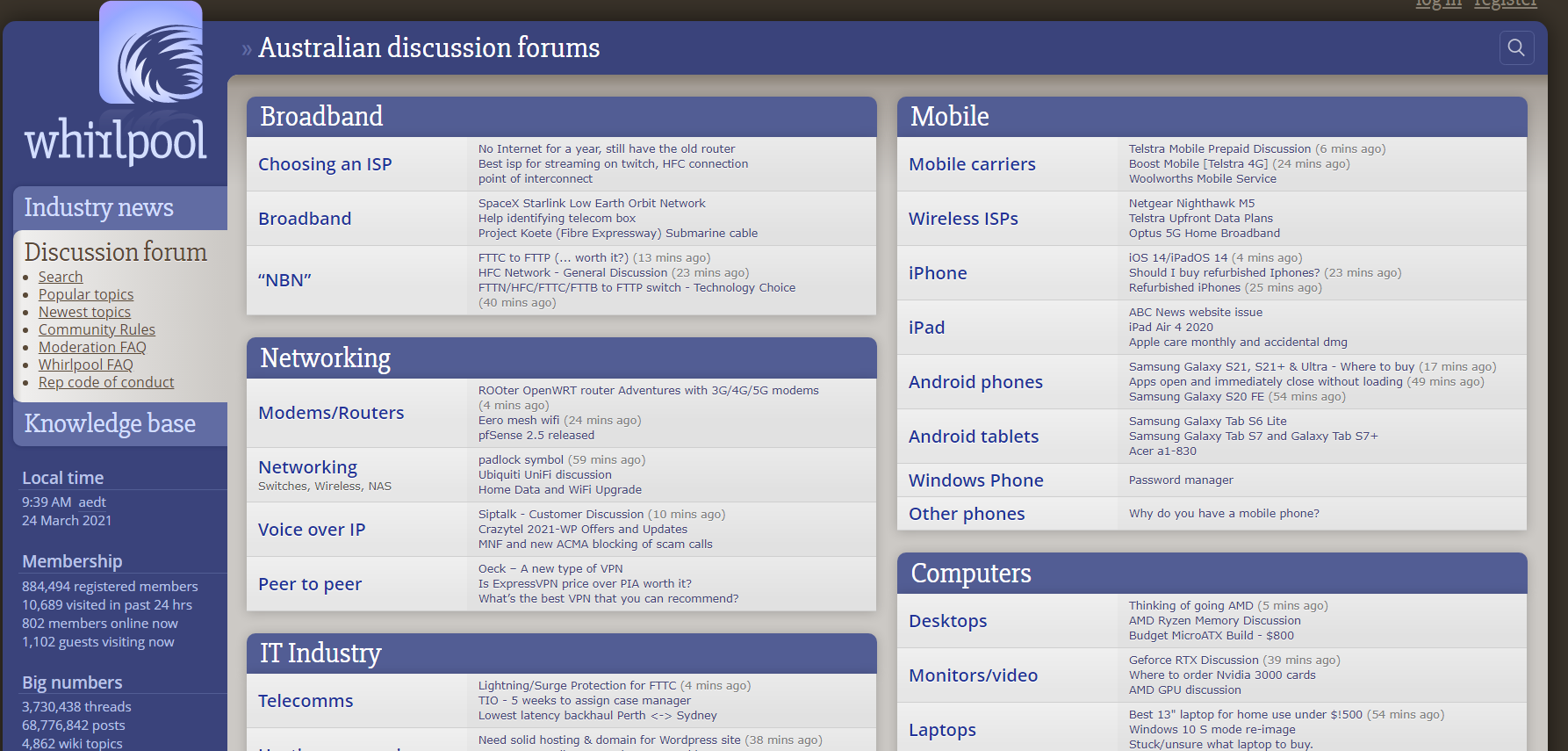 Our job here at Solar Choice is to offer quote comparisons on solar installers and help you find the system and company most appropriate to your project and preferences. If you are Net- and bargain-savvy, you may have come across several sites in the solar industry and others that offer advice and experiences to aid people with their consumer decisions. Whilst being entirely subjective and therefore completely different from Solar Choice, this comparative feedback and blog sites are useful avenues for your research and education on product and service comparisons. One of Australia's most popular sites for this kind of customer service research is Whirlpool.net.au, and this article will outline how best to utilise this particular resource.
Whirlpool Forums in Australia has been around since 1998, and currently has over 350,000 registered users. Its original claim to fame is its "Broadband Choice" section, which contains a comprehensive database of Australia's internet service providers (ISPs) and an interface that lets users filter through the information and choose the ISP that best suits them.
Its discussion forum, a large part of which focuses on technology, is also a huge draw for the site. There are hundreds of threads on the topic of solar power systems in particular, and that is what this article aims to discuss primarily. You can access and view all of these without registering, but if you want to ask questions of your own or post replies then you'll have to register.
To search for information about solar power system components or installer reviews:
1. Go to whirlpool.net.au
2. Scroll down to the 'lounges' section
3. Click on 'gadgets' or 'home' (both contain posts about solar power)
4. From here you can either browse the most recent threads, or you can scroll down to the bottom and search for a term like 'pv', 'photovoltaics', the name of a solar power system installer, or even a panel or component manufacturer
Once you've performed a search, you'll see the results and you'll see the different options method options up the top. These are 'Google site search', 'threads titles', and 'full text'. Try using the 'Google search' option to get a feeling for what's available on the site.
The main piece of advice that we'd like to offer users of Whirlpool forums is to take all comments with a grain of salt. From glowing reviews to damning reports, each entry is a completely subjective experience. The ease of access allows suppliers and installers of specific brands and companies to anonymously upload unqualified accounts of experiences to better their own means and especially discount those of their competitors. It is only through the complete reading of all responses and further discussions of the topic that one can begin to understand and appreciate the information given.
If you find that one person has written something particularly discouraging or encouraging about a topic, read as many other perspectives before coming to a conclusion on its validity. The sheer laboriousness and obviousness that the task is for a company to create dozens of profiles and elaborate accounts of a brand's advantages or disadvantages will protect the conclusions driven. With this in mind and the search functions outlined above, the usefulness of the site can become accessible.
A case in point: If you search with the term 'Solar Choice', you might find this thread asking about and reviewing our services. Certainly not starting out with the most positive reviews, the overall picture of the services and responsiveness provided eventually solidifies.
"I used Solar Choice to help compare installers and systems. I could not be happier with their service.
They were prompt in sending me comparative quotes. They followed up by email and by telephone."
and (about the day of Solar Chaos):
"Used them at 11.20pm tonight, called me back at 11.23pm, emailed comparison to me at 11.24. Accepted the quote at 11.28. Deposit paid at 11.33pm.
Busy night tonight in NSW. But it will be very quiet after midnight.
Good job NSW Government; great way to cause turmoil in this industry!
Anyway. I'm very happy with Solar Choice."
Here at Solar Choice we fully encourage the use of public forums such as Whirpool.net.au, so long as the moniker of a few of our own business approaches is considered. Be patient, research widely, consider all options and arrive at an educated and informed decision.

Latest posts by James Martin II
(see all)