Since the beginning of 2015 Solar Choice has seen interest in home energy storage grow steadily. We recently conducted a survey of our customers who have told us they would like to learn more about energy storage. The results were enlightening.
Traffic to the Solar Choice website confirms: Interest in storage is on the rise
Solar Choice's website is one of the most widely-accessed solar-related information portals in Australia, and the vast majority of our visitors find our site by doing web searches. Since 1 January 2015 there have been over 700,000 visits to our site – and over half a million of those have been first-time visitors. Because our sprawling Internet presence, our site acts as a bellwether for broader interest in a wide range of solar-related topics (including batteries and energy storage). It's no secret that there is more talk about home battery storage today than there was a year ago.
There has been a lot happening both within and outside Australia on this front, and this trend is clearly visible when looking at how visitors are finding our website. Of the 700,000 visits, roughly 70,000 (about 1 in 10) were people who entered the site via a battery or energy storage-related page (indicating an energy storage-related search); about 50,000 of these were new visitors to our site. The chart below (a screenshot from Google Analytics) shows how storage-related traffic has grown. It's no coincidence that the numbers began to rise most significantly in May – when Tesla announced its Powerwall and ignited the world's imagination with the promise of widespread uptake of home energy storage.

Visitors entering the Solar Choice website via energy storage-related pages since 1 January 2015.
Collecting information from interested customers
Since early June this year, on select pages we've invited visitors to our site to express their interest in energy storage by filling out a short form with their contact details and a few basic pieces of information about them. About 300 people (about 1.7% of the storage-related visitors) have done so to date. The bulk of them (about 42%) are in NSW, with the next largest numbers coming from Queensland and Victoria, at 21% and 18%, respectively. Over 65% of these 300 indicate that they already have a solar PV system; while this may simply be an result of the fact that there is no 'storage only' enquiry form on the Solar Choice site (soon to change), it still provides some insight into the already high level of interest in batteries among those who have existing solar systems.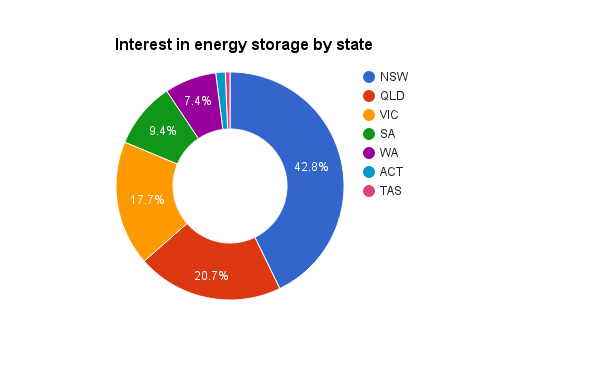 State-by-state breakdown of those interested in energy storage. The most interest came from NSW by far.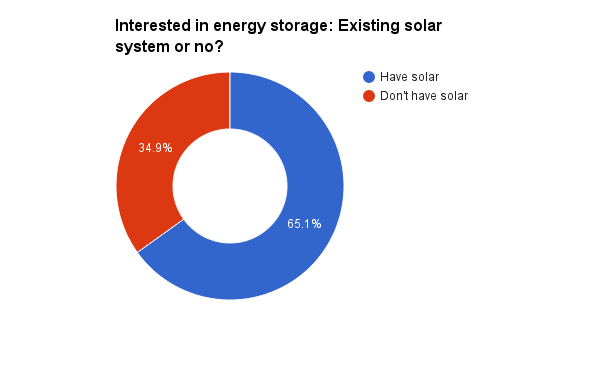 Breakdown of those who have an existing PV system vs those who don't. 
Survey results: What do shoppers know about battery storage?
A smaller subset of the 300 people mentioned above (just under 60) elected to fill out a more detailed survey for us. The results of this survey provide an enlightening snapshot of where the level of understanding is at and what expectations shoppers have. We should preface this by saying that the following results are not intended to be indicative of the the views of the general population – nearly all of them happened across the Solar Choice site by proactively searching for information on solar and/or battery storage, so it's safe to say that they are generally on the more well-informed end of the spectrum. Instead, the results should be seen as a peek into Australia's burgeoning energy storage market.
About the survey respondents:
-About half of the survey respondents were from NSW, with Victoria in second place.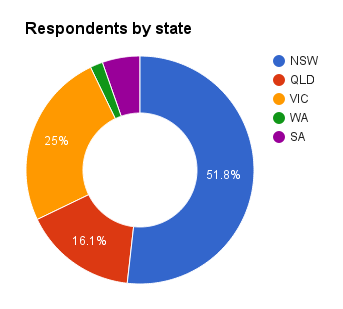 -Roughly 66% of the respondents live in an urban or suburban area.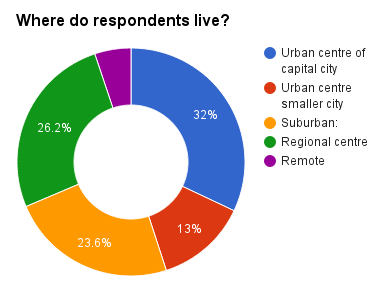 -The vast majority live in a grid-connected home.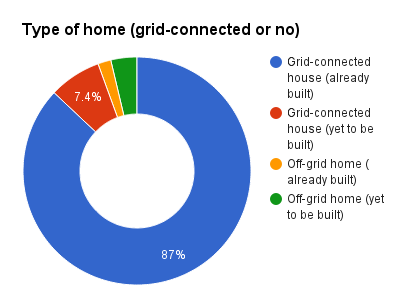 Feelings about energy self-sufficiency & savings with solar-plus-storage:
-About 75% of respondents indicated that energy self-sufficiency is not their primary objective in getting batteries. The remaining 25% also indicated that they might be open to installing an energy storage system even without reaching this milestone.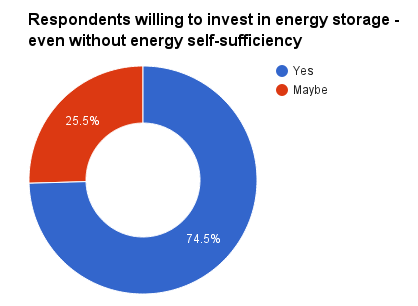 -Accordingly, most respondents indicated that self-sufficiency was more of a 'nice to have' than a goal to strive for. Most were only willing to reduce their electricity consumption to become self-sufficient only if it didn't require much additional effort.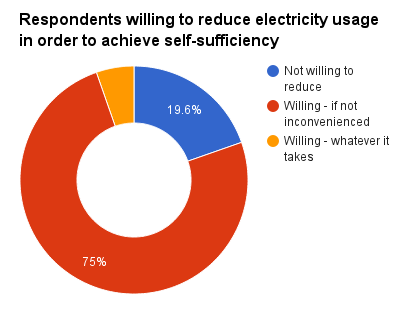 -When asked how much they would be theoretically willing to pay for energy independence, the most common answer was $10,000. The average number was also close to this amount. $15,000 was the second most common response. This is gives a good indication of the maximum many households would be willing to spend on a system.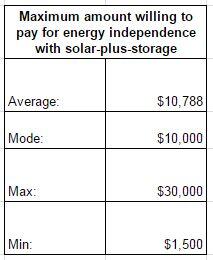 -Over half the respondents said they would either be willing to switch to time-of-use (TOU) billing or would be interested in learning more about it in order to maximise savings.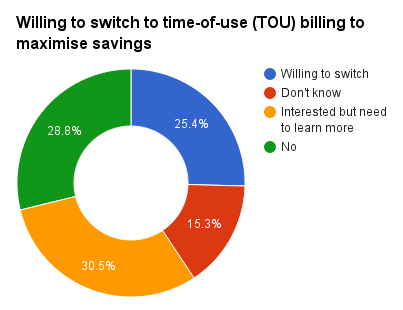 -When asked how much they would like to be paid for selling their stored energy into the grid, around 3/4 of respondents had some rate in mind. These rates varied considerably, but the most common response was 20c/kWh. This indicates that they are still thinking in terms of solar feed-in tariffs, and may not be aware of the higher rates that may potentially be offered through programs like Reposit Power's GridCredits.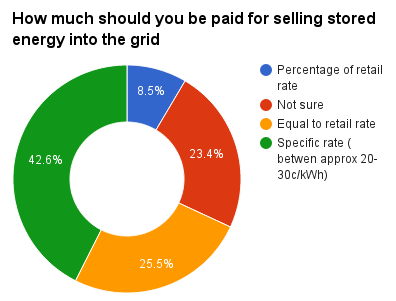 Respondents' knowledge of energy storage:
-Just over half of respondents indicated that they more or less know what they're after and are well-informed enough to make a decision. A much smaller number indicated that they know 'a lot' about energy storage, while the remaining 36% or so said that they know 'very little'.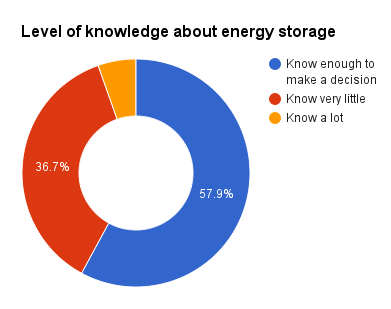 -Nevertheless, about 70% of respondents said that they have some idea of how much energy storage capacity they want or need (i.e. entering a kWh figure). Only around 30% indicated they had no idea what capacity would be most appropriate for them.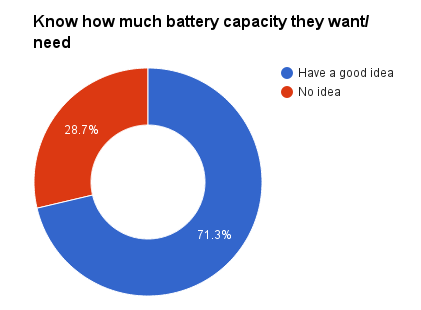 -Tesla's Powerwall – still not available on the Australian market – was the most recognised energy storage device among respondents. Australia's own Magellan Power was a distant second, with Bosch Power Tec in third place.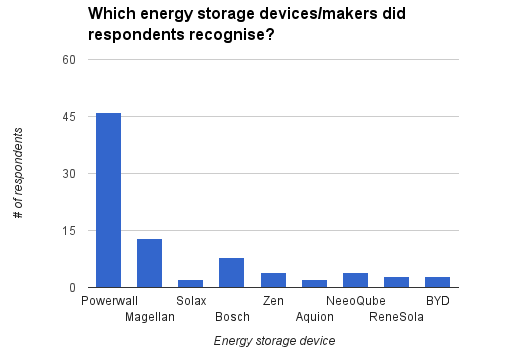 Key takeaways
Although the survey results above are probably not a representative sample of the Australian energy storage market, they're still useful in drawing some general conclusions about where things are at and how they are changing.
As Australia's energy storage market grows, so is consumer knowledge around the topic. There is already an educated group of consumers who are out searching for solutions.
Energy self-sufficiency (or going off the grid) is not a key goal for many of those in the market for energy storage. Most of the people who are interested are in grid-connected homes, and are interested in selling their energy to the grid.
There is still very little awareness around the full range of energy storage options available in Australia, but Tesla's Powerwall announcement appears to have done wonders towards boosting the market.
© 2015 Solar Choice Pty Ltd
Want updates about energy storage? Fill out the form below.
On the back of the success of our informative and impartial Solar Quote Comparisons, Solar Choice is currently in the process of developing an online comparison platform for energy storage solutions – for retrofit and brand new installations. If you'd like to be informed when this new service goes live, please enter your details into the form below and we will be in touch.

© 2015 Solar Choice Pty Ltd

Latest posts by James Martin II
(see all)