Australia's booming uptake of large and small-scale renewable energy is playing a key role in driving down wholesale electricity prices, forecast to almost halve in the next four years.
Data from Green Energy Markets, published on Thursday, reveals a direct link between investment in large-scale renewable projects, Australia's rooftop solar boom, and falling energy prices.
The Renewable Energy Index report shows energy prices started rising across the National Electricity Market in mid-2016, in the wake of the renewable energy drought that took hold in the Abbott years of the Coalition government.
This, says GEM, led to an insufficient amount of new renewable supply coming online ahead of the closure of the Hazelwood coal-fired power plant in Victoria, which also saw power prices spike upwards.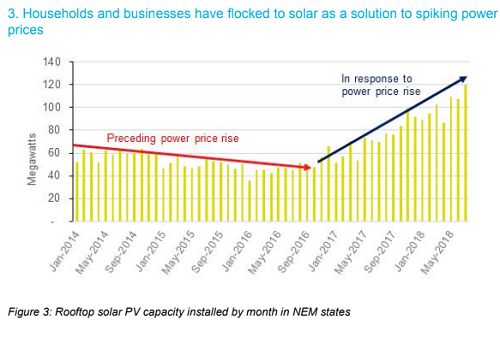 But by mid-2017, as a massive pipeline of renewable energy supply was starting to build, at costs vastly lower than previously thought, wholesale power prices have been steadily falling.
According to the GEM report, a massive 7,200MW of new solar and wind has been committed to construction since October 2016, accompanied by a boom in rooftop solar uptake.
"What this data shows is that if Scott Morrison is serious about bringing down power prices he should be walking around Parliament with a solar panel not a lump of coal," said GetUp Campaigns Director Miriam Lyons in comments on the report.
"The evidence is clear, slashing renewables drives power prices up, when there is investment in renewables, prices start to fall."