In the past there was an important distinction between net and gross metering for residential solar systems in Australia. These days, however, almost all new systems are installed with a net metering setup. What's the difference between a gross meter and a net meter, and why does it matter?
Gross vs net meters: A debate tied up in legacy feed-in tariff programs
In the past, most states offered some kind of generous solar feed-in tariff incentive. The rates paid under these programs were quite high – often 3-4x the going rate for grid electricity at the time. This meant that all solar homes receiving them would benefit the most by sending their solar into the grid.
Gross feed-in tariffs & metering
There were two types of feed-in tariff programs: Gross solar feed-in tariffs (notably the ACT and NSW) and net feed-in tariffs.
With gross feed-in tariff, the solar home was allowed to send all of their solar energy into the grid at the premium rate.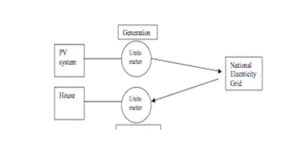 Example diagram of a gross metering setup, where all solar energy produced is exported to the grid. Exact details will vary with the meter, but the basic concept remains the same.
Net feed-in tariffs & metering
For the net feed-in tariff programs, the solar energy would flow first into any household appliances using power ('self-consumption'), with only the excess energy going into the grid.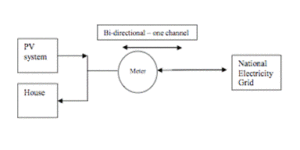 Example diagram of a net metering setup. Exact details will vary with the meter, but the basic concept remains the same.
Why gross feed-in recipients were unlikely to choose a net meter
Technically, gross feed-in tariff beneficiaries could opt for a net metering setup if they thought that their grid electricity rates would at some point exceed the feed-in tariff rate, but this was not often the case. As a result, in NSW – which was home to the most generous gross FiT scheme (at 60c/kWh) with the greatest number of signups – the vast majority of recipients chose a gross metering setup. This left nearly 140,000 households in the state looking to swap their meters in the run-up to the end of the program on 31 December 2016.
Why virtually no one would choose a gross meter today
These days, however, solar feed-in tariff rates are only around 6-8c/kWh in most places. In these conditions, no household would opt for a gross metering setup, as net metering promises much greater potential returns. Only designated generators – solar farms, etc – would choose to go with gross metering on the grid.
About accumulation, interval & 'smart' meters

These days, choosing a meter is less about net vs gross (the answer is almost always 'net') and more about the meter type. Depending on where you live, you may be able to choose between a simple accumulation meter (which just clocks the amount of energy flowing in and out of your home without regard to time), a simple interval meter (which does keep track of the timing of import/export of energy) or a digital smart meter (which should be capable of keeping track of import/export timing in detail – and remotely).

Smart meters may also come with a number of other functions which can benefit you directly or which your retailer can use to provide you with detailed information on your consumption habits. Check with your solar installer or your electricity retailer for details.
Solar energy is still worth it on net metering
As we've recently pointed out, solar panels are still definitely worth the investment in Australia, even without the generous solar feed-in tariffs of yesteryear. See for yourself with our Simple Solar PV System Payback Estimator Tool.
(This article was originally published in 2009. It has been updated to be relevant to current solar market conditions.)
© 2017 Solar Choice Pty Ltd

Latest posts by Jeff Sykes
(see all)