Note: Solar Choice is not a solar installer and has no financial or other incentives to promote any product brand over another.
Overview of GoodWe Solar – Company History
Established in 2010 by Mr. Huang Min, GoodWe has evolved into a notable player in the solar industry. Originally specialising in manufacturing inverters, the company has since broadened its product range and now joining in the solar panel sector.
Goodwe has manufactured a lightweight solar panel, which offers a promising alternative for roof spaces that cannot withstand the weight of a traditional solar panel. Goodwe have a local office in Australia to support their inverters which is based in Victoria.
Key Indicators
| | |
| --- | --- |
| | GoodWe Solar Panels |
| Bloomberg Tier 1 Ranking | No |
| PV Evolution Labs Top Performer | No |
| Office location in Australia | Yes |
What is a Bloomberg Tier 1 Solar Panel?
Bloomberg's infamous tier 1 ranking is NOT a measure of Solar Panel quality in any way. It is simply an indication of the bankability of the manufacturer based on publicly released information on the financial health of the company. This should give you an idea if the company is a large, well-known manufacturer.
See full list of Bloomberg Tier 1 Solar Panels
GoodWe Solar solar panels are NOT listed on the latest Bloomberg Tier 1 list.
What is PV Evolution Labs Top Performer?
PV Evolution Labs with support from DNV GL independently test solar panel reliability. The tests are voluntary, with solar panel manufacturers paying to participate in the testing. This testing process is internationally renowned and is an accurate reflection of the solar panel's performance.
GoodWe Solar Solar Panels are currently NOT ranked on the PV Top Performers List (2023).
See the full list of PV Evolution Labs Top Performing Solar Panels
Why is office location in Australia important?
Most solar panel manufacturers entering the Australian market first set up their distribution channels and worry about customer service later. This has led to many unhappy customers who are left trying to contact Chinese head offices to claim their 25-year product warranty.
Relying on your solar installer is not always an option as we've seen many residential solar installers (including the large ones) go out of business well within the lifetime of the systems they are installing.
GoodWe have a local office in Rowville, VIC Australia.
How much do GoodWe Solar Solar Panels cost?
Below is an estimate of the wholesale cost of GoodWe solar panels. Note this price is only available to distributors or solar installers, not to end-consumers.
| | |
| --- | --- |
| Solar Panel | Price per Watt |
| Galaxy BMT-G3/088A | 60 c – 70 c |
| Sunshine BMT-S2/024A | 160 c – 170 c |
Compare solar quotes from up to 7 local installers now.
GoodWe Solar Panels – Points of Difference
There are many solar panels out there, what makes GoodWe's solar panels stand out?
Ultra-lightweight Solar Panels
The lightweight design of GoodWe's Galaxy Series solar panels is well suited to roofs with low load-bearing capacity. Often this can make traditional solar installations unfeasible.
Typically solar panels utilise glass covers and aluminium frames and weigh around 18kg to 25kg. Goodwe's Galaxy panels use lightweight transparent lamination and weigh an impressive 9.3kg with a thickness of just 4mm.
Multiple Installation Methods
Galaxy Series can be installed with three different installation methods that eliminate the need for mounting rails which further reduces the weight of the overall solutions:
Clamps for standing seam metal or Klip-Lok roofs
Hot air welding for roofs with a waterproofing membrane
Adhesive for flat roofs.
The integrated tempered glass enhances mechanical performance and shields the solar cells from damage caused by hail and strong winds.

GoodWe Solar Solar Panel Technologies
GoodWe currently has 57 solar panels approved by the Clean Energy Council in Australia under the name "GoodWe (GuangDe) Power Supply Technology Co Ltd". This is a requirement to be eligible for the federal STC solar rebate.
Galaxy Series ( BMT – G)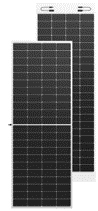 GoodWe's Galaxy Series is designed for both residential and commercial use. These panels have the lightest weight of all their options at 9.3kg, which makes them around 60% lighter than conventional solar panels.
The Galaxy Series uses 182 high-efficiency Mono PERC cells and a ventilation design that reduces generation loss by 2%. The power range of the Galaxy series is from 250W to 550W depending on the model and dimensions of the panel.
The Galaxy Series by GoodWe offers a module efficiency of approximately 20%, with the potential to reach up to 20.4%. These efficiency levels are competitive with or even exceed those found in standard solar panels available in the market.
The installation of Galaxy Series Panels:
Sunshine Sereis (BMT – S)

The GoodWe Sunshine Series, also known as solar brick panels, is a building-integrated photovoltaic (BIPV) solution that replaces conventional tiles or bricks with solar mini blocks.
These panels are designed for residential solar projects to give owners an option for a more aesthetically appealing solar solution. Their integrated tempered double-glass structure can ensure roof safety (Class A fire rating, waterproofing and wind resistance) and enhances ventilation and heat dissipation.
Crucially they are compatible with regular solar tiles so the solution can be bended into the roof design.
The Sunshine Series solar tiles come in dimensions of 1556x420x23.5mm, covering an area of 0.654 m2 and weighing 11.5kg. These panels utilize Mono PERC solar cell technology and offer a maximum power range of 84W.
The installation of Sunshine Series Panels:
Polaris Series (BMT – P)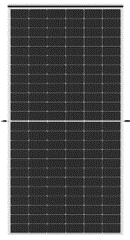 The Polaris Series by GoodWe is specifically designed for solar carports and sun sheds, featuring Mono PERC technology with 182 cells and power ranging from 300W to 550W. These panels have larger dimensions of 2327x1160x30mm and a weight of 32kg.
GoodWe Solar's Warranty for Australian Customers
Solar panels come with a product and performance warranty. The product warranty is designed to cover manufacturing faults in the panel that lead to damage or malfunction and is typically 10 years for most solar panel manufacturers. GoodWe's product warranty of 12 years for all the series of panels.
The performance warranty guarantees a certain level of output for the lifetime of the panel – typically guaranteeing 80-82% of the nameplate output after 25 years. GoodWe warranty document states that their Polaris Series and Sunshine Series of GoodWe modules will guarantee a maximum of 2% degradation in the first year and a 0.435% maximum decrease for years 2 to 30 ending at 84.95% of the nameplate value. For the Galaxy Series, they have a slightly higher degradation rate which is 2% in the first year and 0.55% from year 2 to 30, ending at 82.05%. All 3 series of panels offer a performance warranty of 30 years.
See more details of GoodWe's warranty document here.
Pros and cons of GoodWe Solar Panels
Pros
Cons

Huge inverter company offer dependable customer support and services




Can be installed on roofs that cannot handle the weight of traditional solar panels




The flexibility of the solar panel can suit multiple roof installations

Limited case studies for larger projects in Australia utilising their panels
GoodWe Solar Panel Specifications (common modules)
| | | | |
| --- | --- | --- | --- |
| | BMT-G3/088A | BMT-S2/024A | BMT-P2/144A |
| Series | Galaxy | Sunshine | Polaris |
| Cell Number | 182 | — | 182 |
| Cell Type | Mono PERC | Mono PERC | Mono PERC |
| Power Output | 335 Wp | 84 Wp | 550 Wp |
| Max Power Voltage | 25.68 V | 6.8 V | 41.35 V |
| Panel Efficiency | 20.4 % | — | 20.4 % |
| Annual Power Degradation (year 2 to year 30) | 0.55 % | 0.45 % | 0.45 % |
| Dimensions | 2116 x 777 x 3.5 mm | 1556 x 420 x 23.5 mm | 2327 x 1160 x 30 mm |
| Weight | 9.3 kg | 11.5 kg | 32 kg |
| Product Warranty | 12 Years | 12 Years | 12 Years |
| Operational Temperature Range | -40°C to 85°C | — | -40°C to 85°C |
So, Should I Buy GoodWe Solar Panels?
These solar panels are suitable for roofs with limited load-bearing capacity, offering flexibility in installation options where you will have limited options to choose from. As a huge solar inverter brand, the company is financially stable and appears to be in a good position to support customers through the life of the project.
Many traditional solar panels are now offering a 25-year product warranty which outpaces Goodwe's offer. However, with their specific applications, you will have limited choices to select a traditional solar solution.
Example of GoodWe Solar Project
Project Name: Rock's Church- ROCK Brisbane Church
Location: Brisbane, Australia
System Size: 8.82kW
BIPV Models: Galaxy Ultra 315W
Commissioning Date: July 2023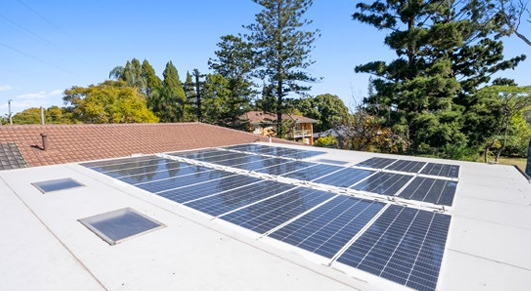 Pic Source: GoodWe Solar
Read more product reviews from Solar Choice
Compare quotes from up to 7 pre-vetted installers in your area now.
Since 2008 our knowledge and sophisticated software has allowed over 300,000 Australian households and businesses to make a well-informed choice on their solar & battery installer.

Latest posts by Jeff Sykes
(see all)