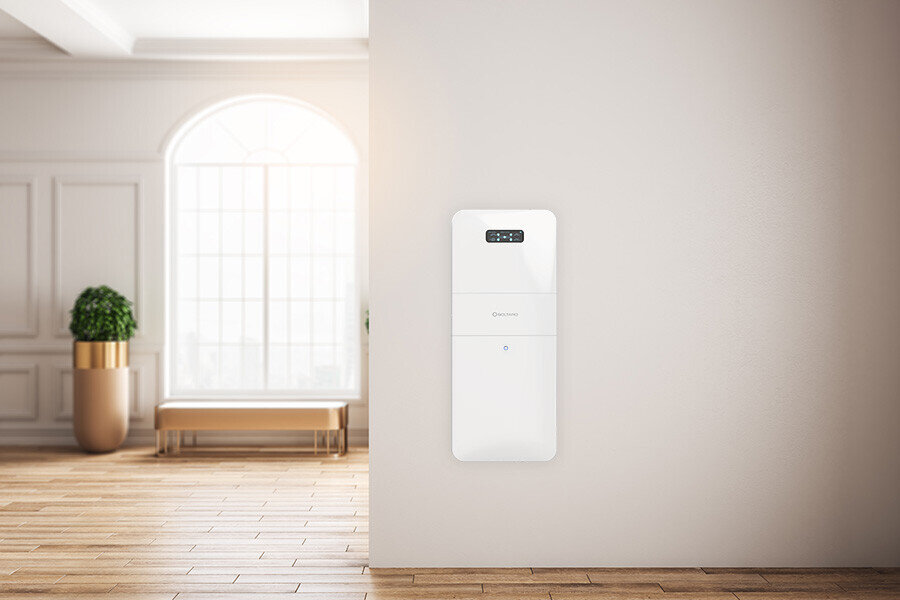 Background on Soltaro – Company history
Soltaro is an Australian owned and operated energy storage company with a background in importing and wholesaling various brands of panels and inverters. 
In 2016, Soltaro opened its own solar battery manufacturing and assembly facility in Wuxi, China.
Soltaro's flagship product range for home energy storage these days is the Australian designed and engineered AIO2 ESS, available in 5kWh or 10kWh capacities –  expandable up to 30kWh. This is an All-In-One ESS combinining the battery pack, inverter and battery management system. Moreover, it is Virtual Power Plant Ready and also provides seamless switch-over to help keep your home powered during a blackout.
The battery chemistry used in the AIO2 ESS is lithium iron phosphate (LiFePO?), which is widely regarded as being the safest of common lithium ion battery chemistries. Furthermore, the company says it only allows Soltaro trained and accredited installers and retailers to sell and install its products. Also, Soltaro offers a 10 year or 10,000 charging cycle (whichever comes first) warranty on their domestic battery systems. 
Basics Of Soltaro AIO2 Battery
The Soltaro AIO2 can be used both on-grid and off-grid as per their datasheet. It is also capable of being used for an on-grid battery backup. This gives the AIO2 the ultimate flexibility for homes and small businesses who need to ensure they don't lose power when it matters most. Moreover, as the AIO2 incorporates MPPT technology, it will always allow you to get the best out of your solar PV system. 
When grid-connected, or connected to a local micro-grid, the Soltaro AIO2 can be connected in parallel. This allows your system to be modular and expandable as your energy storage needs change. 
The batteries are also modular. You can add more battery storage up to 18 months after your initial installation. By allowing for changing energy needs and lifestyle changes, you're never buying more capacity than you need at that time.
Soltaro AIO2 Battery – Key Features
There are a number of features of the Soltaro AIO2 battery worth mentioning:
Solar Battery Efficiency
Its in-house innovative design, engineering, and manufacturing ensures the Soltaro storage systems' extreme efficiency. The round-trip efficiency varies between brands, and this measures energy lost from storage to usage. Nevertheless, Soltaro's 97% efficiency gained a whopping 4.5 rating.
100% Depth of Discharge
Incidentally, performance weighs more than efficiency. Soltaro batteries are designed to handle the harsh Australian climate, along with the vast temperature variations.
In addition, temperature range, operating humidity and altitude tests were checked. Essentially, with a 100% depth of discharge, operating humidity 95% and max. altitude of 4000 m, they scored an excellent 4.1 rating.
How Much Do Soltaro AIO2 Batteries Cost?
We've reached out to Soltaro for the wholesale cost of their batteries and will update this section when they respond back to us.
Compare quotes from up to 7 installers in your area now.
Australian Warranty Terms For Soltaro AIO2 Batteries
Like most battery solutions in Australia Soltaro offer a 10 year warranty for their battery. Soltaro warrants and represents that the Battery retains at least 85% of Nominal Energy (5KWH/10KWH) for five (5) years after the Warranty Start Date and at least 70% of Nominal Energy (5KWH/10KWH) for ten (10) years after under proper conditions of the use after the Warranty Start Date. The term "Nominal Energy" herein means the initially rated capacity of the Battery as printed on the label of the Battery.
Furthermore, Soltaro warrants its AIO2-BTLV storage battery (the "Battery") to be free from Product Defects for a period of ten (10) years or ten thousand (10,000) cycles, whichever occurs first, starting from the Warranty Start Date. For the avoidance of doubt, this warranty excludes damages caused by Wear & Tear, which includes in case of the Battery: LED screen, LED lights, paint and cell degradation. 
If Soltaro repairs or replaces a Product, the Warranty continues on the repaired or replacement Product for the remainder of the original warranty period or 90 days from the date of receipt of Soltaro's return shipment of the repaired or replacement product, whichever is later. The continuing Warranty covers a replacement unit, but does not include labor costs related to (1) uninstalling the Product or (2) if applicable, re-installing a repaired or replacement Product.
Unless specifically agreed to by Soltaro, no replacement will be provided for the entire Product. In each case, only the defective parts are replaced and the original Product is sent back. Also, Soltaro is not liable for damages caused to the exterior of the Product caused by installation, transport, or handling.
Replacement products/parts may be used as new or refurbished conditions whose performance is equal to or higher than defective Products and guaranteed by Soltaro. In the event a Defective Product is not available in the market anymore, then Soltaro, at its option, may replace it with a different kind of product with equivalent functions and performances or refund the remaining annually depreciated value of the purchase price of the Products during Warranty Term, according to the Compensation Scheme set out below.
Review Soltaro's warranty document here.
Battery Specifications Comparison
| | |
| --- | --- |
| Usable Capacity | 4.5kWh |
| Max. Output Power | 2.56kW charge, 5.12kW discharge |
| Nominal Storage | 5kWh |
| Dimensions (H x W x D) | 54cm x 105cm x 22cm |
| Weight | 79kg |
| Operating Temperature Range | -20°C to 55°C |
| Outdoor/Indoor | Indoor/Outdoor (IP65) |
| Warranty | 10 years |
Battery Government Rebate Schemes Across Australia
South Australia, New South Wales, Victoria, and the Australian Capital Territory all currently have a home battery scheme in place.
The South Australian Home Battery Scheme enables eligible South Australian residents to receive up to $4,000 per installed battery.
The New South Wales Home Battery Scheme offers an interest-free loan of up to $9000 for eligible households looking to install a solar battery.
The Victorian Government under the Solar Homes Program provides to those eligible, a maximum discount of $4,174 off the battery sale price. The next release of battery rebates is on the 2nd of September 2020.
The Australian Capital Territory Government under the Next Generation Energy Storage program provides a rebate of $825 per kilowatt (kW). An average household with a 5kW system would be eligible for approximately $4,000.
Read more product reviews from Solar Choice
Compare quotes from up to 7 pre-vetted installers in your area now.
Since 2008 our knowledge and sophisticated software has allowed over 300,000 Australian households and businesses to make a well-informed choice on their solar & battery installer.