Overview of Solarwatt – Company History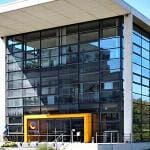 Solarwatt is a German company founded originally in 1993 and is still headquarted in Dresden. The business has expanded over the last 25 years now employing over 460 people globally across offices in Germany, France, Australia, Netherlands, Italy and Spain. The majority of the shares in the group are owned by Stefan Quandt who also owns a majority stake in BMW.
Solarwatt are known for their innovations with glass on glass Solar Panels introducing the world's first in 1998. They also released the first 300W glass on glass panel to the marketing 2016.
In 2016 Solarwatt acquired e-Wolf and extended their product range into the battery storage systems. Solarwatt have won the EES Award in 2015 and 2017 for their MyReserve battery storage system.
Basics of Solarwatt Lithium Batteries
MyReserve battery
Its battery product is called MyReserve, a modular energy storage device that consists of the MyReserve Pack battery module and MyReserve Command containing all the power electronics – so this is a "kind-of-all-in-one" system. It's certainly a teeny-tiny battery system – around the size of two shoe boxes including the Command module, and one Command module can be used with up to 5 battery modules according to their datasheet.
The MyReserve system can be expanded in 2.4kWh increments and SolarWatt says it is compatible with all common types of inverter compatible with MyReserve Command technical design parameters, without stating what those inverters are.
Depending on the number of battery modules, MyReserve offers peak power of up to 4 kW (800W peak per MyReserve unit).
MyReserve is not off-grid capable, so if you're in a blackout you'll be in the same boat as your neighbours (assuming they don't have off-grid capable systems). It also has an IP31 rating, so you can't install this outside.
The maximum number of modules that can be connected in parallel is 5. This equates to an energy storage capacity of 12kWh. This puts it well within the scope of residential battery applications, as well as the lower end for commercial use.
They have a working temperature of -20 to 45 degrees celsius which make them suitable to withstand the hot environmental extremes of Australia safely. On that point, they're developed with lithium ion phosphate which is well known for their chemical safety with batteries, as well as providing a long cycle life.
Rated IP54 means that it's designed to be used for both indoor or outdoor use.
It can be converted into a hybrid battery if you decide to connect the battery with an optional unit called the MyReserve Command.
Solarwatt Battery – Key Features
There are a number of features of the Solarwatt battery worth mentioning:
Scalable Capacity
As we've mentioned, these batteries are modular in design which enables you to scale the nominal capacity of your storage system. The advantage with this, is that it gives you the flexibility to expand your solar energy storage in the future. This may be useful if you're finding that you're finding your battery stretched with your night time use of appliances.
100% Depth of Discharge
The Depth of Discharge (DoD) of the MyReserve is 100%. This puts it ahead of some of Solarwatt's competitors, namely Sonnen (90% DoD and Alpha ESS (90% DoD).
DoD is an important factor to account for when making a buying decision for a solar battery. It's the percentage of the battery that has been discharged compared with it's stated capacity. The higher the DoD, the more available stored energy you can use, and hence greater potential you're gaining from it.
In relation to this, it's not recommended that people discharge their batteries fully as it shortens their lifespan as they have a limited number of charge/discharge cycles. This is why a manufacturer will state the DoD to give you an indication of how much you can discharge it. In saying that it's important to remember that there's a correlation between the cycle life and the DoD, i.e. the more often you discharge the battery to it's maximum DoD, the shorter its lifespan.
Flexible Use
The MyReserve Battery can be used in both off-grid and hybrid setups (when connected to the MyReserve Command unit). This gives you the consumer a lot of flexibility in how you use it. Whether you want to completely rely on developing a self contained solar power system or you want to retrofit it to an existing system, it caters to many different applications.
How Much Do Solarwatt Batteries Cost?
We've reached out to Solarwatt for the wholesale cost of their batteries and will update this section when they respond back to us.
Compare quotes from up to 7 installers in your area now.
Australian warranty terms for Solarwatt MyReserve batteries
As per Solarwatt's warranty documentation, they provide a 5 year product warranty along with a 10 year battery performance warranty.
SolarWatt says the lifetime of the MyReserve system is around 15 years, and guarantees an output of at least 80% of the battery module's capacity for 10 years. The product warranty is five years. It would be really good if manufacturers made their warranties last as long as they claim their products will and this product vs. performance warranty duration thing so popular with solar manufacturers can be somewhat misleading.
There's a few points about the warranty we think you should consider:
The warranty does not cover Battery Modules which are impaired, damaged, or destroyed, due to the fact that they have not been used for more than six months in a Product which was installed and operated in a photovoltaic system.

The Performance Warranty applies to the Battery Module only and not to other accessories of the Product or any possible AC Sensor.

This Product Warranty applies for a period of five years starting from the date the End Customer purchased the Product, however, for a maximum of five years and six months from the date the Product is shipped from the factory (which will be notified by Solarwatt to the End Customer on request).

SolarWatt guarantees the End Customer that each installed Battery Module is able to provide a usable energy equal to at least 80% of the original usable energy available at the time of installation until ten years starting from the date the End Customer purchased the Product. However, this is limited to a maximum period of ten years and six months from the date the Product is shipped from the SolarWatt factory
It's not clear from their warranty documentation if you can make a claim in Australia through any authorised resellers. Warranty claims can be made directly with Solarwatt here:
SOLARWATT GmbH
Maria-Reiche-Str. 2a
01109 Dresden Germany
Tel.: +49 351 889 50
E-mail: info@solarwatt.com
Read Solarwatt's battery warranty documentation here
MyReserve Specifications
MyReserve Battery
5 x MyReserve (in parallel)
Usable Capacity
2.4kWh
12kWh
Max. Discharge Efficiency
96.7%
Max connections in parallel
5
Indoor/Outdoor
Both (IP54)
Grid Connection
Suitable for mains parallel operation with 1 or 3-phase inverter
Operating Temperature
-20 to 45 degrees Celsius
Depth of Discharge
100%
Dimensions (W x H x D)
38.4cm x 20.05cm x 27.7cm
192cm x 20.05cm x 27.7cm
Weight
25kg
125kg
Warranty
5 year product warranty, 10 year battery performance warranty
Read About Home Battery Government Schemes Across Australia
South Australia, New South Wales, Victoria, and Australian Capital Territory all currently have a home battery scheme in place.
The South Australian Home Battery Scheme enables eligible South Australian residents to receive up to $4,000 per installed battery.
The New South Wales Home Battery Scheme offers an interest-free loan up to $9000 for eligible households looking to install a solar battery.
The Victorian Government under the Solar Homes Program provides to those eligible, a maximum discount of $4,174 off the battery sale price. The next release of battery rebates is on the 2nd of September 2020.
The Australian Capital Territory Government under the Next Generation Energy Storage program provides a rebate of $825 per kilowatt (kW). An average household with a 5kW system would be eligible for approximately $4,000.
Read more product reviews from Solar Choice
Compare quotes from up to 7 pre-vetted installers in your area now.
Since 2008 our knowledge and sophisticated software has allowed over 300,000 Australian households and businesses to make a well-informed choice on their solar & battery installer.