Note: Solar Choice is not a solar installer and has no financial or other incentives to promote any product brand over another.
Overview of EGing – Company History
Founded in 2003 in Changzhou, EGing PV is a vertically-integrated solar cell and solar panel manufacturer. The company was listed on the Shanghai Stock Exchange (SHA: 600537) in 2003. They have recently been named a Tier 1 supplier in Bloomberg's rankings which suggests they are a bankable supplier.
In 2019, Keenstar Holdings, which is a Hong Kong-based investment holding company, acquired a 51% stake in EGing Solar, making it the majority shareholder of the company.
The company has approximately 5GW of annual solar panel production capacity based out of its single manufacturing facility in Changzhou. This is the primary headquarters for EGing and their only office space despite the fact they sell solar panels in Europe, Asia, Africa and Australia.
EGing solar panels have not been utilised on Solar Farm projects in Australia to date. They have limited penetration of the Australian market without a local presence or marketing effort to support their product. They currently have a distribution agreement in place with One Stop Warehouse.
Key Indicators
| | |
| --- | --- |
| | EGing Solar Panels |
| Bloomberg Tier 1 Ranking | Yes |
| PV Evolution Labs Top Performer | Yes (6/6) |
| Office location in Australia | No |
What is a Bloomberg Tier 1 Solar Panel?
Bloomberg's infamous tier 1 ranking is NOT a measure of Solar Panel quality in any way. It is simply an indication of the bankability of the manufacturer based on publicly released information on the financial health of the company. This should give you an idea if the company is a large, well-known manufacturer.
EGing Solar Panels are on Bloomberg's tier 1 list.
See full list of Tier 1 Solar Panels
What is PV Evolution Labs Top Performer?
PV Evolution Labs in partnership with DNV GL independently test solar panel reliability on an annual basis. The tests are voluntary, with solar panel manufacturers paying to participate in the testing. This testing process is internationally renowned and is an accurate reflection of the solar panel's performance.
EGing Solar Panels was listed as a top performer for all 6 performance tests(thermal cycling, Damp Heat, Mechanical Stress Sequence, PID, LID+LETID and PAN) in the latest 2023 report.
See full list of PV Evolution Labs Top Performing Solar Panels
Why is office location in Australia Important?
Most solar panel manufacturers entering the Australian market first set up their distribution channels and worry about customer service later. This has led to many unhappy customers who are left trying to contact Chinese head offices to claim on their 10-year product warranty.
Relying on your solar installer is not always an option as since 2011 we've seen over 700 residential solar installers (including the large ones) go out of business well within the lifetime of the systems they are installing.
At this point EGing do NOT have an Australian office – so it appears if you have a warranty claim you will need to liaise directly with your installer or a product distributor.
How Much Do EGing Solar Panels Cost?
Based on Solar Choice's database we have taken the below-average costs from our database as an indicative guide. These prices include:
Full turnkey Solar System using EGing Solar Panels
Installation from a pre-vetted reputable installer from Solar Choice's network
The STC rebate and GST
| | |
| --- | --- |
| System Size | Average Fully Installed Cost |
| 10kW | $7,120 |
| 8KW | $6,320 |
| 6kW | $4,650 |
Important Note: Prices will vary depending on location, inverter brand and which installer is used
Compare quotes from up to 7 installers in your area now.
EGing Solar Panels – Points of Difference
There are many solar panels out there, what makes EGing solar panels stand out?
Tier 1 Listed Brand
EGing has established itself as a mid-scale solar panel manufacturer and has been recognised by Bloomberg NEF as a tier 1 listed brand. This means they have solid financial backing and provides some additional security that they will be able to support their long warranties on their solar panels.
EGing has been listed on the Shanghai Stock Exchange since 2011 and now reports to have 3000+ employees, 400+ patents applications and an annual solar panel production capacity of 5GW.
EGing Solar Panel Technologies
The majority of EGing solar panels are approved by the Clean Energy Council (listed under the company of Changzhou EGing Photovoltaic Technology Co Ltd) for the Small-scale Renewable Energy Scheme – Australia's home solar rebate program.
Currently, there are three typical categories in EGing's residential solutions: Star Series, Aurora Series and Convention Series for residential, commercial and utility-scale solutions. Below is the full range of EGing panels for residential solutions.
Star Series
EGing's Star series features high-efficiency solar panels using PERC monocrystalline half-cut solar cells enabling them to reach maximum efficiency of up to 21.29% (for model EG-550M72).
The panels come in various dimensions and have a power output range of 385W to 550W, making them suitable for both residential and commercial solar applications.
The Star series also has some all-black solar panel options which use black solar cells and black aluminium frames, providing a more visually appealing option for customers' rooftops.
Aurora Series
The Aurora series includes bifacial and double-glass solar panel options, which can generate electricity from both sides of the panel and increase their energy output.
This type of technology usually comes at a slight premium and is best utilised on ground-mounted solar projects or panels installed on tilt frames where sunlight can be reflected on the backside.
These panels also use PERC technology with half-cut monocrystalline cells and have a maximum efficiency of up to 21.56% (for model EG-670M66). The panels range in power output from 585W to 650W and are designed for utility-scale solar projects.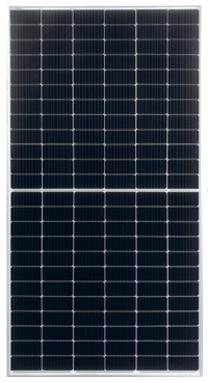 Convention Series
EGing's Convention series is their most affordable option, which uses monocrystalline cells without the PERC technology that is seen in other series. The maximum efficiency of up to 20.93% (EG-455M72), would be considered mediocre in comparison to what's available in the market at the time of writing.
The Convention series panels have a power output range from 345W to 455W, making them ideal for both residential and commercial applications.
EGing's Warranty Policies for Australian Customers
Solar panels come with a product and performance warranty. The product warranty is designed to cover manufacturing faults or materials in the panel that leads to damage or malfunction, while the performance warranty is to cover a panel's performance that won't deteriorate beyond a certain point.
As of January 1st 2022, EGing now offers a 15-year product warranty and a 25-year performance warranty on their mono-facial panels offered in Australia. The solar panel models mentioned in the excerpt from the warranty below have a 25-year product warranty:
"EG-(SERIES)M54-HL & EG-(SERIES)M60-HE with black frame or full black design. EG-(SERIES)M54-HLV & EG-(SERIES)M60-HEV with black frame or full black design."
To have a good chance of claiming a warranty with EGing you will need to have your installer or an 'authorised dealer' make a claim on your behalf. If they are out of business you will need to make "an immediate notification directly to EGing PV" including evidence of the claim and the serial numbers of the solar panels. EGing does not have an Australian office or an Australian website and the only publicly listed numbers for Eging are from their Chinese location.
In our opinion, this is not a great warranty offer for Australian customers and potential buyers should be aware that they may be subjected to a very difficult claim process if any issues occur.
Take a look at EGing's warranty policy for yourself!
EGing Solar Panels Pros and Cons
Pros
Cons

EGing PV became the first A-share-listed solar cell and module manufacturer to be listed on the Shanghai Stock Exchange
Competitive pricing for reasonable quality
Products have been utilised on utility-scale projects in Europe & Asia

No Australian Head Office
Do not feature on the PV Evolution Labs list as a top performing solar panel.
Smaller portfolio of completed projects here in Australia
Comparison of EGing Solar Panel Specifications (common modules)
Eging High Efficency Series 355W

EG-355M60-HE

EGing Standard Series 290W

EG-355P60-C

Cell Number
120 Cells Half-cut
60 Cells
Cell Type
Monocrystalline
Polycrystalline
Power Output
355
290
Nominal Power Voltage
33.78V
31.49V
Panel Efficiency
19.48%
17.75%
Annual Power Degradation
0.6%
0.7%
Dimensions
1755 × 1038 × 35 mm
1650 × 990 × 35 mm
Weight
19.2kg
17.3kg
Product Warranty
12 Years
10 Years
Operational Temperature Range
−40 °C to 85 °C
−40 °C to 85 °C
Made in
China
China
So, Should I Buy EGing Solar Panels?
The short answer is probably not. EGing panels are cheaper than many of their counterparts in the Australian market, but that comes at a cost. This cost is mostly contained in their limited warranty coverage which as it currently stands would lead to a difficult process for an end-consumer despite being a 25-year product warranty for some models.
Many of EGings' range of solar panels available in Australia utilise older technology and are lower in efficiency than their counterparts, so it would be important to look at the technical specifications of any solar panel you are being offered.
After reading the first version of this review some years ago, Eging produced an Australian website that now seems to be no longer supported. In the future, we would hope to see Eging establish a local presence with an Australian office, staff and website to support sales, provide technical support and provide a clear pathway for end-customers to claim warranty.
Read more product reviews from Solar Choice
Compare quotes from up to 7 pre-vetted installers in your area now.
Since 2008 our knowledge and sophisticated software has allowed over 300,000 Australian households and businesses to make a well-informed choice on their solar & battery installer.
Reviews from Australians who have installed EGing Panels
Rated 4.56 from 18 reviews
28th August 2023
Ben
-
6kW system
25th August 2023
Ben
-
6kW system
16th August 2023
Richard
-
6kW system
Seem to be good quality, as every brand comes out of China you just hope for the best.
15th August 2023
Nazia
-
6kW system
14th August 2023
Jack
-
8kW system
12th August 2023
John
VIC - 3180
6kW system
29th July 2023
Gerard
-
6kW system
6th July 2023
Jill
-
6kW system
9th June 2023
Indira
-
6kW system
Not started using yet and hence cannot comment.
8th June 2023
Randy
-
6kW system
6th June 2023
Mobasher
-
10-15kW system
29th May 2023
Jorge
-
3kW system
12th January 2023
Shannon
-
9kW system
22nd April 2022
Kristy
-
6kW system
21st April 2022
Michael
-
6kW system
Very happy with the panels. They do their job.
13th August 2021
Robert
NSW - 2107
6kW system
Output is as expected - the 370W panels are well constructed and their output is also very good considering shading and orientation at this time of the year (installed in June).
2nd July 2021
Lynda
-
30-50kW system
Whilst we see these are working now, we do not know our financial gain yet.
12th May 2021
-
4kW system
Seems to be a suitable type of solar panel. The proof will appear after some years of use.