Overview of Astronergy – Company History
Astronergy Solar is a fully owned subsidiary of Chint Group, which is a electrical power transmission and electricity distribution company in China. Chint Group is owned by billionaire Nan Cunhui and is reported by Forbes to be one largest privately owned companies in China
The solar panel manufacturing business, Astronergy Solar, was founded in 2006 and is based in Hangzhou. Astronergy also have an EPC capability domestically in the Chinese solar market. The business currently claims to have revenues of AUD$2.9B and a manufacturing capacity of 12GW spread across China, Thailand and Vietnam. Historically Astronergy Solar have been focused on commercial and solar farm projects with the predominant panel series being larger dimension panels with 72 cells.
After initial trial with a local distributor in Australia from 2009 to 2012, Astronergy Solar have have made a strong push to re-enter the Australian market in 2017 setting up relations with major solar product distribution agreements with Solar Juice, Powerark and Metal Manufacturers (which includes TLE Electrical, AWM Electrical, Haymans Electrical). Astronergy are increasing their share of the Australian market, investing over $60M into large-scale solar farm projects, however currently have a limited penetration of the residential and commercial market.
Astronergy has signed a technical co-operation agreement with the UNSW.
Key Indicators
| | |
| --- | --- |
| | Astronergy Solar Panels |
| Bloomberg Tier 1 Ranking | Yes |
| PV Evolution Labs Top Performer | Yes (3/6) |
| Office location in Australia | Yes |
What is a Bloomberg Tier 1 Solar Panel?
Bloomberg's infamous tier 1 ranking is NOT a measure of Solar Panel quality in any way. It is simply an indication of the bankability of the manufacturer based on publicly released information on the financial health of the company. This should give you an idea if the company is a large, well-known manufacturer.
Astronergy Solar Panels are in the Bloomberg Tier 1.
See full list of Bloomberg Tier 1 Solar Panels
What is PV Evolution Labs Top Performer?
PV Evolution Labs with support from DNV GL independently test solar panel reliability. The tests are voluntary, with solar panel manufacturers paying to participate in the testing. This testing process is internationally renowned and is an accurate reflection of the solar panel's performance.
Astronergy Solar Panels was listed as a top performer for the thermal cycling, LID+LETID and PAN performance in the latest report.
See full list of PV Evolution Labs Top Performing Solar Panels
Why is office location in Australia Important?
Most solar panel manufacturers entering the Australian market first set up their distribution channels and worry about customer service later. This has led to many unhappy customers who are left trying to contact Chinese head offices to claim on their 10-year product warranty.
Relying on your solar installer is not always an option as since 2011 we've seen over 700 residential solar installers (including the large ones) go out of business well within the lifetime of the systems they are installing. 
Astronergy Solar established an office in Adelaide during 2019 to provide local support.
How much do Astronergy Solar Panels cost?
Based on Solar Choice's database we have provided the below-average costs as an indicative guide. These prices include:
Full turnkey Solar System with Astronergy Solar Panels
Installation from a pre-vetted reputable installer from Solar Choice's network
The STC rebate and GST
| | |
| --- | --- |
| System Size | Average Fully Installed Cost |
| 10kW | $9,000 |
| 8KW | $7,000 |
| 6kW | $5,500 |
 Important Note: Prices will vary depending on location, inverter brand and which installer is used
Compare quotes from up to 7 installers in your area now.
 Astronergy's Smart Factories Use AI to Detect Defects
The below video supplied by Astronergy shows a Solar Panel entering their unique automated process to detect defects within the solar cells. The cracks and impurities they identify can lead to hotspots and loss of production in the life of the panel. If a defect was identified, the Astronergy worker in below video would extract the panel from the production line.
Without the AI technology assisting this process, manufacturers might have a small quality control team looking through the panels to identify defects, potentially just identifying what is visible to the human eye.
Astronergy Solar Panel Technologies
All the panels they currently sell in Australia are salt mist corrosion-resistant and suitable for installation in any location.
Currently, Astronergy offers four series of panels being the AstroTwins, AstroSemi, AstroHalo, AstroNova. At the time of updating this page (Nov 2020), they can produce panels with efficiencies of up to 20.7% (Astro 5 400W).
The majority of Astronergy solar panels are approved by the Clean Energy Council (listed under the parent company Chint Solar Zhejiang Co Ltd) for the Small-scale Renewable Energy Scheme – Australia's home solar rebate program.
AstroTwins series
Bi-facial solar panel meaning it can absorb sunlight from the top and bottom of the solar panel, increasing the output by up to 30% (depending on what the light is reflected off)

The series has monocrystalline half cut solar cells which increases the power density and shade resilience
The front side has a 20.2% efficiency rate, and the back has a 14.2% efficiency rate for reflected light
Compared with the traditional white EVA plastic back-sheet, the AstroTwin series has glass on the front and back which increases the stability of the solar panel, and improves the UV degradation rate to 0.5% per year (0.7% a year is an industry standard)
Modules available in Australia:
AstroTwins (Mono) 120 Half Cells Bifacial 335W-350W
AstroTwins (Mono) 120 Half Cells Bifacial 360W-375W
AstroTwins (Mono) 144 Half Cells Bifacial 400W-420W
AstroTwins (Mono) 144 Half Cells Bifacial 435W-455W
AstroSemi series
The AstroSemi series is high quality solar panel designed for residential and commercial solar projects with 120 or 144 half cut solar cells in monocrystalline or polycrystalline options
Both HC and multiple 9BB technologies could reduce the shading effect and enable the panels to reach an excellent efficiency rating of up to 20.7%
The AstroSemi also features a full black panel (pictured to the right) which is ideal for highly visible roofs and customers looking for an aesthetically pleasing solution
Modules available in Australia:
AstroSemi (Mono) 120 Cells Half-cut 320W-330W Full Black
AstroSemi (Mono) 120 Cells Half-cut 370W-380W
AstroSemi (Mono) 144 Cells Half-cut 380W-410W
AstroSemi (Poly) 120 Cells Half-cut 300W-315W
AstroSemi (Poly) 144 Cells Half-cut 360W-380W
AstroHalo & AstroNova series
Both Astronergy's AstroNova and AstroHalo series have 60 and 72 solar cells modules and feature some of Astronergy older technology
The AstroNova series use polycrystalline cells with up to 18.3% efficiency, while the AstroHalo series feature monocrystalline solar cells with up to 19.2% efficiency
The AstroNova series also include PERC technology which was invented at UNSW
5-busbar cells reduce the cell series resistance and internal stress, decreases the risk of mirco-crack and improves the module output
Modules available in Australia:
AstroHalo (Mono) 60 Cells PERC 305W-315W
AstroNova (Poly) 60 Cells 265W-295W
AstroNova (Poly) 72 Cells 325W-355W
Astro 5 series
The Astro 5s is designed for the Australian residential market with 54 half cut 182mm cells with a rating up to 410W
The solar panels come with max efficiency up to an impressive 21.3% which Astronergy note is supported by innovative busbar technology and improved cell cutting procedures
The mono PERC cells have a lower degradation rate providing a guarantee of 84.80% of the nameplate power rating at the end of the 25 year performance warranty period
Modules available in Australia:
Astro 5s (Mono PERC) 54 Cells 390W-410W
Astro 5 Twins (Bifacial) 72 Cells 525W – 545W
Astronergy's Warranty Offering
Solar panels come with a product and performance warranty. The product warranty is designed to cover manufacturing faults in the panel that leads to damage or malfunction and is typically 10 years for most solar panel manufacturers. In 2019 Astronergy increased their product warranty to 12-year and 25-year performance warranty for most of their solar panels. For all modules purchased from or before 31/12/2018, an industry-standard 10-year product warranty and 25-year performance warranty was offered.
Astronergy offers special 15-year product warranty (only applies to rooftop installation) for modules – CHSM60M-HC 325W/330W/335W/340W. Astronergy's warranty is backed by a third-party reinsurance company which will continue to process claims if Astronergy out of business.
Please read more on the latest warranty explanation.
Astronergy Solar Panels Pros and Cons
Pros
Listed as a top performing solar panel by PV Evolution Labs
Competitive pricing for reasonable quality
Products have been utilised on utility scale projects around the world including Australia
Cons
Only re-entered Australian market in 2017
No premium product offering with 25 years product warranty
Comparison of Astronergy Solar Panel Specifications (common modules)
AstroSemi 370W

CHSM60M-HC

Astro 5 400W

CHSM54M-HC

AstroHalo 315W

CHSM6610M

Cell Number
120 Cells (Half-Cut)
108 Cells (Half-Cut)
60 Cells
Cell Type
Monocrystalline
Mono PERC
Monocrystalline
Power Output
370
400
315
Nominal Power Voltage
33.98V

31.09V

33.05V
Panel Efficiency
20.0%

20.7%

19.2%
Annual Power Degradation
0.55%
0.55%
0.7%
Dimensions
1765 × 1048 × 35 mm
1708 × 1133 × 30 mm
1650 × 992 × 35 mm
Weight
20kg
21.5kg
18.4kg
Product Warranty
 12 Years
 12 Years
 12 Years
Operational Temperature Range
−40 °C to 85 °C
−40 °C to 85 °C
−40 °C to 85 °C
Made in
China/Turkey
China/Turkey
China
So, Should I Buy Astronergy Solar Panels?
Astronergy Solar Panels do not have the track record in Australia that some of the bigger brands have and as a result can usually be obtained at more cost effective prices. With a new a smaller presence in Australia, it suggests that you may have more difficulty than other brands accessing warranty (if needed) into the future.
That said, they are one of the few panel manufacturers to be named as a DNV GL Top Performer across 3 of the 6 of the testing procedures. Astronergy's better quality modules (such as the Astro 5 series) feature cutting edge technology and are competitive with some of the premium options in the market.
Given they are also considered bankable for Solar Farm projects having been selected for several utility-scale projects in Australia, our opinion is that Astronergy panels are a good fit for Australian customers.
Example of an Astronergy Solar Project –the Goonumbla Solar Farm, NSW
Date: May 2020
Type of Application: Utility
System Size: 68.7MW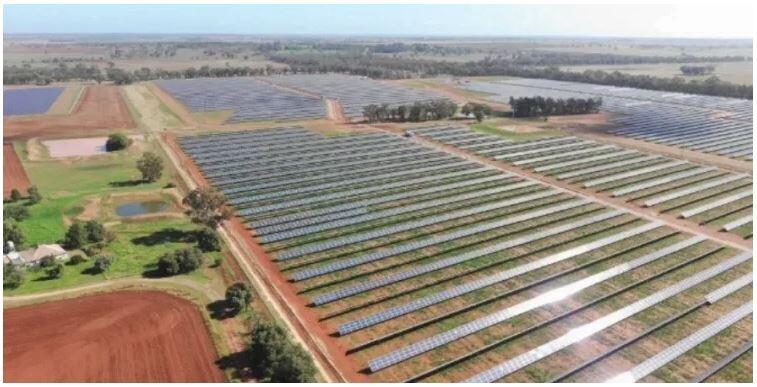 Astronergy/Chint Solar has successfully commissioned the Goonumbla photovoltaic plant in New South Wales, built for Fotowatio Renewables Ventures (FRV) as part of a joint venture with the Spanish EPC contractor Gransolar (GRS). Astronergy supplied 269,235 high-efficiency solar modules as well as EPC services for the project. Astronergy and GRS are now about to commence grid connection tests, once the plant has been successfully registered with AEMO.
Located about 10km west of the city of Parkes and 280km northwest of Sydney, the Goonumbla plant has 69.75 MW installed capacity that will produce approximately 195,000 MWh energy each year, guaranteeing the energy supply for 45,000 homes in the state and simultaneously eliminating the annual emission of around 140,000 tons of CO2 into the atmosphere.
Read more product reviews from Solar Choice
Compare quotes from up to 7 pre-vetted installers in your area now.
Since 2008 our knowledge and sophisticated software has allowed over 180,000 Australian households and businesses to make a well-informed choice on their solar & battery installer.
Reviews from Australians who have installed Astronergy Panels
Rated 5.00 from 2 reviews
21st July 2022
Eve
-
6kW system
No issues at all. Runs as intended.
14th May 2022
Mark
-
8kW system