Note: Solar Choice is not a solar installer and has no financial or other incentive to promote any product brand over another. 
Overview of Phono Solar – Company History
In 2018 Phono Solar rebranded in Australia to Sumec Phono Solar Australia to highlight their parent company Sumec Group. Sumec Group in turn is a subsidiary of the China National Machinery Industry Corporation (also known as Sinomach). Sinomach was founded in 1997 in Beijing and is a Chinese state owned enterprise.
Phono Solar was created in 2008 with a focus on manufacturing polycrystalline and subsequently monocrystalline solar panels. Their manufacturing facilities are located in Nanjing, China with a reported capacity of 1.6GW (Bloomberg) making them a smaller scale manufacturer.
From what Solar Choice can see across our database of solar installer offers, Phono Solar currently have a limited penetration into the Australian market. They are yet to lease a permanent office in Australia and currently have a very basic AU website (which looks surprisingly similar to Hyundai Solar's Australian website). The warranty services in Australia are performed by Supply Partners who are the exclusive distributers of Phono Solar panels.
Key Indicators
| | |
| --- | --- |
| | Phono Solar Panels |
| Bloomberg Tier 1 Ranking | Yes |
| PV Evolution Labs Top Performer | Yes (3/6) |
| Office location in Australia | No |
What is a Bloomberg Tier 1 Solar Panel?
At the outset it is important to clarify that Bloomberg's infamous tier 1 ranking does not measure solar panel quality in any way. It is simply an indication of the bankability of the manufacturer based on publicly released information on the financial health of the company. This should give you an idea if the company is a large, well-known manufacturer.
Phono Solar are in the Bloomberg Tier 1.
See full list of Bloomberg Tier 1 Solar Panels
What is PV Evolution Labs Top Performer?
PV Evolution Labs with support from DNV GL independently test solar panel reliability. The tests are voluntary, with solar panel manufacturers paying to participate in the testing. This testing process is internationally renowned and is an accurate reflection of the solar panel's performance.
Phono Solar was listed as a top performer for thermal cycling, LID+LETID and potential-induced degradation in the latest report.
See full list of PV Evolution Labs Top Performing Solar Panels
Why is office location in Australia Important?
Solar manufacturers having an Australian office is important for end-consumers so they have someone to contact domestically who can assist with warranty claims or product issues. Most established brands in Australia have set up an office with 2-10 staff servicing customers.
Your installer might say that they will look after everything if something goes wrong. Given we have seen so many solar installers go out of business in the last 10 years, it makes sense to pick a solar panel with proper Australian support staff.
Phono Solar has an office listed at a co-working space in Barangaroo Sydney and can be contacted on (02) 8114 4516. This co-working space run by ServCorp offers 'virtual offices' to provide the benefits of a prestigious address without committing to an office space.
How Much Do Phono Solar Panels Cost?
Based on Solar Choice's database we have provided the below-average costs as an indicative guide. These prices include:
Full turnkey Solar System with Phono Solar Panels
Installation from a pre-vetted reputable installer from Solar Choice's network
The STC rebate and GST
| | |
| --- | --- |
| System Size | Average Fully Installed Cost |
| 10kW | $9,000 |
| 8KW | $7,500 |
| 6kW | $6,000 |
 Important Note: Prices will vary depending on location, inverter brand and which installer is used
Compare quotes from up to 7 installers in your area now.
Phono Solar Panel Technologies
All the panels they currently sell in Australia are salt mist corrosion-resistant and suitable for installation in any location.
Currently, Phono offers two series of panels on the Australia market for residential solutions – Premium module and Twin Plus module series. At the time of updating this page (Dec 2020), they can produce panels with efficiencies of up to 20.58% (Twin Plus 450W).
The majority of Phono solar panels are approved by the Clean Energy Council (listed under the name of Phono Energy Solutions Co Ltd) for the Small-scale Renewable Energy Scheme – Australia's home solar rebate program.
Twin Plus Module
This series has two options of 120 cells and 144 cells monocrystalline are suitable for either residential or commercial systems.
The monocrystalline silicon cells use PERC technology which was originally developed at UNSW which leads to an efficiency up to 19.9%
The modules feature a temperature co-efficient of -0.38%/°C which puts them slighly ahead of your average tier 1 panel
Modules and data sheets:
Twin Plus Series
In the similarly named Twin Plus "Series" there are also 120 Cell and 144 Cell options featuring slightly larger silicon cells and larger overall dimensions
In additional to the larger dimensions the efficiency of the solar panels has also increased up to 20.58% (despite dropping the PERC technology) meaning the panels have a considerable uplift in Wp rating to the Twin Plus "Module"
The Twin Plus Series is also marketed to come with an optional 5 year warranty extension (to 20 years total) but we examine this further in the warranty section below
Modules and data sheets:
Phono Solar's Warranty Offering – Not quite as good as it looks
Solar panels come with a product and performance warranty. The product warranty is designed to cover manufacturing faults in the panel that leads to damage or malfunction, while the performance warranty guarantees a minimum amount of output from the solar panel, which typically declines annually in line with the natural degradation of the silicon in the panel.
Most solar panels on the market have 10 to 12-year product warranty and 25-year performance warranty. In 2019, Phono increased their product warranty to 15 years along with 25-year performance warranty for all ranges.
Phono Solar are also offering an optional 5-year warranty extension for their 370W (PS370M4-20/UH) and 450W (PS450M4-24/TH) panels. There is an asterix (*) next to any mention of this on their website but there is no further information provided. In the product data sheet for the Twin Plus series we can see that this warranty extension is limited to "hot spots and seal failure" and for residential customers only. There is no reference to this extension in their warranty document. In our opinion, I would not be putting any value on this claim and suspect they may be in violation of the Trade Practices Act in terms of providing misleading information.
Sumec Phono Solar's warranty is serviced by Supply Partners who are their exclusive distributer in Australia. This is not as strong an offer as some of the mainstream tier 1 solar panels, where solar panel warranty claims are received, processed and resolved by Australian staff located in a permanent office.
Please read more on the latest warranty policy.
Comparison of Phono Solar Panel Specifications (common modules)
Phono Twin Plus 370W

PS370M4-20/UH

PS370M4H-20/UH

 Phono Twin Plus 330W

PS330M1-20/UH

PS330M1H-20/UH

Cell Number
120 Cells
120 Cells
Cell Type
Mono
Mono
Power Output
370W
330W
Nominal Power Voltage
34.2V
34.34V
Panel Efficiency
20.17%
19.57%
Annual Power Degradation
0.7%
0.7%
Dimensions
1764mm × 1040mm × 35mm
1686mm × 1000mm × 35mm
Weight
20kg
19kg
Product Warranty
15 Years with optional extended warranty
15 Years with optional extended warranty
Operational Temperature Range
−40 °C to 85 °C
−40 °C to 85 °C
Made in
China
China
So, Should I Buy Phono Solar Panels?
In general, we would consider Phono Solar's panels to be a mid-range option that could be worth going for if offered at an attractive price.
There are some good signs in terms of quality with their panels featuring on DNV GL's top performers list in 2018 and 2019, although the question has to be asked why they weren't able to keep that rating for 2020.
The 15 year product warranty stands them ahead of most of their mid-range competitors. They are backed by Sumec Group and Sinomach leading Bloomberg to identifying them as a tier 1 bankable manufacturer. If your installer goes bust, you may have some issues claiming under this policy as their warranty services are completed by a distributer.
It would be great to see Phono Solar lease some office space in Australia and build a warranty claim process that end-consumers can easily use.
Example of a Phono Solar Project – Moama Anglican Grammar, NSW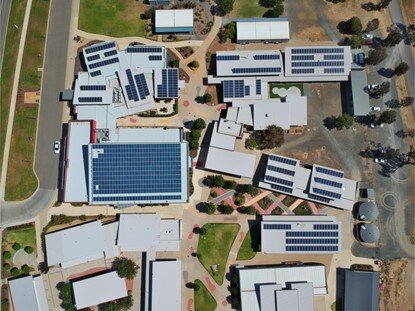 Year: 2019
Type of Application: Commercial
System Size: 275kW
275kW of Phono solar panels were installed in Moama Anglican Grammar School, offsetting the carbon emissions by around 284 tonnes annually
Read more product reviews from Solar Choice
Compare quotes from up to 7 pre-vetted installers in your area now.
Since 2008 our knowledge and sophisticated software has allowed over 180,000 Australian households and businesses to make a well-informed choice on their solar & battery installer.
Reviews from Australians who have installed Phono Panels
Rated 5.00 from 2 reviews
19th April 2022
Paul
QLD - 4157
6kW system
Still not yet a month old, but already working way better then I expected
26th July 2021
Garry
TAS - 7020
6kW system
Too early to tell but all good so far