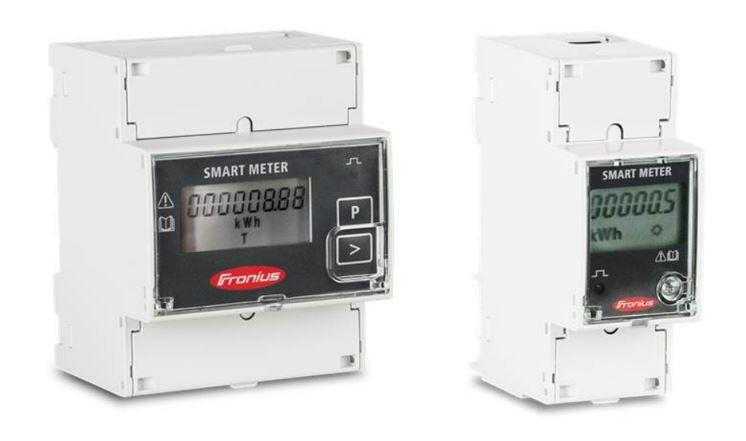 What are Smart Meters?
A Smart Meter is a piece of hardware that is installed within your switchboard than can measure electricity that is being drawn from the grid and surplus solar power that is being sent back to the grid. The smart meter connects with the solar inverter via a data cable so that data can be shared and combined with the solar inverter data to provide an overall picture of your solar system's performance via the online monitoring software.
Without a Smart Meter, online monitoring software can only tell you how much solar power has been generated and does not give you a complete picture of how much of the solar energy is  self-consumed directly within the property and how much is exported back to the grid. Understanding this complete picture can help homeowners increase their solar self-consumption and ultimately to lower their power bills.
Smart Meters, such as the Fronius Smart Meter, also have solar export limiting capabilities. In many states of Australia there is a limit of 5kVA of solar export on single phase residential connections, so the Smart Meter plays the role of telling the Solar Inverter to 'ramp down' in situations where the system would exceed that limit.
Difference between a Bi-directional Meter and a Smart Meter
A Bi-directional meter is a mandatory requirement for all solar power systems in Australia. This is a revenue-grade meter supplied be your local Distributed Network Service Provider (DNSP) which measures how much power you draw from the grid and how much electricity you export back into the grid.
If you are installing solar, usually your Solar Installation Company will help you with the appropriate application to have your meter changed over (if required), but it is a process they are not in control of. There is often a small cost associated with the change over of the meter.
A Smart Meter is an optional addition to a solar system which improves the visibility and monitoring of the system's performance along with the household energy usage.
Fronius Smart Meter Specifications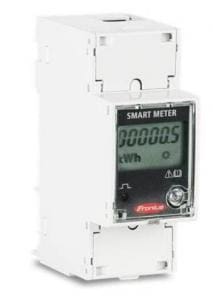 The Fronius Smart Meter 63A-1 is the most commonly used model in most single-phase residential installations. It is 89mm tall by 35mm wide and features a 6-digit LCD screen. The three-phase model is larger and more expensive, but performs the same purpose.
The Fronius Smart Meter integrates with Fronius Solar.web (view demo online) which is designed to provide a easy to use interface into the performance of your solar system. In our experience it generally takes customers some time to understand the terminology and graphs on the portal, so it is advisable to look up a guide or get your installer to explain it to you after they complete the installation.
The Fronius Smart Meters come with a 2-year warranty, meaning it is shorter than the warranty of their inverters which is 5 years for parts and service and 10 years parts only. This is a downside of the Fronius Smart Meter as most other Smart Meters come with longer warranty periods.
How much does a Fronius Smart Meter cost?
The costs below are indicative and vary based on location and where the hardware is purchased. The installation costs vary if there is work required to make space for the hardware in the switchboard. If the available space is there to add the smart meter into the board, then installation should only take a solar installer an additional 30mins to 1 hour.
Fronius Smart Meter Indicative Pricing

Electrical Connection
Hardware Cost
Installation
Total
Single Phase
$250
$80 – $300
$330 – $550
Three Phase
$500
$150 – $350
$650 – $850
Compare quotes from up to 7 installers in your area now.
Do I need a Fronius Smart Meter?
If your local DNSP does not require solar exports to be limited, then a Smart Meter is completely optional. The cost of a Smart Meter usually adds less than 10% to the cost of a solar power solution and will enable you to improve your understanding of the system and utilisation of the energy it creates. In Solar Choice's view it is always worth it to install a Smart Meter.
As the purpose is to provide additional data to the solar inverter software your smart meter will need to be of the same brand as your inverter. The only alternative is to install a third party hardware device that enables a third party monitoring software such as the popular Solar Analytics service.