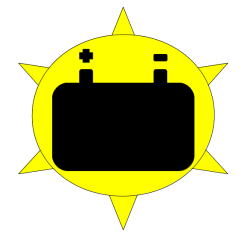 Home battery energy storage is the next frontier for solar energy in Australia, where one in ten homes have a solar PV system. A cocktail of factors make energy storage appealing for Australia's households – whether they already own a solar system onto which they're looking to retrofit batteries, or whether they're looking for a brand new solar-plus-storage system.
This page provides an overview of (almost) everything the average household needs to know about residential solar energy battery storage. It contains a collection of the articles that Solar Choice has published on the topic over the years, and endeavours to answer all of the key questions that an energy storage shopper might find themselves asking.

Compare prices on solar battery storage in your part of Australia
Solar Choice can help you compare current prices from solar and battery storage system installers in your area. To get your personalised quote comparison, fill out the Quote Comparison request form to the right of this page. Our services are completely free for our customers.

Compare Solar & Battery Quotes
Batteries & energy storage
With residential solar panels already so affordable and popular, home energy storage is expected to become commonplace in Australia within the next few years – and the market is already taking off dramatically. Battery storage is the best way for homes with no solar feed-in tariff to ensure that they self-consume more of their solar energy, rather than 'wasting' it by letting it be exported into the grid at a low rate. Home battery storage prices are coming down rapidly, and the number of products available on the market has grown dramatically since the beginning of 2015.
Our battery storage system sizing & payback calculator
There are are a number of things to consider when deciding on a battery storage system. Two of the most important are size & value. To help customers get a ballpark idea of what battery system size they need (and how long it will take to pay itself off), we've put together the calculator tool linked to below. The below page actually contains links to a number of different battery-related tools designed for user with different goals – e.g. those who simply want to size a battery bank for their home, or those who are interested in going completely off the grid with their solar and storage. Please keep in mind that all of these tools offer only indicative results, and you should always seek more detailed opinions and proposals from trusted, professional solar companies.
Check out Solar Choice's Solar Plus Battery Storage Sizing & Payback Calculator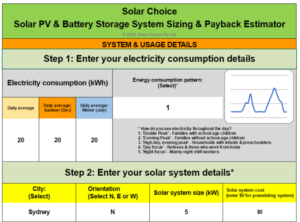 Our battery product performance comparison tool
Comparing battery products can be confusing. How do you know which products offer the most value for money? Which ones will provide your home with backup power? To help answer these questions (and more), we've put together a battery product comparison tool that lets you see key specifications for a range of products in an apples-to-apples format. (Please note that all results are a guide only.)
Check out Solar Choice's Battery Storage Performance & Value Comparison Tool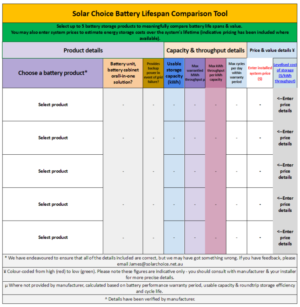 Articles to help you make a decision about battery storage

Why install batteries? And if you do, how much capacity do you need?
-Five reasons to wait before installing a battery storage system: Batteries are not yet the right choice for every Australian home, so make sure you're clear in your goals before purchasing a system.
–In what situations does battery storage already make financial sense? We've identified a few situations where battery storage is already looking like an economically sound investment.
-How much battery storage capacity do you need? The answer to this question depends heavily on your individual circumstances and goals.
-Can you go off-grid with solar-plus-storage? The short answer is often 'yes', but it might be expensive (for now).
Understanding battery products & specifications
-A guide to battery storage system specifications: How to read a battery spec sheet. Battery jargon can be confusing; here we've tried to make it easier to understand.
–Kilowatts vs kilowatt-hours in solar power & battery storage: A quick overview of terms used in talking about battery (and solar) capacity.
–Common battery types for home energy storage: Different battery chemistry types have different specifications and characteristics; how do they compare?
–Levelised Cost of Storage: A better way to compare battery value. How should you think about battery system pricing in order to make meaningful comparisons? This article will help you get your head around this sometimes tricky topic.
–Types of grid-connected energy storage systems: There are many different approaches to wiring up an energy storage system. What are they, and which one might be best for your home?
Running lists of products available in Australia
-Energy storage systems: List of products available in Australia: Our effort to compile a complete list of battery storage-related solutions currently available in Australia.
-List of hybrid inverters & battery inverters: A list of 'battery-ready' inverters.
Other battery energy storage resources on our site
-Check out the Solar Choice blog for a wide range of articles on all of the above topics, plus news, and more.
-The batteries & energy storage category page in our blog is updated almost daily with news and information about energy storage-related products, incentives and developments in Australia.
Compare Solar & Battery Quotes
---