Australia's renewable energy industry had a year of remarkable deal-making and record-smashing project activity in 2017, a new report has confirmed.
The Clean Energy Australia Report 2018, published last Wednesday, says a total of 16 large-scale renewable energy project, or around 700MW of new generation capacity, were completed and connected to the National Electricity Market.
Of those, four large-scale solar projects were completed, taking Australia's total installed large-scale solar capacity to 450MW at the end of the year, from just 34MW at the end of 2014.
In the wind sector, a total of 547MW was added in 2017 – the third highest annual amount ever for Australia, bringing total generation capacity across the country to 4816MW.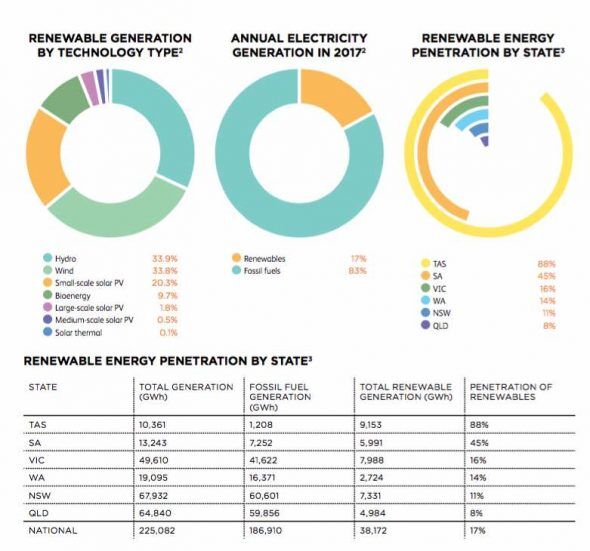 In dollar terms, the CEC says this large-scale wind and solar project activity pushed investment in Australia up 150 per cent to a record $US9 billion for the year.
While on the smaller scale, almost 1.1GW of solar PV was installed on Australian home and businesses – another record broken.
And of the 172,000 household PV installations in 2017, 12 per cent included a battery – up from just 5 per cent in 2016.
And while 2017 was a record year, CEC chief Kane Thornton says it is "just a glimpse" of what is shaping up to be an unprecedented level of activity in the next couple of years.
"Perhaps most significantly, the large-scale renewable projects either under construction or which had attracted finance add up to more than seven times the amount of work completed in 2017," he said in comments at the launch of the 2018 report.
"These 50 projects add up to 5300MW of new capacity and 5750 direct jobs."