Aquion Energy is the first company in the world to commercialise a modern saltwater battery for residential, commercial and industrial applications. Aqueon's aqueous hybrid ion (AHI) technology is one of the most exciting and promising energy storage technology options currently available in Australia, being non-combustible, non toxic and capable of 100% depth of discharge (DoD).
Solar Choice recently caught up with Matt Maroon, Aquion's Vice President of Product Management, to gain more insight into this battery's unique qualities and compelling value composition, as well as the company's position in the battery storage market.
Important update: Aquion Energy has filed chapter 11 bankruptcy in the US and it is unclear when they will be manufacturing batteries again
Q. What is Aquion Energy's story?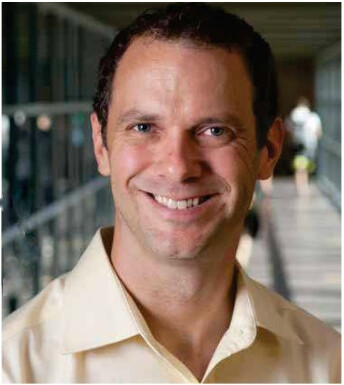 Aquion Energy was founded by Dr. Jay Whitacre, our CTO, after coming out of NASA's Jet Propulsion Laboratories (JPL) as an expert in highly specialized energy storage. Jay's goal in starting Aquion was to develop and commercialize low-cost, environmentally sustainable, and high performance energy storage specifically tailored to allow further deployment of renewable energy (wind and solar). Renewable energy is limited because it is inherently intermittent; low-cost, high performance energy storage is the enabler for further commercial deployment of renewable energy.
Coming out of NASA's JPL, Jay joined Carnegie Mellon as a professor and in 2008 spun out the technology that became Aquion Energy. Several rounds of funding, many hundreds of challenges and solutions later and Aquion launched first prototypes in 2011 and first commercial product in 2014. The company has continued to refine technology and product design over the years and as of now (Q3 2015) produced, shipped, installed, and commissioned over 10 MWh of product in the marketplace.
Q. Which battery chemistries are the primary competitors with Aquion's AHI batteries? Why?
Aquion Energy's Aqueous Hybrid Ion (AHI) battery chemistry competes primarily with both lead acid batteries and lithium ion chemistry. We are focused on off-grid, microgrid, and customer side of the meter applications today so the competition are many of the typical names in the industry – Rolls Battery, EnerSys, and Hoppeke from the lead acid segment; Samsung, LG Chem, and even Tesla in the lithium ion arena.
The reason we compete with these chemistries is simple – lead acid is inexpensive, but poor performing; lithium ion has better performance, is a "sexy" technology, but has cost and safety concerns. Aquion fits somewhere in the middle. The AHI chemistry is inherently safe and, while still relatively new in the marketplace, competes with lead acid on a cost standpoint.
Q. Where are the biggest markets for Aquion at the moment?
Aquion is focused on three primary markets at the moment: residential on-and-off grid; microgrids; and commercial/industrial behind-the-meter-applications. Our product has strong sustainability characteristics: Aquion is the only certified Cradle to Cradle energy storage product on the marketplace. The AHI chemistry is engineered to be optimized for long duration applications – charging off solar during the day, and supporting electrical loads all night long. This makes the AHI chemistry the perfect product for environmentally conscious segment of the population that is looking for clean technologies to both reduce their carbon footprint and their monthly electricity bill.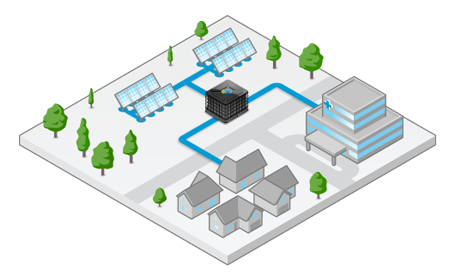 Mockup of Aquion's AHI batteries in a microgrid. (Image via Aqueon.)
Q. What kinds households do you imagine would get the most out of Aquion's batteries?
When we look to Australia, the perfect customer is someone that is sitting on the fringe of the grid and can save themselves both money and anxiety each month (from power outages) by disconnecting from the grid and moving to solar-plus-storage as their primary source of power. Our typical customers are conscious of both the environment and safety – two of AHI's primary competitive advantages in the marketplace.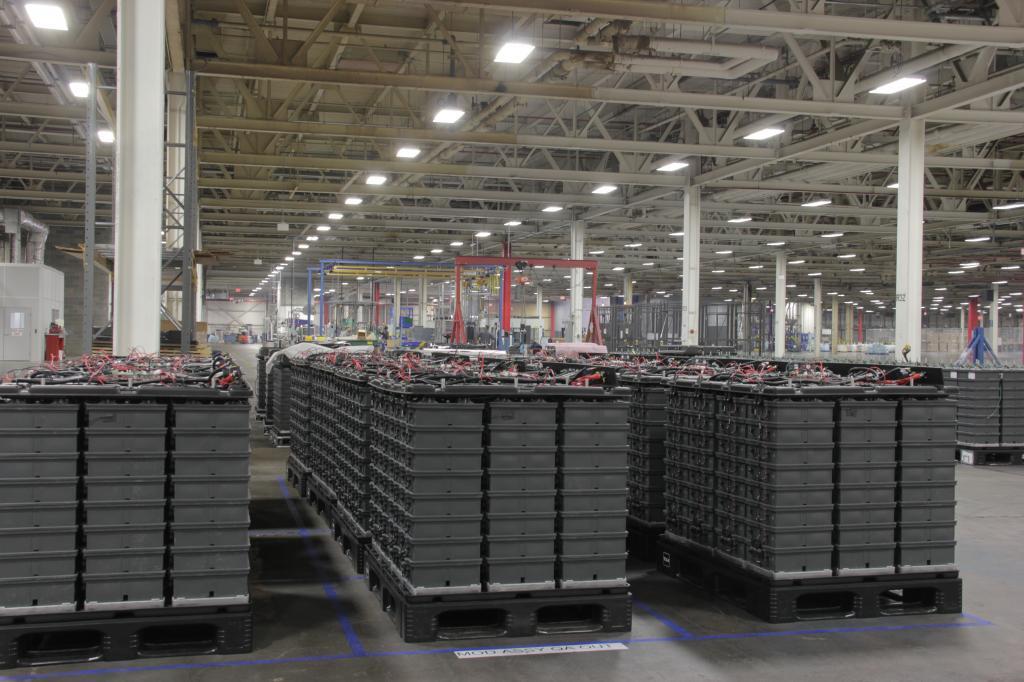 Aquion's Westmoreland Manufacturing Plant. (Image via Aquion Energy.)
Q. Where do Aquion's batteries sit on the price and quality spectrum?
With respect to price, Aquion is competitive today with lead acid technologies if you compare on a life-basis. That is, most lead acid batteries cycle between 500 and 1500 cycles which means that you would need to replace a lead acid batter system from 2 to 6 times more than you would need to replace an Aquion system. While lead acid might be cheaper on day 1 it certainly will not be cheaper over the life of the system. Lithium Ion batteries are more expensive than AHI when one considers the safety, fire suppression, and management that is required for this chemistry.
With respect to quality, Aquion manufactures its products in an automated manufacturing facility with state of the art quality checks at every stage of the manufacturing process. Aquion is committed to shipping quality product from its facility and our track record speaks to this commitment to quality.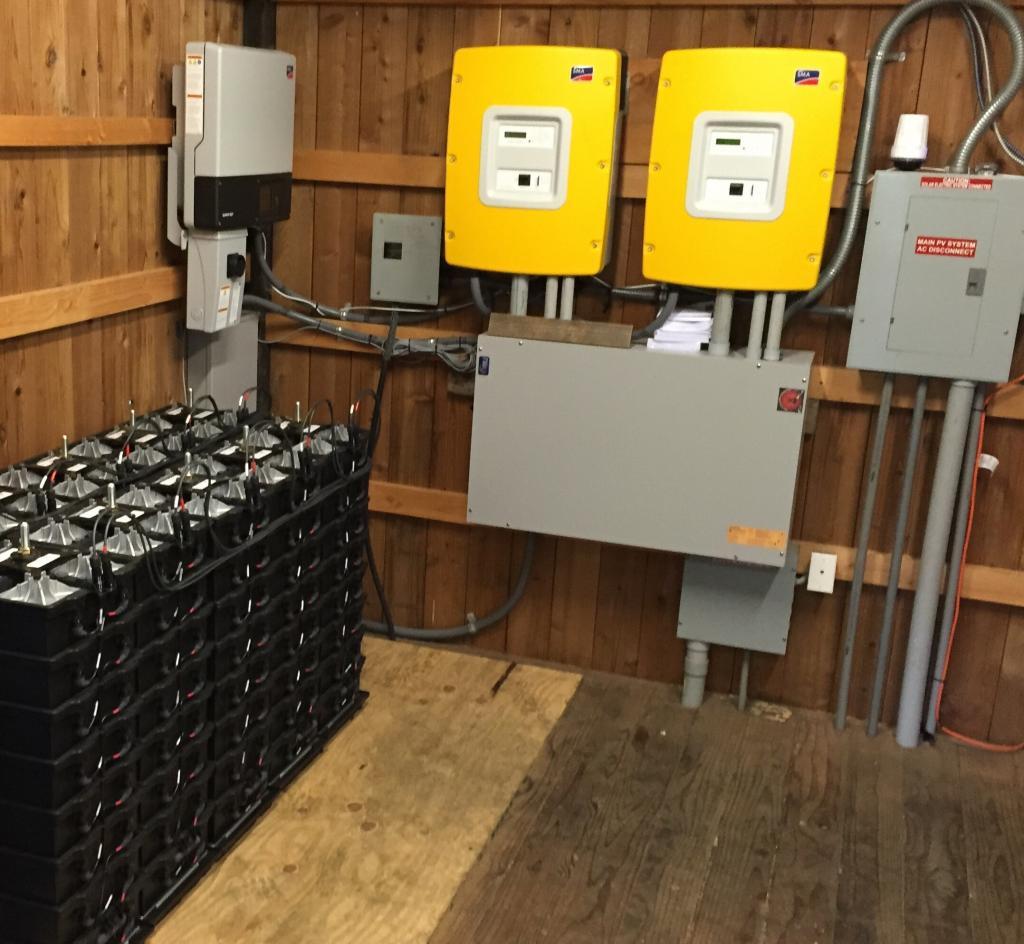 Deployment of a 20kWh Aquion system for Redwood Gate Ranch in California. (Image via Aquion Energy.)
Q. What is the most popular application of your batteries so far? What segment is growing fastest?
Aquion is currently selling in microgrid, off-grid, and fringe of grid applications for both residential and commercial & industrial applications (behind the meter). A majority of our customers are looking to go off grid or to maximize their self-consumption of PV. I would say that is the segment growing the fastest for us – the off-grid market as well as grid-connected customers who are interested going off-grid.
Q. What features and certifications should a household look for in an energy storage system?
Certainly evidence of a safe electrochemical system including any certifications of sustainability (like Cradle to Cradle). Additionally, customers need to be cognizant of the total system price and complexity as well. For example, while lead acid batteries might be cheaper, the total system price when sized for cycles, wiring, secondary containment, and so on, is often higher than AHI.
Q. In what parts of Australia do you see energy storage taking off first? Where is there the most potential for rapid growth?
We've written this blog article which I think is a really good reference answer for this question (and also happens to be Mad Max-themed!) In a nutshell, the case for installing batteries is already compelling in off-grid and fringe-of grid locations.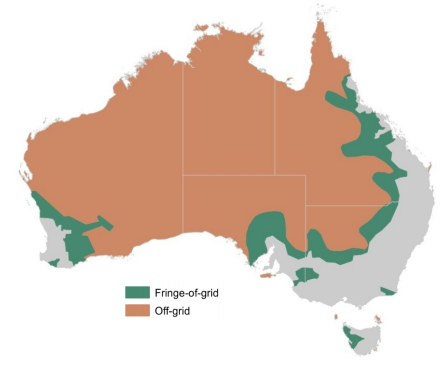 Fringe-of-grid and off-grid areas of Australia. (Source: AECOM Australia, Australia's Off-Grid Clean Energy Market Research Paper, 2014.)
Q. About how many megawatts-hours (MWh) of Aquion AHI batteries are installed globally? In Australia?
So far there are over 10MWh of Aquion batteries that have been shipped and installed on every continent of the world. To date we have shipped over 2MWh to Australia.
Q. What is Aquion's manufacturing capacity?
Currently Aquion Energy has an automated manufacturing line that is capable of producing over 200MWh annually. Our manufacturing facility has the footprint for 5 of these automated lines.
Q. What does the future hold for Aquion?
While we don't give forward projections on manufacturing capacity or sales, we can say we're aiming to more than double our production and sales this next year.
Important update: Aquion Energy has filed chapter 11 bankruptcy in the US and it is unclear when they will be manufacturing batteries again
© 2015 Solar Choice Pty Ltd