In a bit of good news for the Queensland solar scene, the state has become the first in Australia to achieve 1 gigawatt (GW) of rooftop solar capacity, according to network operator Energex, as reported by RenewEconomy (which recently posted the below graph). Currently, Australia has well over 1 million homes with solar panels and 2GW of solar photovoltaic (PV) capacity installed, meaning that Queensland is home to nearly half of Australia's solar pie.
Perhaps the most significant bit of data, however, is the revelation that 100 megawatts (MW) of this capacity went to those without access to the state's generous 44c per kilowatt-hour (kWh) Solar Bonus feed-in tariff, which closed to new applicants over a year ago (although successful applicants had until 30 June this year to have their systems installed). The new rate of 8c/kWh, as Solar Choice pointed out previously, does not mean that solar panels are no longer a good investment in the sunshine state, but only that those who install a system need to be cognizant of how they are utilising the energy their solar systems produce. The new, 'unsubsidised' (a slight misnomer as some federal incentives are still in place) 100MW of capacity is evidence that solar panels are still worth the investment.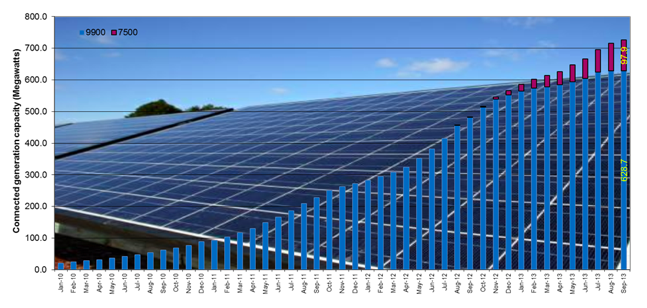 Grid-connected solar generation capacity in Queensland by month. (Click to enlarge. Image via RenewEconomy.)
The narrative that is emerging for Queensland's residential solar future follows that of the other states who have phased out their feed-in tariff incentives (i.e. virtually all of them). That narrative is one of a transition to a new equilibrium where solar power system installations persist but for the time being don't necessarily return to the heady heights seen in the days of more generous government support. This developing status quo has come about mainly as a result of the falling price of installing a solar system, with the rising price of grid electricity (to increase yet again this financial year in Queensland by around 21%) pushing homes and businesses to seek ways to reduce costs. Solar systems are proving themselves to be a viable means to accomplish this end even with decreasing levels of subsidisation.
Wondering if solar panels make sense for you in Queensland? Fill out the Solar Quote Comparison request form to the right of this page to see the offerings of installers in your area, or call 1300 78 72 73 to speak to a broker about your options.
© 2013 Solar Choice Pty Ltd

Latest posts by James Martin II
(see all)