The Queensland Competition Authority (QCA), the state government body that regulates electricity prices, recently released a draft determination indicating that electricity rates will be allowed to rise by as much as 21.4% in residential tariffs over the course of the 2013/2014 financial year.
Queensland electricity rates play 'catch up' in 2013-2014
Electricity prices have been rising across Australia over the past few years; Queensland has been no exception. Riding partially on a wave of public sentiment against this trend, the current state government came to power on with a promise to freeze electricity prices for the financial year 2012-2013. It succeeded in doing so for the state's residential electricity customers (those on Tariff 11), with the exception of costs associated with the federal government's Carbon Tax. But soon this 'stay of execution' will expire, and if the QCA's new report remains unchanged, electricity prices will be allowed to start making up for lost time beginning in the 2013-2014 financial year, albeit on a slow-release schedule; In the draft report, the QCA has proposed a 3-year 'transitional path' that will return electricity pricing back to a 'cost-reflective' balance by 2016.
How will Queensland homes be affected?
The example given by the QCA to demonstrate how Tariff 11 customers–who will be hardest hit by the increases–will be affected shows a 21.4% increase for an 'average' household whose power bills amounted to $1,184 in 2012-2013. The new annual amount will rise by $253 to $1,437.  These figures are based on certain assumptions about customer usage patterns, though, and are useful as a guide only. Homes can make more accurate, case-specific estimates by examining their own power bills.
The chart below (from the QCA draft report) shows the breakdown of the increases in terms of fixed and variable charges. As can be seen, there will be a significant percentage increase to daily fixed charges (which make up only a relatively small part of the bill), but it is the 15.7% increase in the variable charge (based on actual power consumption) that will have the greater impact.

All of Queensland's residential tariffs–even those initially unaffected by the government's 'no rise' decree–look certain to increase in 2013-2014. Tariff 12 (Residential – Time of Use) customers will see an increase to their bills in the 6-7% range, whilst tariff 31 customers (an economy plan for off-peak water heating) will see a 15% jump. Tariff 33 customers (for a wider range of water heating, pool pumps, etc) will see a leap of almost 20%.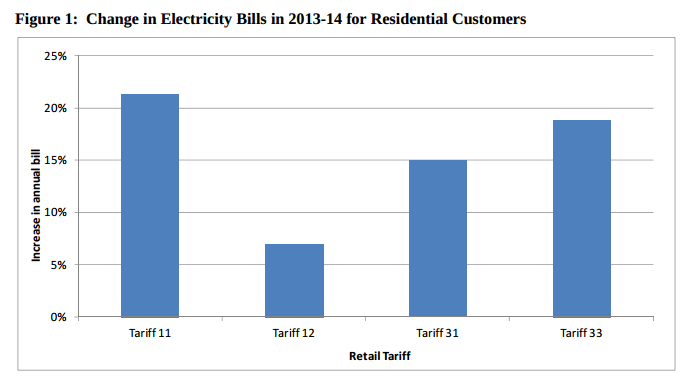 Why are Queensland's electricity prices rising?
Whatever the merits of the government's intentions to protect electricity customers from increasing rates, the increases are necessary to cover the costs of generating & distributing power and ensuring that the whole endeavour is profitable (electricity infrastructure in Queensland is largely state-owned). The current political climate in the state is such that the federal government's Carbon Tax and other 'green schemes' including the state's now defunct solar feed-in tariff have been publicly blamed as the main culprits in the ballooning rates. Such programs, however, are not the main drivers in electricity price trends, despite the buzz to the contrary. Instead, energy wholesale costs, plus costs associated with distribution & transmission, are having a greater impact on customer electricity prices. (In fact, South Australia's recent electricity price reductions have been attributed to the uptake of rooftop solar.) There is also a shortsightedness in the scapegoating of renewable energy for growing power bills; future power prices are expected to be subject to volatility if fossil fuels remain the primary means of electricity generation, due to the fact that gas and coal are international commodities sold on international markets. This is especially true of gas.
Safeguarding against power price rises
Homes and businesses in the sunshine state will of course be interested in doing everything in their power to prevent their bills from rising. Although those unsatisfied with the current state of affairs may consider going 'off the grid', the lack of availability of affordable energy storage solutions means that this is not a realistic option for most. Short of this costly investment, there are a couple of measures that homes and businesses can undertake to staunch the quarterly flow of cash to power utilities.
Energy efficiency and 'time of use' metering
The first is energy efficiency/energy conservation. By using less power or using power more wisely (more efficient appliances, etc), homes and businesses can reduce the amount of power that they need to purchase from the grid. This strategy can be complemented by moving to a 'time of use' metering arrangement. Under time of use metering, instead of one flat rate being charged at all times for power consumption, customers have the option to shift their power usage to times when rates are lower.
Installing solar panels
Another option is to have a solar photovoltaic (PV) system installed. Despite the withdrawal of virtually all state support for solar systems in Queensland, solar PV remains a popular money-saving option, thanks to the falling price of solar PV technology itself and increasing competition between installers. Solar systems benefit homes and businesses by allowing them to avoid purchasing power from electric utilities–thereby lowering the overall size of their power bills.
Thinking about going solar but not sure where to start? Solar Choice offers free comparisons of solar quotes for residential customers across the country. Fill out the form to the right of this page to initiate a dialogue with one of our brokers, or call us on 1300 78 72 73.
© 2013 Solar Choice Pty Ltd

Latest posts by James Martin II
(see all)