The Queensland Competition Authority has released its draft decision for regulated electricity prices from July 2014. Although the decision is still in draft form, precedent dictates that the final version will not differ significantly from the draft, which will allow for another rise in prices for regulated residential and business tariffs alike–including a sizable increase in the fixed daily service charge. The decision will affect the 30% of Queenslanders who have not moved to a market electricity contract–most of whom are located in the southeast region of the state, around Brisbane.
Given the uncertainty about whether or not the federal carbon tax will be repealed, the QCA has presented pricing for both scenarios. 'Variable' charges (comprised mainly of wholesale electricity & retail costs) under the 'no carbon tax' scenario are lower than the 'with carbon tax' scenario, while the increases in the fixed charges will remain the same in both scenarios.
Electricity price increases for Queensland homes: Residential tariffs 11, 31 and 33
The most common regulated residential tariff–Tariff 11–is set to increase significantly in the next financial year, especially if the carbon tax is not repealed. Although usage charges will actually decrease vis-a-vis current rates in the 'no carbon tax' scenario, the increase in the service charge will offset this benefit for most households.

The chart below shows the estimated financial impact of the increases in dollar terms for households of various sizes.

Tariffs 31 and 33 are most commonly used by households that have pool pumps, water heaters, and other appliances that the would like to run at a lower rate during 'off-peak' periods (i.e. mainly at night). These tariffs have no service charge, and will see a decrease if the carbon tax is successfully repealed.

Electricity price increases for Queensland businesses: Tariffs 20, 22, 44, 45 and 46
Rates will increase for most business tariffs in both carbon tax and no carbon tax scenarios. Two of the most common tariffs used by businesses in Queensland–20 and 22–will be most significantly impacted by the changes. As with the residential tariffs above, both tariffs will see a significant increase in the service charge.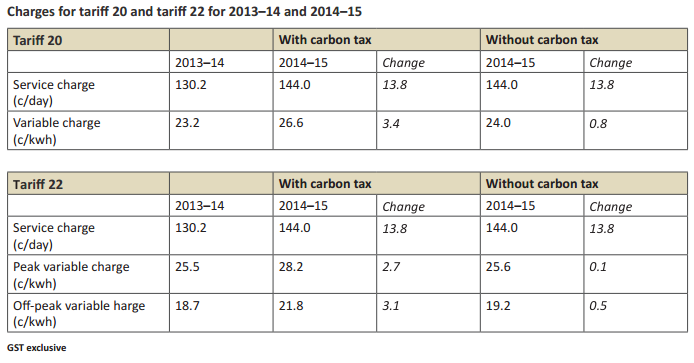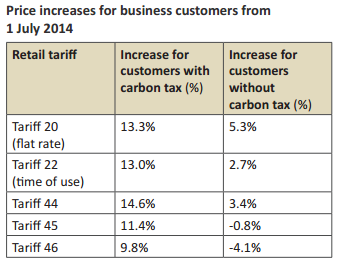 How will Queensland solar system owners be affected by the changes?
The issue of the widespread of distributed, rooftop solar PV (Queensland is home to 1/3 of all of Australia's solar PV capacity) and its impacts on electricity prices in the sunshine state has been a matter of much debate, with the government and utilities saying that solar system owners do not pay their fair share of network costs in Queensland. This is probably one of the main reasons for the 'rebalancing' of costs that . While not specifically singling out solar system owners, the report alludes to this indirectly:
The impact on individual customers will vary depending on their consumption. Low-use customers will face a larger percentage increase than high-use customers. However, high-use customers will face larger dollar increases and will continue to pay more than their actual costs of supply to subsidise low-use customers. This cross-subsidy will continue until the fixed and variable charges are fully rebalanced to cost-reflective levels.
What this means in effect for solar system owners is that their power bills will see an increase if their electricity consumption patterns do not change; they will continue to save money on the variable charges by generating a portion of their own electricity, but fixed daily charges will continue to rise no matter how consumption habits change. It is still theoretically possible for a system owner (even one without access to the 44c/kWh feed-in tariff rate once on offer) offset this increase by making an effort to consume more of their self-generated solar power. A slightly more drastic measure to escape the network costs might be to install an energy storage system and going off-grid entirely, but this is unlikely to be a cost-effective or practical option for most homes or businesses at this point in time.
Read more about the QCA's draft decision.
Remember: Regulated prices do not apply to everyone
70% of Queensland's homes electricity consumers are supplied through market contracts and not government-regulated tariffs. The regulated tariffs discussed above tend to be more expensive than the most competitive of the market players, so it's worth shopping around. Different market players may have different rules and rates for solar customers, so research the options thoroughly before making a decision.
Compare electricity rates from different electricity retailers quickly and easily with the QCA's Comparator.
Thinking about going solar in Queensland? Compare quotes with Solar Choice
Solar Choice works with a network of installers across the country to bring our residential customers and commercial clients the best deals on solar PV systems. Fill out the form to the right of this page to request an instant Solar Quote Comparison or call us on 1300 78 72 73.
© 2013 Solar Choice Pty Ltd

Latest posts by James Martin II
(see all)