You may have noticed the phrase "Fair Dinkum Power" being used a lot in recent times.  Australian Prime Minister Scott Morrison has been using the phrase as a reference to coal generated power. With the backing of Alan Jones and friends, Mr Morrison has been trying his best to coin the slogan. Until tech billionaire Mike Cannon-Brookes said enough is enough.
Atlassian CEO Mike Cannon-Brookes has decided to actively take back the phrase and re-purpose it to now refer to renewable energy. He has gone as far as registering the slogan and has now created a website where he has stated the manifesto behind what he believes the real meaning of "Fair Dinkum Power" is. 
This campaign was first sparked following this Tweet posted by the Prime Minister using the term to refer to what he calls "reliable" coal power. As you can see below Mr Cannon-Brookes was openly frustrated with the Prime Ministers post:
⚡ Argh! Bullshit mate ? @ScottMorrisonMP you've made me mad & inspired me. We need a movement. We need a brand for Australia's energy future. We need a rallying cry for Australians who believe in ☀ ? & ?. You said it perfectly: "Fair Dinkum Power". #fairdinkumpower 1/2 https://t.co/cbLOCAvM2f

— Mike Cannon-Brookes ??‍?? (@mcannonbrookes) October 31, 2018
Mike went on to tweet: "I'm not sure you know what fair dinkum means. It means fair to Aussies, to our wallets AND to the planet. ⚡ can be reliable, renewable & cheap. @fairdinkumpower registered. Let me get back to you with some logo concepts. Give me an hour."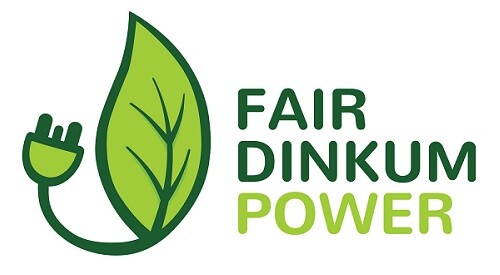 With the above logo being voted on and locked in, things have been snowballing ever since. The website has been created and is asking for the public to join the pledge via change.org to rally like minded supporters who are also actively seeking change. Merchandise to help fund the campaign is also being sold.
The site was started just over a week ago now and already has over 12,000 pledged supporters. An honest response in such a short period of time. I am pleased to see the traction thus far and look forward to seeing what the future holds.

Latest posts by Jake Elliott
(see all)