Australia's prime minister has declared he has no intention of spending money on global climate conferences and "all that sort of nonsense," in response to the latest UN Intergovernmental Panel of Climate Change report.
Peaking with Sydney radio 2GB's Alan Jones, PM Scott Morrison suggested that while Australia would not follow the US out of the Paris climate treaty, it would resume its disruptive role in international talks, on his watch.
The IPCC report recommended of decisive policy action, including a rapid phase out of fossil fuels – and particularly coal – to have any hope of limiting global warming to 1.5°C.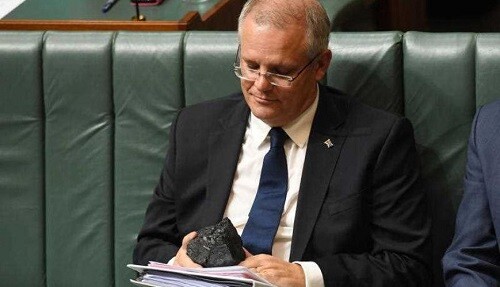 "We're not held to any of (those recommendations) at all, and nor are we bound to go and tip money into that big climate fund," Morrison told 2GB.
The IPCC report is also a key consideration for governments as they more to ramp up their commitments from the "downpayments" made in Paris in 2015.But Morrison said Australia has no intention of lifting its 26-28 per cent by 2030 target, focusing instead on prices, and promising the loss of no jobs in any action on climate change.
At the moment, Australia has no policies to actually reach that target, and emissions last year rose 1.3 per cent, putting Australia's trajectory completely off course. Morrison insists that the country will "meet it in a canter".

Latest posts by Giles Parkinson
(see all)