The Mowanjum Aboriginal Corporation, with the assistance of Solar Choice as tender manager, installed approximately 130kW of solar PV across its headquarters in June 2010.  The aim of the installation was to reduce Corporation power bills, which can be especially high during the wet season, when temperatures can soar above 40 degrees and life without airconditioners can be extremely uncomfortable.
Mowanjum's solar installation is spread across a number of the Corporation's buildings, including worksh0ps, the administration building, the community store, an early learning centre, and the community resource and language centres.  Systems use SMA inverters and 80W Solar Fronier CIS (Copper-Indium-Selenium) thin-film solar panels (1500 in total), which are better suited to hot conditions than their monocrystalline or polycrystalline counterparts.
Solar system performance has thus far met expectations of the community, which is accustomed to seeing power bill fluctuations of up to $10,000 between the wet and dry seasons. Electricity prices in NW Western Australia, like everywhere else in Australia, have been rising. According to Mowanjum Corporation CEO Steve Austin, the systems were able to almost halve electricity bills during the dry season, and are taking a sizeable chunk out of wet season bills.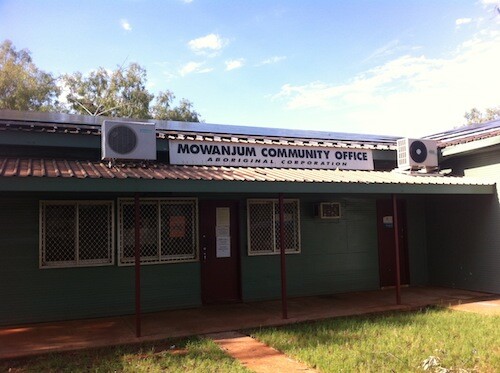 Mowanjum Solar PV Installation – Derby WA
About the Mowanjum Community
The Mowanjum Aboriginal Corporation is situated 10km from Derby, WA, about 220km from Broome. The community is home to some 300 residents, with 7 outstations in the remote areas of the Buccaneer Archipelago and inland to the Kimberley Plateau, for which Mowanjum serves as the Resource Agency. Mowanjum is distinguished for the rich cultural heritage of the 3  groups which have settled there–the Wororra, Ngarinyin, and Wanambul–the native peoples of the NW Kimberley region.  Mowanjum is home to over 52 dwellings, a School and most importantly the Mowanjum Arts Community which has art from a dynamic range of indigenous communities that call Mowanjum home.
© 2012 Solar Choice Pty Ltd
Top image: Donny Woolagoodja's Wandjina Spirit Namaralie at the Sydney Olympics. Image via www.mowanjumarts.com.

James has been involved with Solar Choice since 2010, when he first came on board as a contributor to the Solar Choice blog. Whilst continuing to write for Solar Choice's blog, James also oversees all of Solar Choice's online communications, search engine optimisation & other online development efforts. He is responsible for composing Solar Choice's monthly Solar PV Price Index articles and our Calculator Resource Library.

James holds a Master's degree in Environmental Management from the University of New South Wales. and an undergrad degree in philosophy from Bridgewater State University in his native Massachusetts. He has a keen interest in developments in the renewable energy field, with a focus on distributed solar and energy storage.

Latest posts by James Martin II (see all)