The University of Wollongong has installed a building-integrated photovoltaic (BIPV) system on the roof of its McKinnon Pavillion. The installation is part of the University's 'McKinnon Precinct Landscape Masterplan', which also includes rain-gardens and a 500,000L in-ground rainwater tank.
The BIPV system is composed of 44 Uni-Solar PowerBond PVL PV laminate panels, made of flexible, thin-film silicon to allow the array to match the waveform structure of the roof (below). The thin-film cells were chosen both for their flexible nature as well as their relatively good performance to hot, sunny conditions. Panels adhere to directly the substrate of the roof in a way similar to contact paper.
The 5.89kW system is expected to produce up to 20kWh of electricity per day, which will be fed into a nearby building, where it will help to offset electricity consumption.
The free-standing roof has become a key feature of the Precinct, and in addition to producing electricity, also acts as a shelter for students sitting underneath. It also plays a role in channeling water into the Precinct's rain gardens.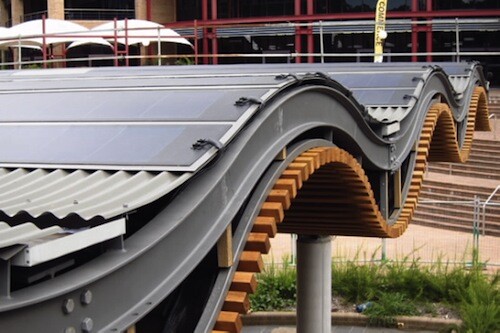 © 2012 Solar Choice Pty Ltd
All images via University of Wollongong
Resources and links:
University of Wollongong News & Media, "Sustainability theme in sculptural roof design"
University of Wollongong News & Media, "Greening McKinnon set for Stage 2"

Contributor
at
Solar Choice
James was Solar Choice's primary writer & researcher between 2010 and 2018.

He is now the communications manager for energy technology startup SwitchDin, but remains an occasional contributor to the Solar Choice blog.

James lives in Newcastle in a house with a weird solar system.

Latest posts by James Martin II (see all)