The University of Wollongong has installed a building-integrated photovoltaic (BIPV) system on the roof of its McKinnon Pavillion. The installation is part of the University's 'McKinnon Precinct Landscape Masterplan', which also includes rain-gardens and a 500,000L in-ground rainwater tank.
The BIPV system is composed of 44 Uni-Solar PowerBond PVL PV laminate panels, made of flexible, thin-film silicon to allow the array to match the waveform structure of the roof (below). The thin-film cells were chosen both for their flexible nature as well as their relatively good performance to hot, sunny conditions. Panels adhere to directly the substrate of the roof in a way similar to contact paper.
The 5.89kW system is expected to produce up to 20kWh of electricity per day, which will be fed into a nearby building, where it will help to offset electricity consumption.
The free-standing roof has become a key feature of the Precinct, and in addition to producing electricity, also acts as a shelter for students sitting underneath. It also plays a role in channeling water into the Precinct's rain gardens.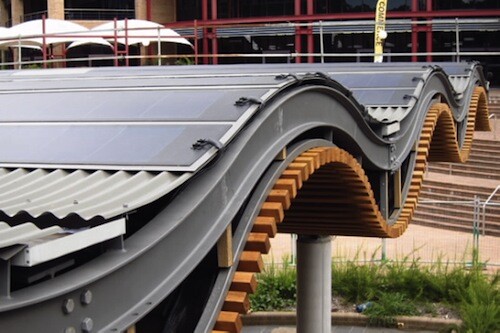 © 2012 Solar Choice Pty Ltd
All images via University of Wollongong
Resources and links:
University of Wollongong News & Media, "Sustainability theme in sculptural roof design"
University of Wollongong News & Media, "Greening McKinnon set for Stage 2"

Latest posts by James Martin II
(see all)