Powering Australia with 100 per cent renewable energy is not only achievable by as early as 2030, but would be a "cheaper and less risky" plan than building new coal-fired power, a new report has claimed.
The report, published by the Alternative Technology Association, says this could be done by ramping up wind and solar installations, and balancing that with pumped hydro energy storage and extra transmission lines.
And it could be done for a cost of around $93/MWh, compared to between $81 and $182 per megawatt hour for new coal – a cost that quickly increases to a range of $102 to $203 once hidden health impacts and climate impacts are factored in.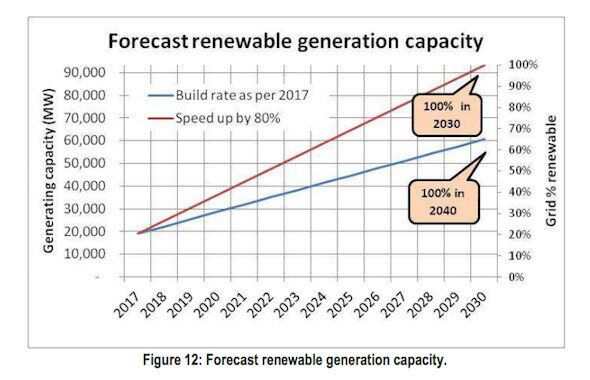 "Fully-renewable operation of the National Electricity Market requires 93,300 MW of renewable generation capacity, according to the ANU," the report says.
"If construction of wind and solar generation continues at the 2017 rate, this level will be attained in 2040. To reach this milestone by 2030 would require an acceleration of 80% from the 2017 rate."
Put simply, it says, if Australia "commences a proper effort" to roll out renewables by early 2018, a fully-renewable electricity grid is achievable by 2030.
"This 12-year timeframe allows for the renewable industry to ramp up its capacity prior to a full-speed rollout in the final decade."
Notably, the speed of the transition is almost entirely determined by the wind and solar component of the equation, with energy storage requirements "largely covered" by 2025, assuming the construction of the Snowy Hydro scheme and new hydro in Tasmania, using existing dams.
This doesn't bode well against latest modelling for the federal Coalition's proposed National Energy Guarantee, suggests adopting the NEG would add an extra 1 per cent of renewable capacity compared to doing nothing over a whole decade.