Rooftop solar uptake is continuing to grow in Australia, with a new report showing 14 suburbs with PV penetration above 50 per cent, and many others with uptake far above their state's average, sometimes as high as 65 per cent.
According to the Climate Council's latest data on the performance of renewable energy in Australia's states and territories, South Australia, Queensland, and Western Australia all have a higher share of Australia's solar PV installations than their share of the population.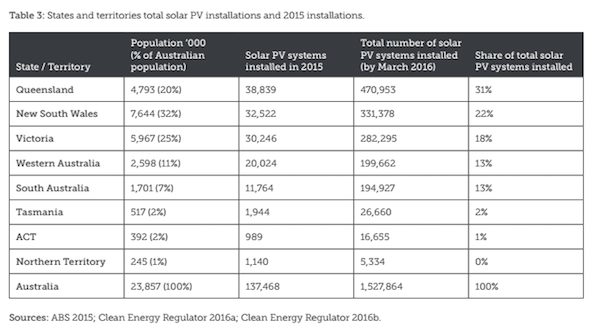 But in terms of the percentage of households with solar PV, South Australia and Queensland are still leading the country, with PV penetration levels fast approaching one-third of all households. Western Australia comes in at third place, with solar PV panels on one in five households.
In the suburbs of Australia, some postcodes are charting a solar PV penetration rate much higher than the average of the state or territory they are located in.
According to the report, there are now 14 postcodes in Australia where half or more of households have rooftop solar PV.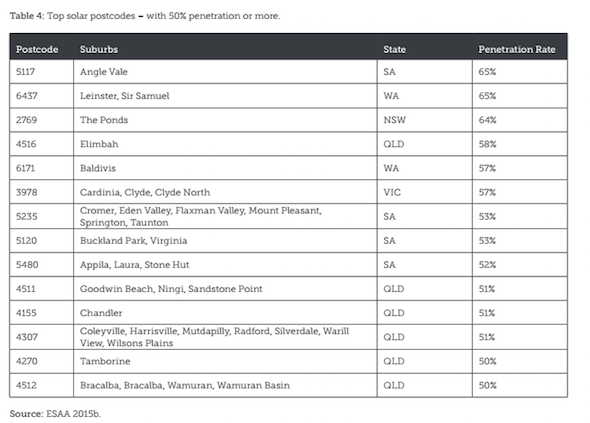 Angle Vale in South Australia and Leinster and Sir Samuel in Western Australia are leading the charge with 65 per cent. "In these suburbs," the report says, "rooftop solar could soon be as common as home insulation."
The report also notes that suburbs with highest levels of rooftop solar PV generally have low to medium income levels and tend to be located in the outer metropolitan "mortgage belt", or in regional areas.
It says that factors encouraging higher levels of solar uptake are likely to include level of home ownership, building suitability, energy bills as a proportion of household income and renovation activity.
Top image via the APVI.
© 2016 Solar Choice Pty Ltd