Every day, thousands of Australia's solar homes send excess solar power into the grid for little or no financial reward. SolarImmersion is a simple gadget that puts surplus solar energy to better use – by diverting it into your hot water tank.
Is your solar system living up to its full potential?
These days, getting the most out of a solar PV system means directly using as much of the energy that it produces. State governments no longer offer generous solar feed-in tariffs for new solar homes, which means that any solar energy exported to the grid earns the system owner only about 5-8c per kilowatt-hour (kWh). By contrast, using that solar energy directly allows the home to avoid purchasing energy from the grid in the first place – a savings of around 24c/kWh in most regions of Australia.
But it's not easy for a home to ensure that they are getting the most out of their system. Most households are unoccupied during the day, when the sun shines most brightly. As a result, without concentrated effort, some portion of the solar energy produced is almost inevitably 'wasted' into the grid. Even the most proactive homes may only manage to achieve 70-80% 'solar self-consumption' – and even if you go about setting up all your home appliances on timers, your home and/or solar system may not be 'smart' enough to know whether there's actually solar energy to be had.
What about battery storage?
Battery storage has garnered significant media attention as of late, both for its ability to help solar homeowners become more energy self-sufficient as well as as a way to avoid 'wasting' solar power. This will especially be true for New South Wales homes on the 60c/kWh Solar Bonus Feed-in Tariff Scheme; when this incentive comes to an end at the beginning of 2017, 150,000+ households will be looking for ways to make their solar count. Australia's nascent battery storage industry is expected to boom as a result.
Batteries, however, remain expensive and – for now – only make financial sense in a limited set of circumstances. For most solar homes, a more cost-effective approach would be finding ways to put their solar to use without batteries – and storing it in the form of hot water is a fantastic way to do so.
As our writer John Rodriguez has noted previously:
A large 400L tank can effectively store ~ 19kWh of USABLE energy, which is more than double the NOMINAL capacity of Tesla's daily-cycle 7kWh Powerwall unit. And if the hot water storage system is fitted with a tempering valve, the USABLE storage capacity of the 400L tank increases to ~ 33kWh with water stored at 90°C.
How SolarImmersion is a cost-effective option
SolarImmersion is a device that heats your water using excess solar energy. Its operation is simple: a sensor keeps tabs on when your solar PV system starts sending energy into the grid, in which case it redirects that energy to do the more useful work of keeping your water hot.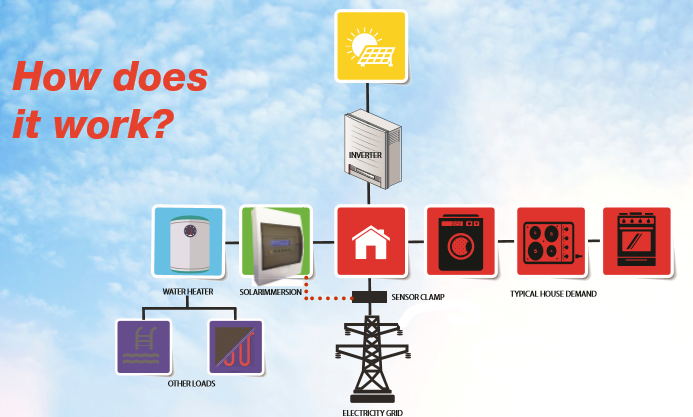 The SolarImmersion system – excess solar energy is redirected into the home's water heater. (Image via SolarImmersion / Malabou.)
By doing so, SolarImmersion allows the solar system owner to avoid the need to buy electricity from the grid to heat the water. In effect, the home's excess solar energy is 'stored' in the hot water tank. (Solar immersion also works with wind and micro-hydro.)
The savings to be had are significant. Water heating accounts for about 21% of the energy consumed in the average Australian home, according to YourHome.gov.au – but it can be much higher, especially for homes with heated pools.
SolarImmersion does not make use of any expensive technology or chemistry (as is the case with batteries), making it an eminently affordable option for all solar homes.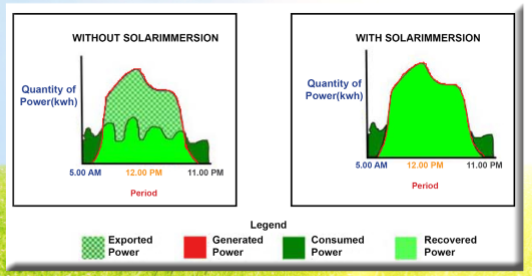 How SolarImmersion puts excess solar to good use. (Image via SolarImmersion / Malabou.)
SolarImmersion in Australia
SolarImmersion was available only in the UK and Europe until Malabou – an engineering and manufacturing firm based in New Zealand – was granted agency for the unit in Australia and New Zealand. Malabou is currently seeking distributors for SolarImmersion in Australia.
Those interested in learning more can contact Malabou via email (admin@malabou.com), phone (+64 9 376 9463), or via the SolarImmersion.com.au website.
© 2016 Solar Choice Pty Ltd