Parliament is soon to be decked out with its own photovoltaic array, as part of the federal government's efforts to identify and implement solutions to move into a low-carbon future the building's daily operations. The 43 kiloWatt system, to utilise mono-crystalline panels manufactured and the SilexSolar Sydney Olympic Park plant, will be incorporated into Parliament's building management infrastructure. The arrays are planned to be spread across the Senate Wing and the gardener's compound of Parliament House.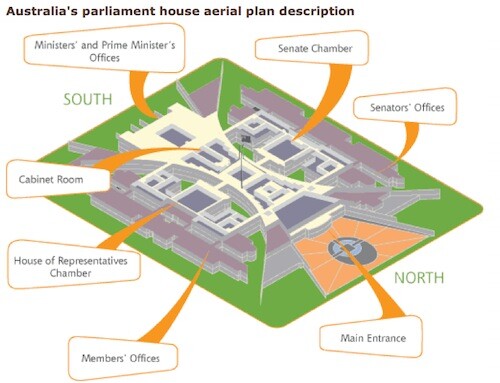 Plan of the Australian Parliament House. Solar panels are to be installed on the Senate Wing and the gardener's compound. (Photo from the Parliamentary Education Office.)
The work for the solar power installation began in April 2011 and is expected to be finished by mid 2011.
© 2011 Solar Choice Pty Ltd
Sources and Links: