Sydney-based 5B has launched a pre-fabricated, easily deployed solution for solar farm construction that looks set to revolutionise medium to large-scale solar in Australia (and possibly the world). The company's rather bold tagline for the MaverickⒸ units is 'solar re-invented'. On Wednesday 19 July, 5B held a demonstration of the MaverickⒸ's easy deployment outside Customs House Library at Circular Quay in Sydney.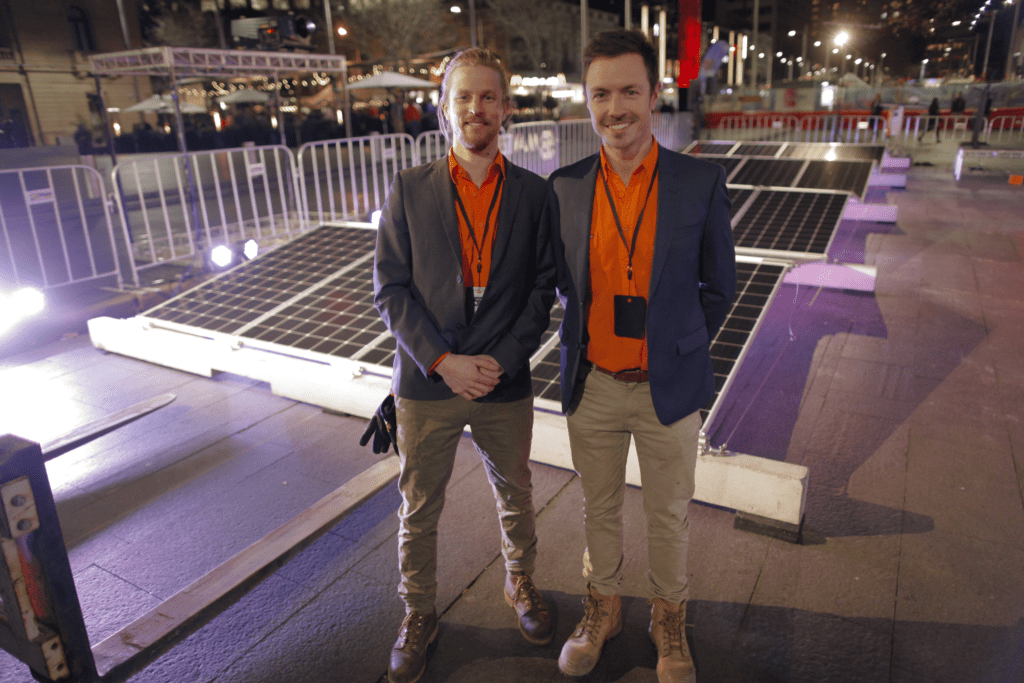 5B co-founders and directors Chris McGrath and Eden Tehan at the Sydney Launch.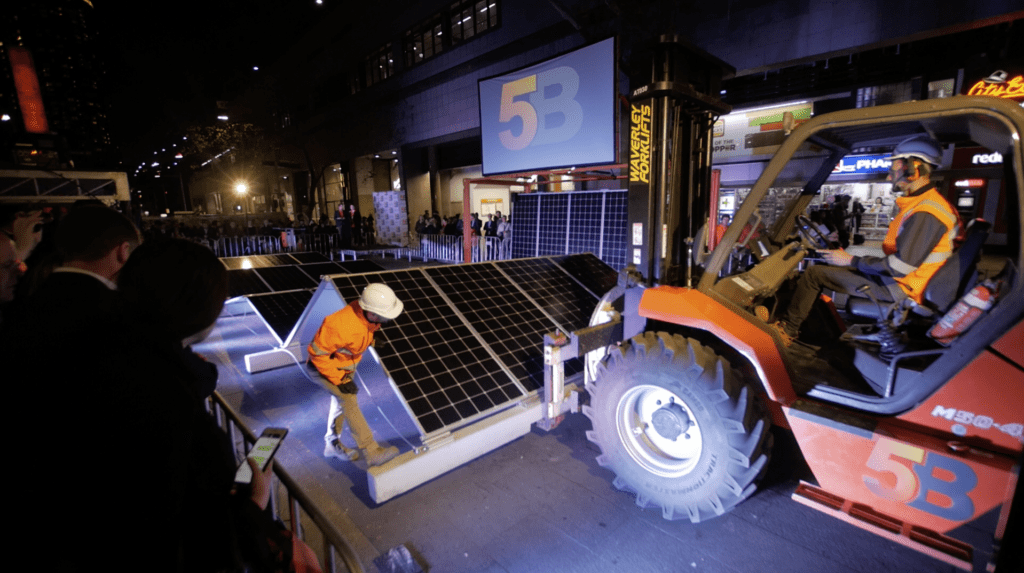 MaverickⒸ system being deployed at the launch.
What is it?
5B's MaverickⒸ units are pre-assembled 'solar array blocks' complete with solar modules, concrete footings (which serve as ballast and mounting) and cabling. Each MaverickⒸ unit is comprised of 32 Jinko brand solar modules with a nominal peak output capacity of 12 kilowatts (11.2kW at maximum power point through the inverter). Each unit is comprised of two 'strings' of panels (one east, one west) to maximise output without the need for the moving parts associated with tracking.
(5B notes that in addition to the unit composition described above, the MaverickⒸ can be designed in 5 or 6 beam units (32 or 40 modules) and generally accommodates any module brand, 60 or 72 cell modules.)
The units are deployed using a forklift and two to three person team. The roll-out process for each unit takes about 10 minutes, and 5B says that as a rule of thumb deployment & commissioning will be something along the lines of "100 kilowatts fully installed before lunch, and 1 megawatt in a week". Up to four MaverickⒸs can fit in a single 20ft container.
5B also provides a pre-wired 'inverter pod' for the balance of system, and even makes containerised 'assembly pods', allowing MaverickⒸ units to be assembled on the site of a proposed solar farm to speed up deployment.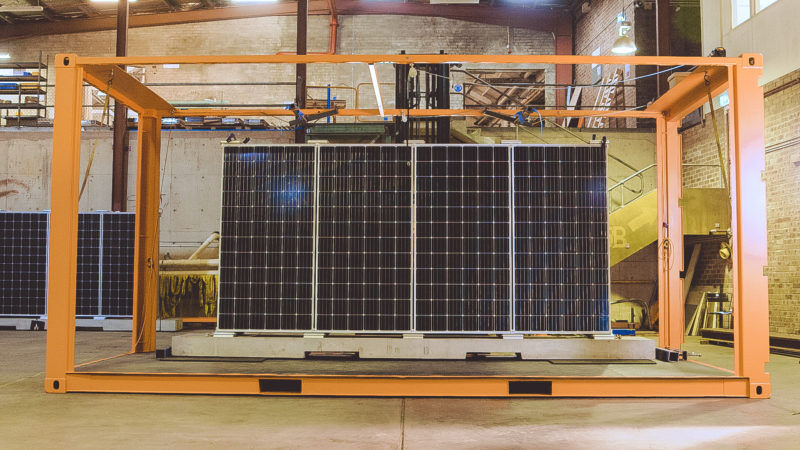 5B MaverickⒸ unit, folded up in container at 5B's assembly plant in Alexandria, NSW.
Key benefits of 5B's MaverickⒸ system
Saves on solar farm labour costs – By assembling their units in-house with their own team, 5B says they can reduce the need for on-site labour by as much as 90%
Easy transport – MaverickⒸs leave the factory 'folded up' in a 20ft container
A 'portable' solar farm – Thanks to ease of packing, unpacking and transport, MaverickⒸ units can be deployed for both permanent (think: utility solar plant) and temporary (think: festival or mining site) purposes
Is this the solar revolution you've been looking for?
The MaverickⒸ system is indeed unlike anything else on the market and holds immense promise. The company currently has a manufacturing capacity of 30MW per year, with plans to scale up rapidly to meet demand in Australia's expanding large-scale solar farm market.
Learn more