Solar Choice and Edify Energy's Whitsunday Solar Farm at Collinsville in North Queensland (70MW, DC) has been announced as one of twelve winners of federal grant funding under the Australian Renewable Energy Agency's (ARENA's) large-scale solar funding round.
The project was one of two from Edify Energy / Solar Choice to make ARENA's shortlist of 22 'high merit' projects from an initial 77 applicants. The total amount of new solar capacity supported under the funding round will be 480MW.
"After a long journey and plenty of hard work over the last three years, we're delighted and honoured to have the Whitsunday Solar Farm announced as one of the winners from ARENA's competitive round," said Solar Choice managing director Angus Gemmell. "We extend our hearty appreciation to our partners Edify Energy, in particular John Cole and Andrew Stiel, for their leading and dynamic collaboration."
John Cole, Chief Executive and founder of Edify, commented, "The Whitsunday project has been a key focal point for both Edify and Solar Choice over recent months and indeed years. Securing the ARENA grant funding is a milestone for this project and will help provide the catalyst in the ultimate buildout of a very large solar project with our partners Wirsol. We welcome ARENA's and the Queensland Government's involvement in kick starting the utility scale solar in Australia. We are excited to be at the forefront of the large scale Australian solar PV sector and producing a significant volume of renewable energy. This is just the beginning for Edify."
"This is a huge moment not only for the winning bidders, but also for the Australian energy sector as a whole. Large-scale solar is on the right side of history, and ARENA should be commended for helping to hasten its arrival with this funding round." Gemmell said.
Collinsville is fast becoming the solar capital of Australia, with another project at the township also receiving ARENA funding.
The Whitsunday project site was identified by Angus Gemmell in early 2014 after prospecting for broad-acre, cleared flat surrounds adjacent to existing transmission infrastructure.
Solar Choice secured exclusivity with the landowners shortly afterwards, then promptly lodged the planning application for a Material Change of Use with Whitsunday Regional Council. Planning approval was granted in June 2015 for a staged deployment commensurate with the exceptionally large capacity of Powerlink's transmission node – Strathmore Substation – which directly abuts the project site.
Solar Choice's development work was undertaken through 2014 and 2015 notwithstanding the headwinds at the time from the Abbott Government's review and diminution of the Renewable Energy Target. By September 2015, the project had been de-risked to the point where Edify Energy joined as a co-development investor and assumed equity, to then advance financing, grid studies with Powerlink, PPA negotiations and the bid with ARENA with Solar Choice in support.
The Whitsunday Solar Farm is one of a number of large-scale solar plants that Solar Choice currently has in the pipeline. Other planning-approved projects include the Gannawarra Solar Farm (which was shortlisted alongside Whitsunday) in regional Victoria and the Bulli Creek Solar Farm outside Toowoomba in Queensland. Solar Choice was also the co-developer for the Mount Majura Solar Farm north of Canberra Airport in the ACT.
For more information on the winning projects, see the ARENA website.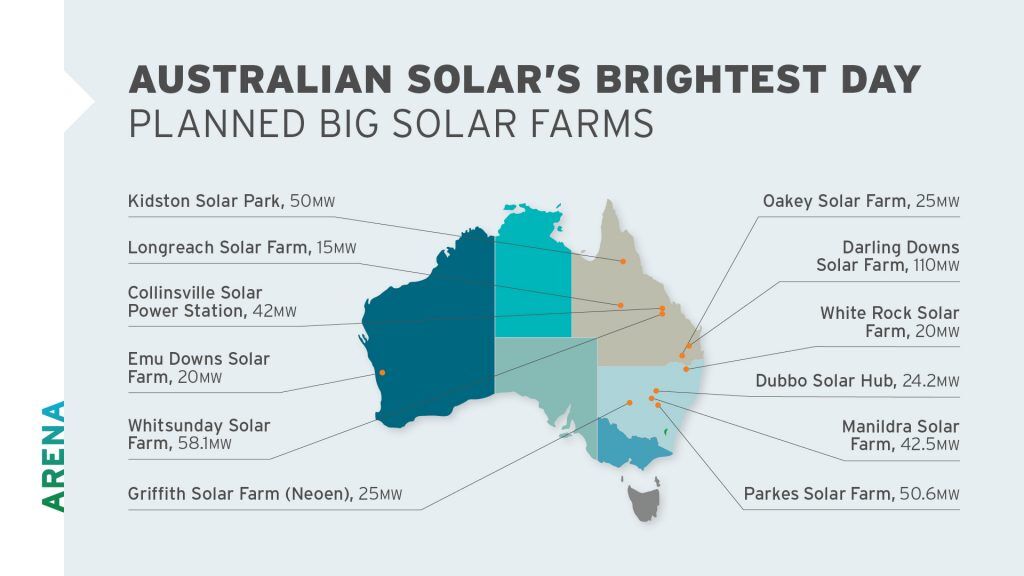 Gallery: Whitsunday Solar Farm
Site visit in 2016 to select available busbar bays at Strathmore Substation for grid connection.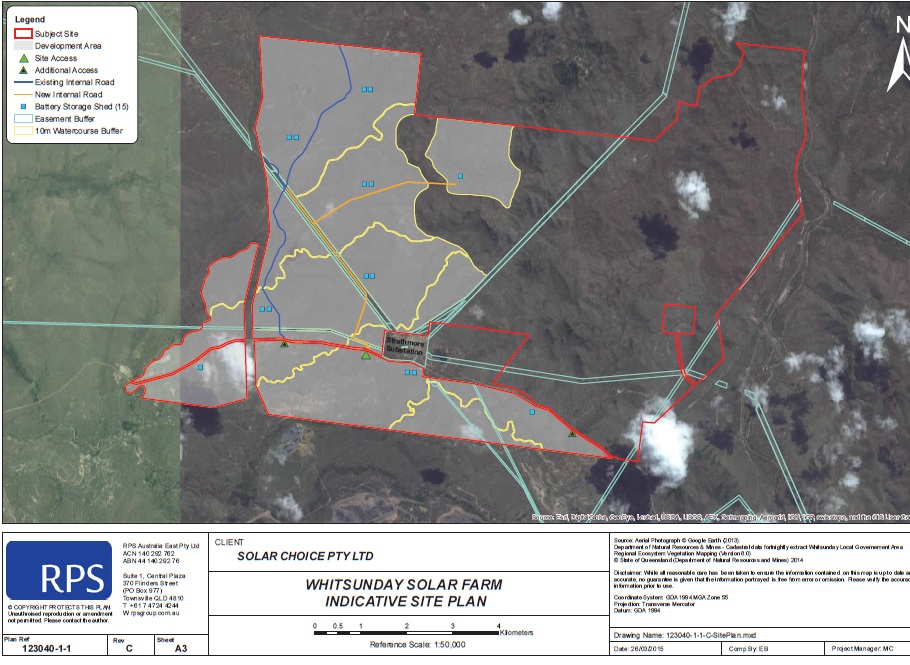 Indicative footprint of the Whitsunday Solar Farm.
Panoramic shots of the site of the site of the Proposed Whitsunday Solar Farm. (Click to enlarge.)
© 2016 Solar Choice Pty Ltd