It's been an epic journey!
As three large-scale solar farms (totalling 198 MW (DC)) now progress into construction, it's timely for all of us here at Solar Choice to take a moment to reflect, to savour and to extend a mighty thank you to others who moved mountains over the past year to convert the projects we originated (and remain engaged on) into physical reality.
First and foremost, we take our hats off to applaud the remarkable dynamism of Australia's Edify Energy in pulling together such an impressive combination of power purchase agreements, EPC and O&M contracts, connection offers and financing.
Together with German investor partner Wirsol, Edify Energy has now closed the single largest solar project financing deal in Australia's history, being combined funding for the Gannawarra Solar Farm near Kerang in northern Victoria (60MW (DC)), plus the Whitsunday and Hamilton Solar Farms at Collinsville in North Queensland (totalling 138MW (DC), 2 x 69MW (DC)).
Debt financing from the Commonwealth Bank of Australia, Clean Energy Finance Corporation and German bank Nord LB totalled $230m. That figure, plus large equity funding (and up to $9.5m from ARENA for the Whitsunday Solar Farm with knowledge sharing for all three projects) has allowed the largest aggregate project size financing for solar energy yet seen in Australia.
"Transactions such as this demonstrate that the combination of project development and structuring expertise, and investment confidence is once again present in the Australian renewable sector," said Edify Energy CEO John Cole about the occasion.
"We are truly excited about replicating this approach with our partners across the rest of our development pipeline and making an impact in the Australian renewable energy market."
Developing a vision when most looked away
Many long-term readers of this blog and those in the renewables sector will recall all too readily the 2013 to 2015 tumult caused by former Prime Minister Tony Abbott's review of the national Renewable Energy Target. Investment in large-scale solar ground to a complete standstill. Uncertainty reigned. After a prolonged ordeal, Australia became the first and only country in the developed world to diminish rather than augment its RET.
While most solar farm developers either departed our shores entirely or sat on their heels in doldrums during these times, Solar Choice's Managing Director Angus Gemmell saw an opportunity to get active, think macro, and deploy on a much larger canvass the lessons learned from co-developing the 2.3MW Mount Majura Solar Farm in ACT (commissioned last year).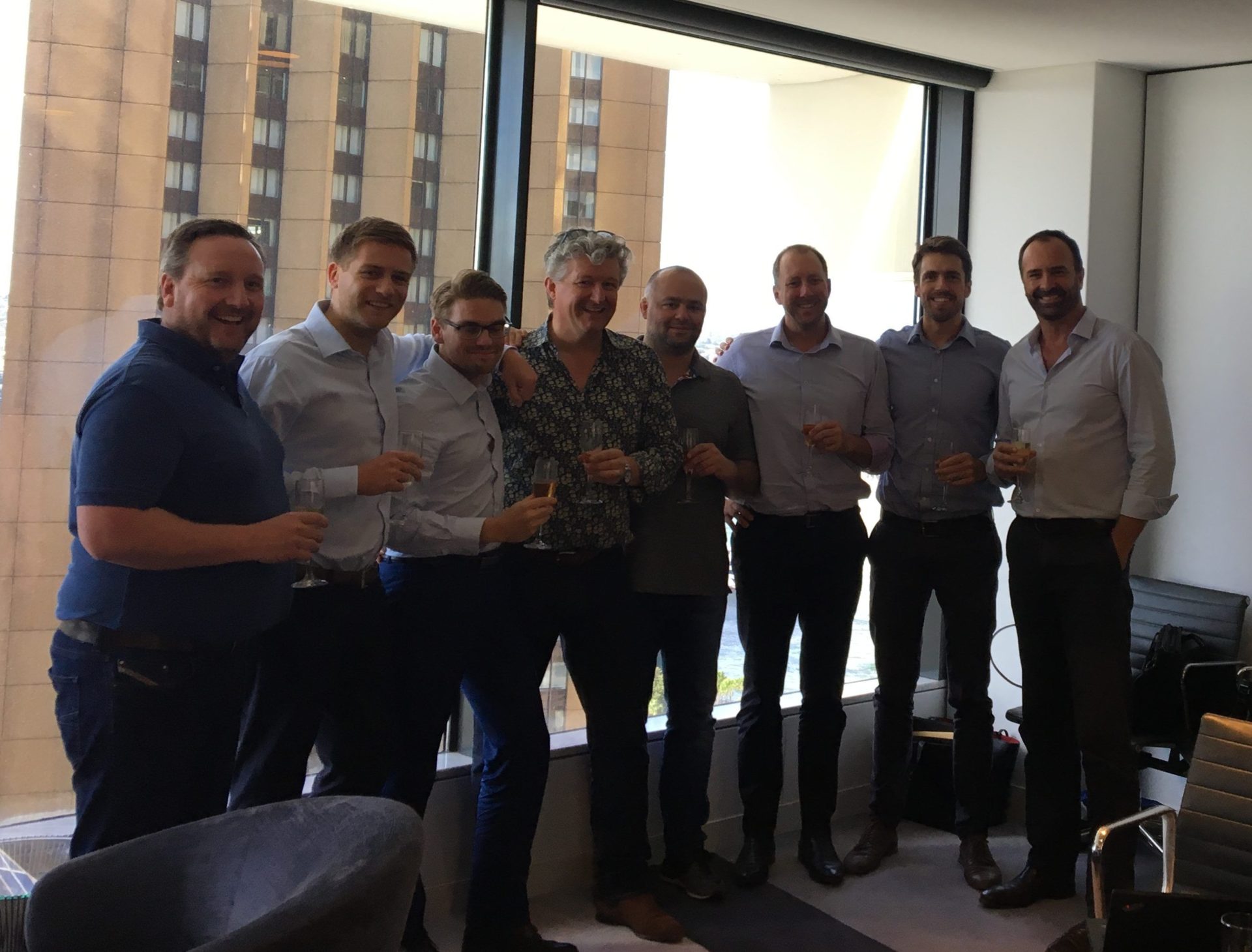 Left to right: Jason Lenthall, Andy Scullion, Wirsol lawyer, Mark Hogan, Markus Wirth (all from Wirsol), John Cole and Andrew Stiel (Edify Energy), Angus Gemmell (Solar Choice).
Strategic sites on transmission nodes geared to multi-staged deployment
The vision was to secure exclusive rights on strategic sites adjacent to high voltage transmission infrastructure with exceptionally large grid capacity, with broad acre cleared flat surrounds that could be geared to multiple stages over time. Solar Choice would then fund and successfully navigate the planning approval process before engaging with investors.
Exclusive rights for the Gannawarra Solar Farm site were secured by Solar Choice in mid-2013 across 1,350 acres of wheat farming land traversed by both 220kV and 66kV power lines, and planning approval granted later that year.
The Whitsunday Solar Farm and Hamilton Solar Farm are co-located on broad-acre land identified and sourced by Angus in mid-2014. The site consists of 10,000 acres of predominantly cleared cattle grazing country that directly surrounds and abuts the 132kV/275kV Strathmore substation, which is one of the major transmission nodes for moving power in multiple directions around North Queensland. Planning approval was granted in 2015.
Other sites include the Bulli Creek Solar Farm in southern Queensland, close to the major 330kV Bulli Creek substation west of Toowoomba and Millmerran, and on the main artery for electricity transmission between Queensland and NSW. This site also achieved planning approval in 2015.
Edify Energy acquisition, Solar Choice ongoing engagement
Throughout this period Solar Choice was in exhaustive negotiations with various potential partners. The dialogue with Australian John Cole commenced at our Manly office in January 2014. John at that time was co-founder and Chief Investment Officer of successful solar farm developer Low Carbon in UK.
When John founded Edify Energy and returned to live in Australia in mid-2015, Solar Choice entered into a Cooperation Agreement with Edify Energy. Over July to September 2015 we assigned to Edify the exclusivity we'd contracted with landowners at the then planning- approved Gannawarra and Whitsunday sites.
Since then Solar Choice has remained engaged as development partner, including having carriage of clearing pre-construction conditions for both sites in the lead up to the recent financial close.
"Solar Choice is delighted to see the culmination of many years of work and vision in the financing for these projects" Angus Gemmell said. "In particular we thank Edify Energy. Solar Choice looks forward to continued engagement as development partner on subsequent stages at both sites, as well as others in our combined pipeline."
Power purchasing
The energy off-takes negotiated by Edify Energy for these projects consist of a 20 year Queensland Government contract-for-difference at the Whitsunday Solar Farm (ARENA linked), a merchant facility for the Hamilton Solar Farm that will be sold on the wholesale energy market, and an EnergyAustralia power purchase agreement until 2030 for the Gannawarra Solar Farm.
Construction
Australian firm RCR Tomlinson is EPC for the Gannawarra Solar Farm.
French infrastructure giant Bouygues is EPC for both the Whitsunday and Hamilton Solar Farms.
Wirsol update
Wirsol has opened their Australian head office on level 1 of 39 East Esplanade, Manly NSW, two levels below Solar Choice's own office in the same building.
© 2017 Solar Choice Pty Ltd

Latest posts by Jeff Sykes
(see all)