Following on the heels of South Australia, Victoria is set to become home to two 'big batteries' of its own.
The grid-scale battery banks – one manufactured by Tesla and the other by Fluence – will help to ease pressure on the electricity network in the western part of the state, while also helping to support renewables as more and more Victorian coal plants retire.
The Tesla battery will be co-owned by Edify Energy and Wirsol, will be leased to and operated by EnergyAustralia, and will be co-located with the 50 megawatt (MW) Gannawarra Solar Farm outside Kerang, also owned by Edify Energy and Wirsol and the state's first large-scale solar farm (due to be commissioned within the next few weeks).
Solar Choice was the originating developer of the Gannawarra Solar Farm having secured the site and planning approval back in 2013, subsequently working closely with Edify Energy to clear land matters such as pre-construction conditions, EPBC approvals and fulfilments of indigenous heritage duty of care. Solar Choice remains actively engaged on further stages across additional land within the wider Gannawarra site.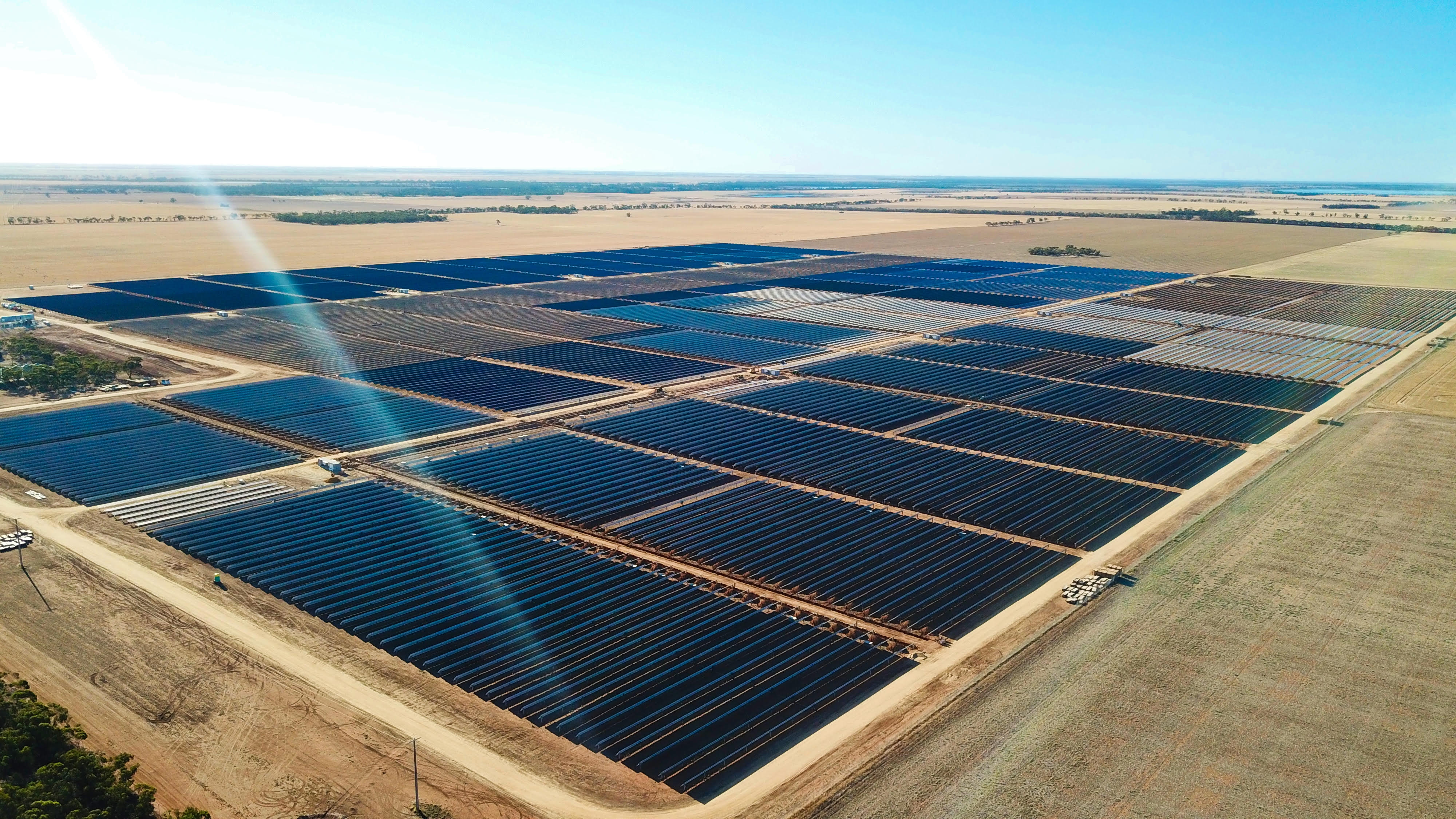 Progress shot of the Gannawarra Solar Farm. (Photo credit: Edify Energy.)
The Tesla battery will have a total output capacity of 25MW and storage capacity of 50 megawatt-hours (MWh).
The addition of the battery bank will make this the first combined solar & battery plant in the state, and one of the largest globally.
"We are very proud to have designed and delivered the first combined utility-scale solar and storage facility in Victoria," Edify Energy CEO John Cole said in a statement. "It is unprecedented in Australia at this scale and is among the largest in the world.
"The team has worked tirelessly to overcome many regulatory, technical and commercial challenges and create a very cool project – one that can deploy solar power at night.
The Fluence battery, at 30MW/30MWh, will be located near a substation near Ballarat and will be owned and operated by Ausnet, the network company that services the region.
The two projects, with a total output capacity of 55MW, were announced as the winners of a $50m tender run by the Victorian government last year to help fill in capacity gaps left by the closure of the state's ageing Hazelwood coal plant. ARENA contributed $25m to the two projects, matching funds from the Victorian government.
Victoria energy, environment and climate change minister Lily D'Ambrosio said the battery storage projects would be a key to helping the state transition to an affordable, reliable and clean energy system. It has a 40 per cent renewable energy target by 2025.
"We said we would deliver this for Victoria, and that's exactly what we've done," D'Ambrosio said.
"We are continuing to modernise our electricity grid, strengthen our energy security and deliver real action on climate change."
In clear contradiction to his LNP colleagues' mocking of Tesla's big battery at Jamestown in South Australia, Federal Energy Minister Josh Frydenberg said the Victorian batteries would push down energy prices and improve reliability.
"They will not only allow currently unused renewable energy to be stored instead of wasted, but also inject electricity into the grid at times of peak demand in an area known for transmission congestion," Mr Frydenberg said.
"Together, they will help lower power prices and stabilise the grid."
Compare Solar & Battery Quotes
Top image: Aerial progress shot of Gannawarra Solar Farm. (Photo credit: Edify Energy.)