The Australian Capital Territory has announced the winners of the second round of its 'reverse auction' feed-in tariff for large-scale solar projects.  This time, the 20 megawatt (MW) allotment of capacity will be split between 2 separate projects–the 13MW Mugga Lane solar park, and 7MW OneSun Capital Solar Farm.
Each of the first 2 rounds of the ACT scheme were to select projects totaling 20MW of solar photovoltaic (PV) capacity. In round 1, all 20MW were allotted to a single project–FRV's solar farm at Royalla, which recently officially received planning approval from the ACT government. According to Environment and Sustainable Development minister Simon Corbell, the bids put in by the developers of the 2 new projects either came in at the same dollar-per-watt figures as those of Royalla or lower. This highlights the cost-effectiveness and relative fleet-footedness of the territory's incentive scheme, especially in comparison to the federal government's larger and clumsier (but more arguably ambitious) Solar Flagships program, whose first winner was finally cleared for take-off a short time ago after several years of process.
In a media statement, Mr Corbell emphasised the environmental benefits that the plants offer  He pointed out that they will collectively produce enough emissions-free, renewable energy to power around 10,000 ACT homes, moving the ACT further along the path of achieving its goal of a 40% reduction in its carbon emissions and 90% renewable energy by 2020, and towards becoming a carbon neutral city by 2060.
Furthermore, ACT residents will not be slammed with dramatically higher power bills because of the plants.  "The ACT Solar Auction is delivering large scale renewable energy at an affordable price. The maximum cost to households is expected to be 45 cents per week when all three farms are operating in 2016. This is forecast to drop to 27 cents per household per week by 2021," Mr Corbell said.
The OneSun Capital Solar farm, developed by Australian firm Elementus, will be located about 30km west of Canberra in the district of Coree. At $17m, this smaller project works out to about $2.43/W installed. The larger Mugga Lane solar park, to be located south of Canberra along the Monaro Highway, will be developed by Chinese firm Zhenfa, and cost around $2.34/W. As pointed out by RenewEconomy's Gile's Parkinson, both projects have $/W price tags lower than that of the $155m Royalla project (approx. $2.90/W), which is slated to receive substantial funding in federal government grants.
All 3 of the ACT's planned solar farms are scheduled to be online by 2014-2015.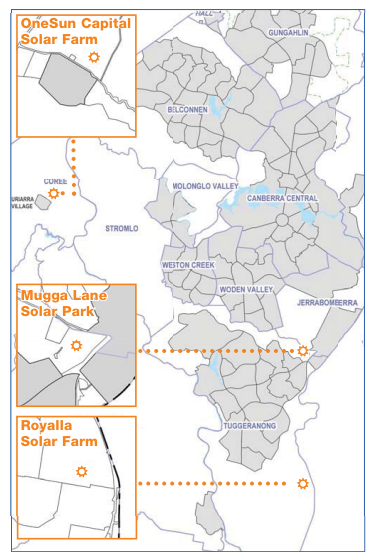 The ACT's planned large-scale solar farms. (Image via ACT government's Large-scale Solar Brochure.)
Top image: Mugga Lane solar farm mock-up, via Zhenfa
© 2013 Solar Choice Pty Ltd

Latest posts by James Martin II
(see all)