Australia's rooftop solar market is still powering along nicely, adding another 11,865 systems in the month of May and bringing the nation's total number of solar homes to more than 1.3 million.
But according to newly published data from Solar Citizens, it is Australia's conservative, and mostly regional communities that are leading the charge to solar self-consumption.
In Queensland, for example, the electorate with the highest cumulative total of installed rooftop solar – 27,263 houses – is the regional seat of Wright, held since 2010 by Scott Buchholz, a federal member for the LNP and, as of February this year, the Abbott government's Chief Whip.
The Sunshine State's second biggest solar electorate is the (also) regional division of Kennedy (see table below), held for more than 20 years by the ultra-conservative MP Bob Katter, formerly of the National Party, now head of the eponymous Katter's Australian Party. Katter, who opposed the carbon price, doesn't seem to have the same problems with renewable energy that cloud the thinking of other Australian Conservative pollies.

In 2010, he reportedly supported the creation of a National Energy Grid for development of clean energy resources, as well as a northern Australia clean energy corridor to help energise the national power grid and mentions two projects specifically – the Kennedy wind farm and the Pentland solar bio-fuels plant.
In NSW, one of the biggest adopters of rooftop solar is, perhaps unsurprisingly, the state's largest electorate – Parkes, an agricultural division in the far north of the state, adjoining the Queensland border, which is held by Nationals MP Mark Coulton. It is also home to Australia's largest solar PV plant, the 102MW Nyngan Solar Plant.
Speaking in 2014 at the occasion of the installation of Nyngan's first PV panel, Coulton said: "It has been necessary to support large-scale solar projects, like this one at Nyngan, for the industry to develop and mature in Australia.
"The Nyngan project signifies a great step forward in renewable energy production for the region and for the state of New South Wales."
Parkes has installed the state's second largest amount of household rooftop solar, with a total of 13,541 systems.

NSW's largest solar electorate, Richmond – with 15,710 systems installed – is considered to be a safe Labor seat, but at the 2013 federal election, recorded a 4 per cent swing to the Nationals. It is also known as one of Australia's key retirement electorates.
In South Australia, the largest solar electorate – with 22,949 systems – is the LNP-held regional seat of Mayo, encompassing the Adelaide Hills and Kangaroo Island. It was most notably held by Liberal Party stalwart Alexander Downer for more than 20 years, and is currently held by Liberal MP Jamie Briggs. Like Richmond, Mayo has a high median population age – 43, which is SA's highest. It also happens to boast Australia's lowest proportion of Catholics.
SA's second biggest solar electorate (20,109 PV systems) is the division of Grey – the state's biggest electorate, taking in more than 90 per cent of its area. A comfortable Liberal seat since 1993, it spreads from the agricultural districts of the Eyre Peninsula and the fishing centre of Port Lincoln, up through the industrial cities of Whyalla, Port Augusta and Port Pirie. It also covers Yorke Peninsula, and extends across the state's large, arid outback area.

According to Repower Port Augusta – the community-based group driving the campaign to replace Port Augusta coal power station with solar thermal – the sitting member for Grey, Rowan Ramsey MP, is on the record as being "moderately" supportive of the proposed solar thermal project, if it was considered economically viable by a body such as ARENA.
In Victoria, the biggest solar electorate is Lalor, a division covering Melbourne's outer south-western suburbs, including Weribee, Hoppers Crossing and Laverton. It is traditionally a safe Labor seat, best known for being the long-term electorate of former Prime Minister Julia Gillard.
While not traditionally Liberal voting, Lalor recently held the title as Australia's 'nappy valley', with the highest proportion of children aged 0-4. It is also sixth highest nationally, and second highest in Victoria, for families being couples with dependent children (44.4%), and has the sixth highest rate of residents purchasing their own homes (49.3%) – all of which makes sense in connection with high solar uptake.
The division of McEwen ranks next in Victoria, with 12,366 solar households. A relatively new electorate on the edge of metro Melbourne, McEwen is also an ALP safe seat. It is interesting to note that it has the nation's highest proportion of dwellings being purchased at 53.5%. And with the nation's third highest (68.8%) proportion of dwellings with two or more cars, perhaps it will also be one to watch for EV uptake.

In Western Australia, the seat of Brand – currently held by Labor's Gary Grey, who happened to be federal resources minister under the Gillard government – has that state's biggest rooftop solar uptake, at 18,148 households.
This outer metropolitan division is known for its heavy industry, aluma refining, tourism and the naval base, HMAS Stirling, on Garden Island – the recipient of energy and desalinated water from the world's first grid-connected wave energy array, switched on by developer Carnegie Wave Energy in February this year.
This is followed by the mixed urban-rural division of Pearce, which has 17,785 rooftop PV systems installed on houses. Pearce is currently held by Liberal MP Christian Porter, and has mostly been a Liberal or National seat. It is known for its fishing and tourism; grain crops, sheep, cattle, and fruit growing in the rural inland areas; and restaurants, vineyards and wineries. It also has RAAF pilot training at Pearce Air Base, and agricultural Colleges at Muresk and Narrogin.
Interestingly, Porter has been tipped by some as the Liberal Party's next Prime Minister. Hopefully, being from a solar heavy electorate, he will be more open minded about renewable energy than his predecessor has been.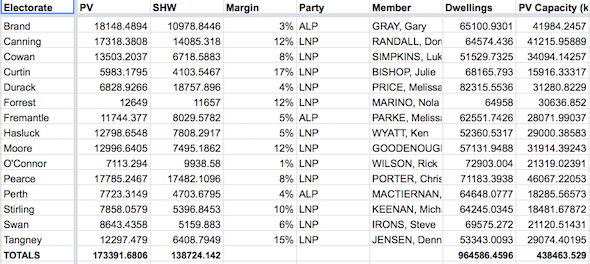 © 2015 Solar Choice Pty Ltd 

Latest posts by Giles Parkinson
(see all)