Australia has been listed among the world's top 10 solar states, per capita, in the latest annual ranking of Swiss not-for-profit group SolarSuperState.
The list, illustrated in the table below, places Australia at number 10 for cumulative installed PV power per head of population, with 204 watts per capita – well behind the tiny European Principality of Liechtenstein, ranked at the top, and even lagging the micro-state Republic of San Marino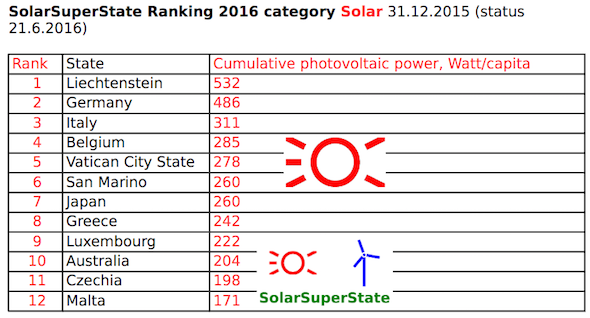 Leading the SolarSuperState list for 2015 is Liechtenstein, with a cumulative installed PV capacity of 532 watts per capita.
According to a release from the NGO, Liechtenstein has pushed photovoltaics politically since 2008, through a national feed-in tariff that has encouraged private home owners to install rooftop solar.
Liechtenstein is followed by four more EU contenders: Germany (486W/capita), Italy (311), Belgium (285) and Vatican City State (278).
In sixth/seventh position – in a tie with Japan – is one of the world's oldest Republics, the mountainous microstate of San Marino, with 260W/capita. This would have been boosted by the recent installation of the Republic's largest PV system: a 700kW solar power plant on the roof of paint and enamel manufacturer Colorificio Sammarinese.
Japan, also with 260 Watt per capita, has overtaken several inactive European states, including Czech Republic, Luxembourg and Greece. SolarSuperState says that if the EU states of Vatican City, Belgium, Italy, and Germany stay inactive then they, too, will likely be overtaken by Japan.
© 2016 Solar Choice Pty Ltd