Australia will have more than 50GW of installed solar capacity by 2040, according to a new forecast by Bloomberg New Energy Finance, and more than half of this capacity will be "behind the meter" and located in households and businesses.
The forecast, made at RenewEconomy's Disruption and the Energy Industry conference in Sydney this week, also included a prediction that household solar capacity would be 2.5 times greater than that of remaining coal-fired generators by 2040.
Bloomberg analyst Hugh Bromley says it will be a matter of simple economics. "Solar is getting cheap … and coal will become expensive," particularly for new power plants. "It (coal) is not in the money any more."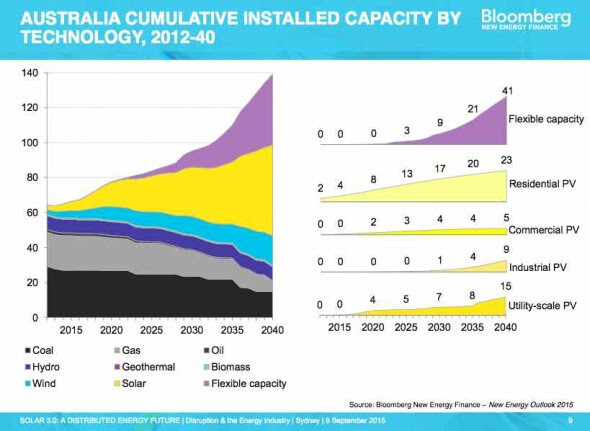 The forecasts reflect a couple of major trends that will take place in the energy market in coming decades, including the push for consumers to generate their own electricity.
Bromley predicts that half of all consumers in Australia will have rooftop solar by 2040.
Bloomberg has previously predicted that there will be around 37GW of rooftop solar in the Australian market, but for the first time has broken that down to different segments (see graph above). Around two-thirds of this (23GW) will be installed on homes, 5GW of commercial businesses, and 9GW on industrial facilities.
That industrial take up is unlikely to occur until the mid 2020s, but then will be rapid as it dovetails with the rollout of battery storage – meaning that energy intensive industries can, and will, use solar to drive their operations.
The combination of rooftop solar and 15,000MW of large-scale solar means that the technology will account for half of all Australia's generation capacity by 2040.
Combined with wind energy and hydro energy, renewables will account for two-thirds of capacity.
© 2015 Solar Choice Pty Ltd

Latest posts by Giles Parkinson
(see all)