Yesterday the Australian Energy Storage Alliance (AESA) officially announced the launch of the Australian Energy Storage Database (AESDB), which will serve as the authoritative resource for existing and upcoming energy storage projects in Australia and New Zealand. The Australian arm of the database is a portal to the Global Energy Storage Database created under the US Department of Energy and Sandia National Labs.
The Australian Energy Storage Alliance will be managing the collection and collation of commercial-scale energy storage project data for Australia and New Zealand. The AESA, receiving support from the NSW Department of Industry and the Energy & Resources Knowledge Hub, will be tasked with adding existing (but still unlisted) projects, as well as new projects as they are announced. They will also be verifying data on projects uploaded to the database and updating existing listings.
The database includes projects ranging from small-scale commercial energy storage systems to larger systems for industrial facilities or infrastructure. All types of energy storage technology are eligible to be listed, including battery storage ('electro-chemical'), electro-mechanical (such as flywheels), hydrogen storage, pumped hydro or thermal storage.
Anyone can access the database for free, and users can filter projects by type, size, location, use case and status. The database will serve as a resource to inform decision-making for developers, owners and investors, with the ultimate aim of accelerating the uptake of energy storage in Australia and globally.
Currently, there are over 1,550 projects listed in the global database, about 50 of which are located in Australia. (System developers and owners alike are encouraged to add their projects here.)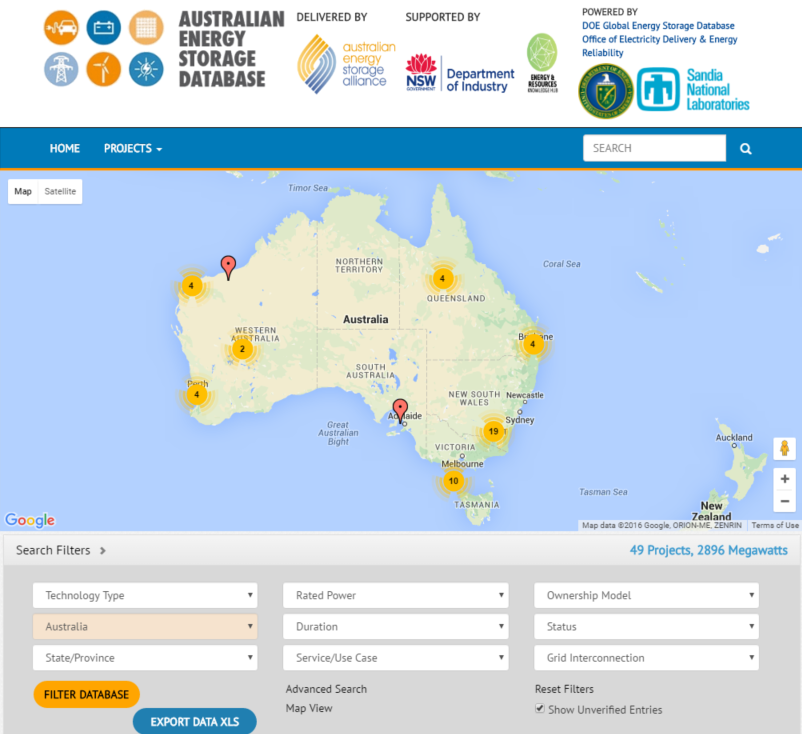 At the AESDB launch
The AESDB launch event itself featured speeches from the program's backers and beneficiaries. After opening remarks by AESA Industry Executive Mary Hendriks (the driving force behind the database project), NSW Minister for Industry, Resources and Energy Anthony Roberts delivered a talk highlighting the importance of the database in the broader context of Australia's rapidly evolving energy sector. Referring to distributed generation resources such as rooftop solar and battery storage as an "unprecedented social trend", Minister Roberts spoke about the aim of the state government to stay ahead of the curve by fostering innovation by fostering knowledge sharing and collaboration to address problems common to all players in the industry.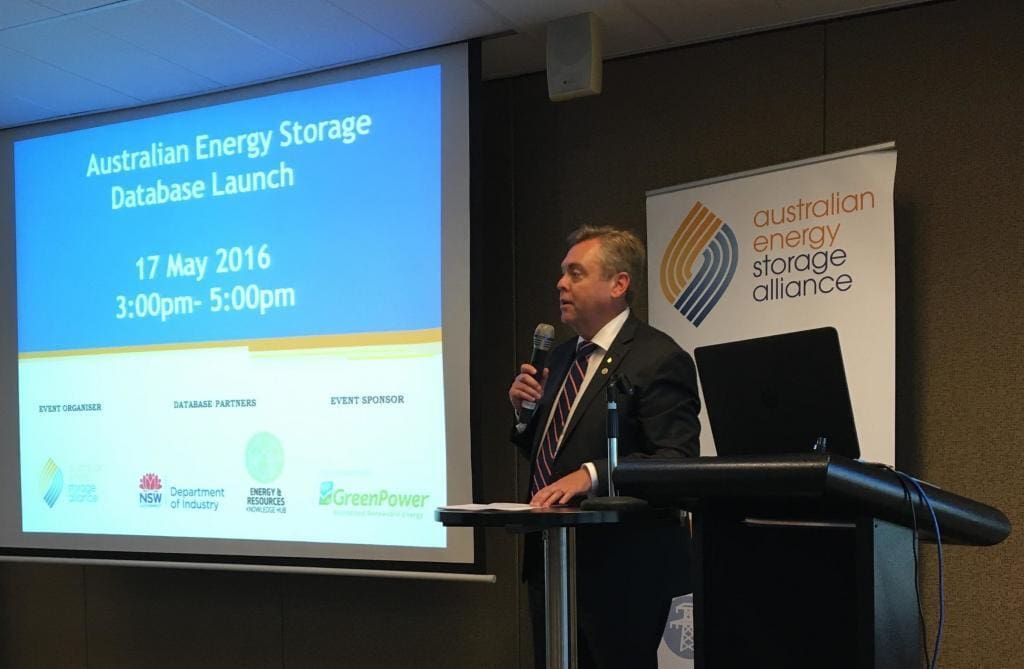 NSW Minister for Industry Anthony Roberts at the AESDB launch. (Image via Mary Hendriks.)
The Minister's talk was followed by a special video appearance by Global Energy Storage Database founder Dr Imre Gyuk, who has been a proponent of energy storage for decades. The GESDB, he mentioned, is already widely used, having received more than 1.6 million pageviews from over 100,000 users since its inception.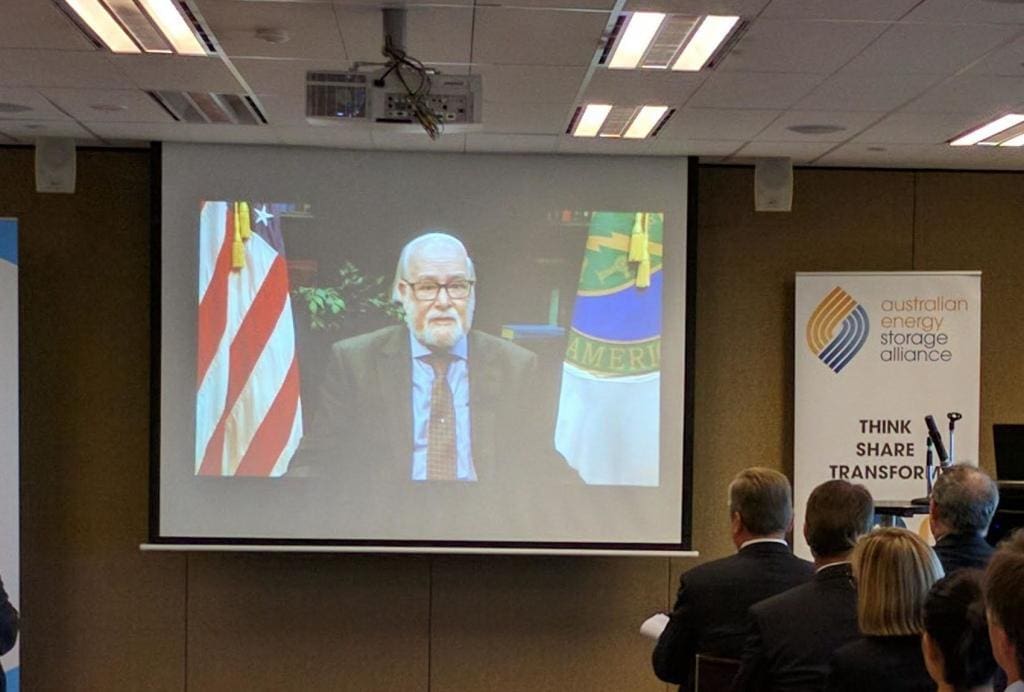 Dr Imre Gyuk of the US Department of Energy, appearing at the launch via video. (Image via Prof Tony Vassallo.)
Ms Hendriks then took the stage to explain the role of the AESA in curating project info within the database and what they hoped to achieve. One of their main aims will be to ensure that awareness of the database is spread far and wide through industry channels and via social media.
She was followed by Professor Tony Vassallo of the University of Sydney, who emphasised the importance of the availability of good, reliable data for academics, who play an important role in influencing policy and commercial decision-making.
Gerard Reiter of transmission network operator TransGrid then talked about TransGrid's multifaceted efforts to make its infrastructure 'smarter' and more cost effective. These efforts include the deployment of TransGrid's own storage projects (starting with the iDemand demo project) and the leveraging distributed storage systems (possibly but not necessarily owned by TransGrid) for a range of grid support services. He also highlighted the tremendous opportunities in a more holistic approach to managing network challenges – such as those hiding in the 'latent energy' (e.g. trapped light and heat) stored in large commercial buildings. This energy, he pointed out, is a huge but almost entirely ignored area of opportunity with regard to strategies for grid 'peak demand' management.
Layout of TransGrid's iDemand demo project in Western Sydney. (Image via TransGrid.)
Attendees also heard from Nick Batt of 'Ultrabattery' maker Ecoult, speaking as someone who has already used the database to both identify future project opportunities for his company as well as showcase completed ones. He says that the type of customer enquiries that Ecoult has been receiving as of late have been from customers who were better informed than ever – something he attributes at least in part to the existence of the database.
The final talk of the day was by Dr Alan Broadfoot of the NSW Energy & Resources Knowledge Hub. Dr Broadfoot, as with Professor Vassallo, discussed the importance of knowledge sharing in this burgeoning industry in order to 'fast track growth & innovation'. He said that the AESA's database project was one of the first instances of a body reaching out to the Knowledge Hub proactively to seek assistance in furthering their cause – and seemed hopeful that it would have a positive overall impact on the industry.
The networking session following the talks was full of vibrant discussion, which continued well into the trip down the lifts as everyone was ushered out at the close of the event. In attendance were a number of project developers and manufacturers looking for opportunities of their own, plus at least one finance company
© 2016 Solar Choice Pty Ltd

Latest posts by James Martin II
(see all)