A new international report by the UK's Overseas Development Institute (ODI) has revealed that Australia is still subsidising fossil fuel production to the tune of a massive $A5.6 billion a year.
The report, 'Empty promises: G20 subsidies to oil, gas and coal production', also highlights how Australian companies have received billions of dollars from other G20 governments to develop liquefied natural gas sites.
And it notes that the Australian government further funds the industry with $A292 million ($US262 million) a year in public finance, as it expands fossil fuel production on multiple fronts.
The findings come during a week where the Turnbull is coming under increasing pressure – domestically and internationally – to agree to a OECD proposal that would rein in export credit agency financing for new coal plant.
Although the Turnbull government is being cagey about its response to the proposal, it has reportedly joined with South Korea to propose a much-watered down version of the US-Japan deal.
It's not a good look for Australia as it heads to Turkey for G20 talks, and then to Paris for the OECD meeting and then climate talks.
But of course, Australia is not the only offender. According to the new report – put together by the UK-based Overseas Development Institute and USA-based Oil Change International – governments from the Group of 20 nations are propping up fossil fuel production with $US452 billion a year.
This is almost four times the entire global subsidies for renewable energy ($US121 billion); and despite countries' pledges to phase out fossil fuels – and subsidies to the industry – as one of the key measures to prevent catastrophic climate change.
"Continuing to fund the fossil fuel industry today is like accelerating towards a wall that we can clearly see," said Oil Change International director, Stephen Kretzmann. "G20 leaders need to slow down and turn us around before we hit climate disaster."
Shelagh Whitley, of the Overseas Development Institute, added: "Australia and other G20 countries are paying fossil fuel producers to undermine their own policies on climate change.
"Scrapping these subsidies would rebalance energy markets and allow a level playing field for clean and efficient alternatives."
On a more positive note, the report also found that G20 governments had a tremendous opportunity to meet the climate challenge by shifting the investment of state-owned enterprises away from fossil fuel production toward clean energy.
And at least some countries are looking at the issue seriously. At the end of September 2015, the US and China jointly prioritised the establishment of a concrete deadline for the phase-out of fossil fuel subsidies as a key task during China's G20 presidency in 2016.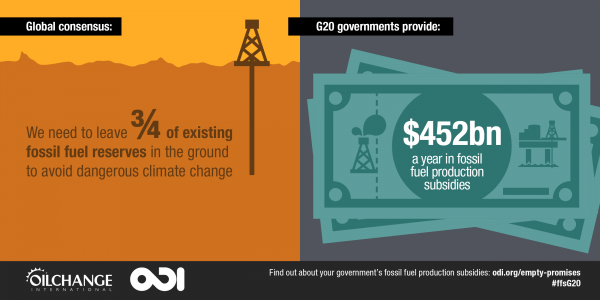 © 2015 Solar Choice Pty Ltd