The Australian Energy Market Operator has adapted its network planning to take into account a rapid uptake of rooftop solar, battery storage and electric vehicles.
In its 2015 National Transmission Network Development Plan – released last Thursday – AEMO looks at some of the issues that would arise from a "gradual evolution" of distributed generation, as well from a "rapid transformation."
In the gradual evolution scenario, rooftop PV grows to 17.6GW by 2034/35 and battery storage to 8GWh. Large-scale wind doubles to 3.5GW, large-scale solar PV increases more than 20-fold to 3.3GW, gas adds 2.1GW and 3.12GW of coal is retired, all by 2022/23, with no change for another decade or more.
In the latter scenario, 33.3GW of rooftop solar is installed on homes and businesses by 2034-35, 40 per cent of all homes have residential battery storage (19.1GWh) and 20 per cent of homes have an electric vehicle – equivalent to 2 million EVs by 2035.
That compares to around 4.4GW of rooftop solar now, a negligible amount of battery storage and barely 1,000 EVs.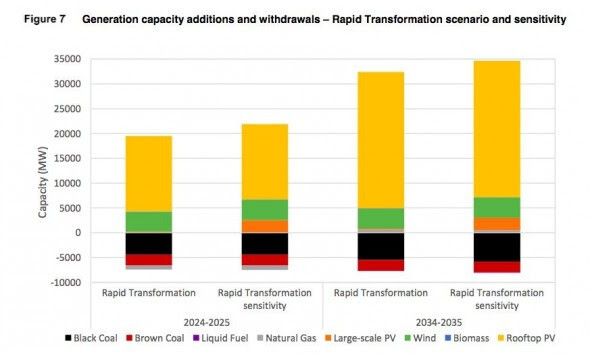 AEMO says that a rapid transformation like this has challenges. But they are not insurmountable; they require planning, and they will require system changes, particularly on ensuring that the grid maintains the "frequency" and other ancillary services needed for stable supply.
But this does not mean fossil fuel generators spinning in the background. Indeed, in South Australia, the amount of rooftop solar, wind energy and large-scale solar PV could provide more than 100 per cent of the state's electricity demand, within one or two decades.
The "rapid transformation" scenario also finds that the prevalence of battery storage in homes and businesses means the anticipated addition of "peaking" gas-fired stations to balance the "intermittency" of wind and solar is no longer needed. Battery storage does the job.
Further, it predicts that the higher uptake of rooftop solar and battery storage means an extra 5,000MW of coal generation is retired – for a total of 8,000MW.
That appears to support the idea that every solar panel and battery cell installed in a home equates to reduced coal capacity and output.
As AEMO notes: when you get more domestic solar, that reduces overall consumption and "drives down the utilisation of these (coal) power plants to a point where it is no longer cost-effective to operate."
© 2015 Solar Choice Pty Ltd

Latest posts by Giles Parkinson
(see all)