The International Monetary Fund says fossil fuel subsidy reform is as "urgent as ever", after the release of a report showing subsidies to the sector currently averaging at around $US1,000 a year for every citizen living in the G20 group of the world's leading economies.
The new figures from the IMF revealed that Australia still provides $US1,260 per head ($A1,712) in fossil fuel subsidies in 2015, while the US – the second-worst offender (in dollars), behind China – provides $US700 billion a year, equivalent to $2,180 for every American.
All up, the report projects global energy subsidies at $US5.3 trillion in 2015, or 6.5 per cent of total GDP – most of which, it says, arises from countries setting energy taxes below levels that fully reflect the environmental and health damage associated with energy consumption.
"This trend suggests that energy subsidy reform is as urgent as ever, in particular to tackle the un-priced externalities from energy consumption," the report says.
The report finds that the bulk of energy subsidies in most countries are due to undercharging for domestic environmental damage, including local air pollution – especially in countries with high coal use and high population exposure to emissions – and broader externalities from vehicle use like traffic congestion and accidents.
"In many top subsidisers in percent of GDP and in per capita terms, these also reflect the setting of domestic energy prices below their supply cost."
The rest come from payments, tax breaks and cut-price fuel.
The IMF, which published a global estimate – $5.3 trillion a year – of fossil fuel subsidies in May, calculates that ending fossil fuel subsidies would slash global carbon emissions by 20 per cent.
It has also estimated that this would lead to a 50 per cent cut in premature deaths caused by air pollution, while also being an economic "game-changer" for many countries, freeing up much needed funds.
For advanced economies, like Australia, the IMF estimates eradicating fossil fuel subsidisation would gain enough revenue to halve corporate income tax or cover one quarter of public health spending (Chart 2).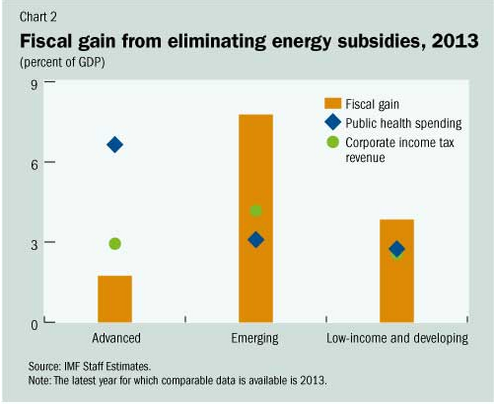 "In emerging economies, the revenue is worth double their corporate income tax revenues or public health spending. In low-income countries, it is about one and half times corporate income tax revenues or public health spending," the report says.
© 2015 Solar Choice Pty Ltd