Attracting the attention – and money – of Bill Gates is a big deal. But Aquion Energy, a battery technology start-up, has managed to woo not just the world's richest man, but a host of other venture capitalists and investment houses such as Vinod Khosla, Kleiner Perkins and Foundation Capital as it goes after the renewable energy storage market with a new production line.
Comparable in cost to lead-acid batteries, but lasting twice as long, Aquion Energy's Aqueous Hybrid Ion technology (pictured above) is similar to a lithium-ion battery in many ways. However, it uses a liquid electrolyte containing sodium ions instead of lithium ions, which are typically set in a solid electrolyte. While the use of liquid makes the technology slightly less efficient, the salt water electrolyte is safer and costs less than the electrolyte material in traditional lithium-ion batteries. 
The battery also uses electrodes made from carbon, manganese oxide and sodium-based compounds – all abundant and relatively inexpensive materials compared to those used in other new battery technologies. Its water-based electrolyte also makes it a safer and more environmentally friendly alternative to the corrosive and toxic lead-acid batteries, and flammable Li-ion batteries. More importantly for energy storage applications, the aqueous battery is modular and can be made larger or smaller easily depending on the application. This makes it highly suitable for solar/wind farms as well as for utilities and grid operators (see picture below).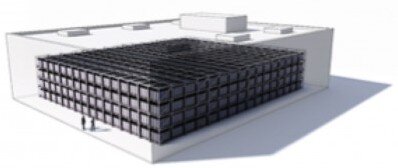 Image Credit: Aquion Energy
The manufacturer begins production later this year near Pittsburgh, PA (USA), where it has remodelled an old factory, where Sony TVs were once made, into a state-of-the-art manufacturing facility with scalable production lines.
Announcing Aquion's commercial launch earlier in the month, Ray Lane from Kleiner Perkins – an investor in the company – stated, "We are expecting Aquion Energy's commercial launch in 2014 to be disruptive to the world of stationary energy storage". Lane added "It is a testimony to Aquion's team and innovative technology that it has been able to attract these high-quality investors. The company is well positioned for impressive growth in the burgeoning global market for energy storage", referring to a net investment of $55 million that the company has attracted.
Jay Whitacre of Carnegie Mellon University, the inventor of the technology, stressed the importance of the price point and mentioned that success in adoption is "all about cost". According to the CEO, Scott Pearson, prices at the current scale of operations are "not radically above" the $300/kWh level, making it cost competitive with Li-ion batteries for grid applications.
In a bid to try and capture a piece of the market pie, Aquion Energy is expected to partner with major power giants. In fact, earlier this year, it entered into a partnership with Siemens, hoping that if their technology performs as expected and plays well with Siemens power inverter technology, Siemens may eventually bundle the batteries with its own grid management products and sell it to customers like solar farm developers.
Aquion Energy has yet to prove itself against other battery technology startups that have recently sprung up with innovative battery offerings including well-bankrolled heavy-weights like GE, Fluidic Energy, Ambri and others. But if the market plays according to Bill Gates' expectations, there's a good chance Aquion Energy may succeed. And for us in the solar industry, that's good news!
Top Image Credit: Aquion Energy
© 2014 Solar Choice Pty Ltd 

Latest posts by Nitin Nampalli
(see all)