The independent body set up by the federal government to advise on climate and clean energy policy has recommended no changes to the small-scale component of the Renewable Energy Target, despite it being a relatively expensive way to reduce emissions.
The Climate Change Authority, in its second review of the RET released on Monday, says it recommends no changes because the SRES assistance will begin to phase out soon, and the overall costs to consumers are modest.
The CCA also backs away from its 2012 recommendation that the eligibility for small-scale solar be cut from 100kW to 10kW – effectively pushing the commercial solar market into the large-scale scheme.
The report noted that arguments for maintaining current levels of support had become less compelling with the decline in upfront costs for solar, and that the debate had been polarised, with utilites, large energy users, and some business peak bodies wanting the scheme scaled back or phased out, and others saying it should be retained in its current form because of the public benefits it creates.
It used a table (below) to illustrate some options for an accelerated phase out of PV assistance, but stopped short of recommending any. The Federal government has signalled no changes to "household solar", but has remained vague about the fate of "commercial solar" – systems of between 10kW and 100kW.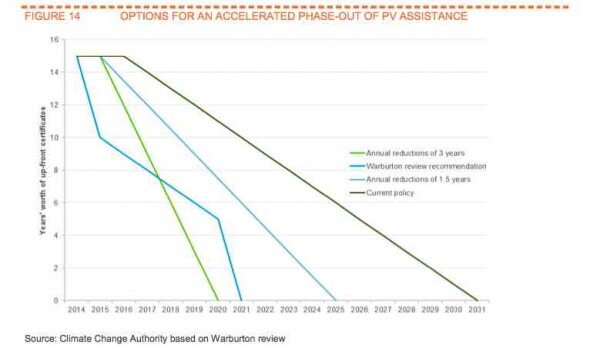 "The small-scale solar photovoltaic (PV) industry has been very successful in installing rooftop solar systems for Australian households, community groups and small businesses," it says.
"Assistance provided under the SRES has encouraged this growth but, as costs have fallen, the case for maintaining current levels of support has become less compelling.
"Some evidence also suggests that subsidising small-scale PV at these levels is a relatively expensive way of reducing emissions from the electricity sector.
"That said, the cost impacts on electricity consumers are modest and the gradual phase-out of the scheme is to commence shortly. Any more rapid phase-out should be designed to avoid disruptive cycles in the industry."
On that point, it noted that the impact of abrupt changes to the home insulation scheme. "This highlights the need for any changes to assistance arrangements under the SRES to be introduced in ways which avoid creating potential 'boom-bust' situations .
"This scheduled phase out could conceivably be accelerated while taking care to avoid serious disruption in the industry, by avoiding large 'steps' in the rate of deeming, which are likely to encourages rushes of installations before assistance rates change."
© 2015 Solar Choice Pty Ltd

Latest posts by Giles Parkinson
(see all)