The cost of generating electricity from concentrating solar PV plants could be cheaper than that generated from fossil fuel sources by as soon as 2030, a new report has predicted.
The joint report, released this week by Germany's Fraunhofer Institute for Solar Energy Systems and the US National Renewable Energy Laboratory, says CPV technology could, by 2030, generate electricity for as little as between $A0.07/kWh and $A0.11/kWh.
According to Fraunhofer's figures from just one year ago, the levelized cost of electricity from brown coal was up to 0.053 euro/kWh ($A0.08) and from combined cycle gas power plants up to 0.098 euro/kWh ($A0.14).
The report credits "impressive" module efficiencies – as high as 36.7 per cent – and a dramatic reduction in use of semiconductor material, for a notable growth of installations in recent years and a driving-down of prices.
As the graphs below show (in Euros), the falling generation price means that system prices, including installation for CPV power plants, could be between just over $A1000 and $1,600/kWp by 2030.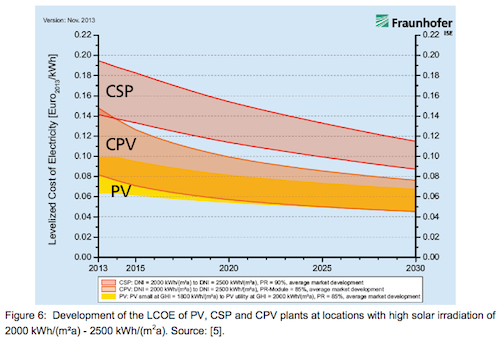 But the report stresses that the CPV sector still faces some headwinds, having already endured a period of industry consolidation that started in 2011.
"The main challenge cited by the industry is the difficulty of CPV to compete with flat-plate c-Si PV modules on cost, in light of the recent drop in prices due to the significant advantage in manufacturing scale that flat-plate currently has over CPV," the report notes.
"Companies expect that CPV can compete on an LCOE basis with flat-plate PV when installed in sunny areas, but the road to scale has been difficult."
There is also concern about the future stability of the market. The report notes that several confidence-shaking "major blows" to formerly leading CPV companies have occurred very recently, not least of all the scrapping of Solar Systems' (now Silex) plans for a 100MW CPV plant in Mildura, here in Australia.
"It is unclear yet how large of an impact these events will have on the CPV industry as a whole," the report says, and it points to the promise of "several strong companies" making multi-junction cells that can be used in terrestrial CPV applications.
Top image via Silex Solar
© 2015 Solar Choice Pty Ltd

Latest posts by Giles Parkinson
(see all)