The Swiss-engineered Solar Impulse is set to make its first international flight on 2 May 2011 (yesterday in Australia as of the time of this writing, but today in Switzerland!) This is the first international flight of its kind: one powered solely by solar power.
The single-seater Solar Impulse made history last July when manned aircraft flew continuously for 26 hours relying on solar panels and batteries to propel it, without the aid of fossil fuels. The ultimate goal of the project, speculated to be set to take place sometime in 2012, is to fly around the powered only by solar photovoltaic power. The endeavour being taken up in the news at the moment is intermediate to these past smaller and future larger goals of the Solar Impulse project: a flight from Switzerland to Belgium, and then to France.
The mood of the Solar Impulse website is overflowing with unabashed enthusiasm for the spirit of adventure tied up with their undertaking. Interviews on the site with the engineers and pilots behind the project reveal fierce-eyed men with steady gazes talking directly into the camera about the magnitude of what the project is hoping to achieve: nothing less than a total revolution in the aviation industry to zero-emissions, supported by the swell of recent developments in the world of renewable energy. The team is hoping to accomplish what most would write off as impossible.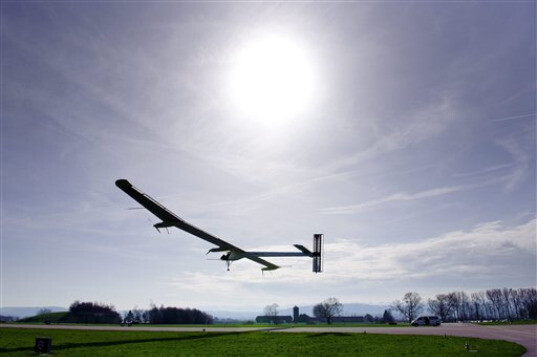 First flight of the Solar Impulse (from inhabitat.com)
Solar Impulse is the first vehicle capable of flying day and night without the need for fuel and without emitting CO2. Its wingspan is comparable to that of a Boeing 777, but weights only as much as an average family-sized sedan, making it the largest plane of its weight to ever be built. 7 years of intensive development were spent by a team of 70 people and 80 partners to develop the lightweight, carbon-fibre craft. The wings, embedded with 12,000 solar photovoltaic cells, supply the 4 electric engines with power whilst at the same time charging lithium polymer batteries. The batteries enable the craft to be flown at night.
© 2010 Solar Choice Pty Ltd
Sources and Links:
Photos from inhabitat.com
CBS News, "Solar plane set to try first international flight"
Website for the Solar Impulse project
Related previous Solar Choice blog entries: Electric vehicles and solar power : New world land speed record for solar-powered car

Latest posts by James Martin II
(see all)